Dominic Byerly '20, M.S. '22
After completing his bachelor's in Economics and Business Administration a year early, Dominic Byerly '20 chose to pursue his master's degree in Data Analytics through McDaniel's hybrid professional program. Able to work while attending, Byerly can actively apply his education to his career experience. He graduated from the Data Analytics program in 2022.
Q&A with Dominic Byerly '20
What brought you to the Hill?

I originally came to play soccer, but I also wanted a smaller college. I really liked the more hands-on approach to learning and the opportunity to actually know my professors. I wanted to be an Accounting major, but I realized about a year and a half in that it actually wasn't what I wanted to do. The nice thing about the McDaniel Commitment is you get to take classes that get you out of your comfort zone. That gave me the freedom to explore what I wanted to do without feeling like I was forced down a certain path before getting a chance to really broaden my horizons.
Which professor had the most profound impact on your time at McDaniel?

Professor Kevin McIntyre. I really, really enjoyed my classes with him, especially Macroeconomic Theory. I loved seeing the big picture, the grand scheme of things, and how big economies interact with each other.

Professor McIntyre's classes felt different for me; I actually participated in his classes, I talked in them every day. I started getting close with him and asked him to be my advisor when I decided to go down the path of Economics as my field of study.

He's a really good guy, and we're both into Star Wars, so our relationship became personal, too. He was always very honest with me, so we built a relationship on trust. If he told me to take a certain class, I would trust him and take it. That's still true today, and led me to enroll in the Data Analytics graduate program at his recommendation.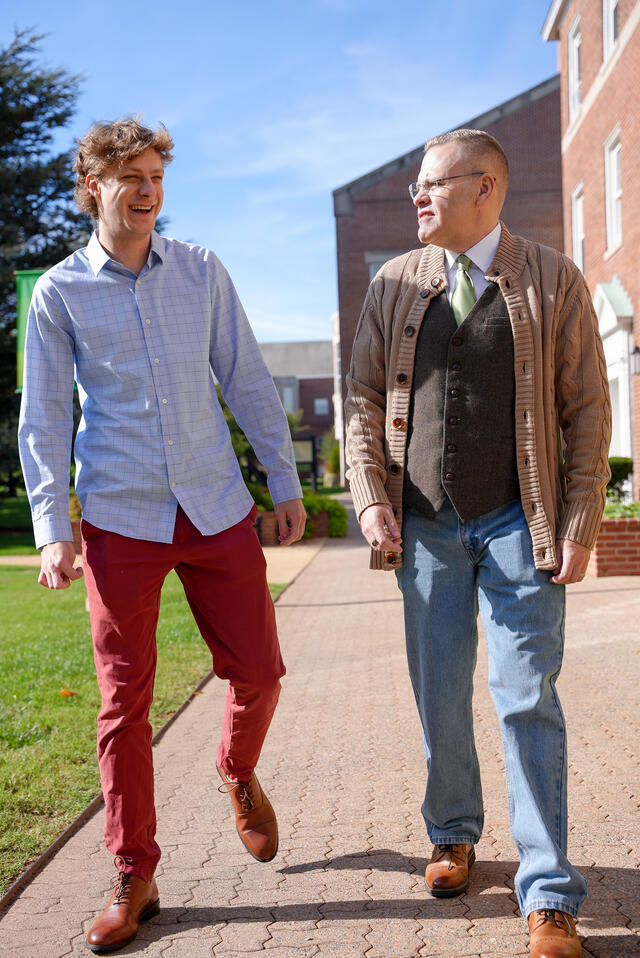 What was it like to graduate during the COVID-19 pandemic?

First, I didn't get to complete any internships during my time at McDaniel. I went to the internship fair my sophomore year and unfortunately didn't get one. The spring of my junior year in March 2020, I went to it and then COVID shut everything down. That's one of the reasons I decided to enroll in the Data Analytics graduate program. I had no experience in my field and I really wanted to be able to put myself in the best position possible and get a leg up. I also graduated a semester early by taking a test at a community college to get the last four credits I needed. I started searching for jobs in December 2020 into January and February 2021, but most of the callbacks I was getting were for sales jobs and I didn't want to get into sales.
Why did you enroll in the Data Analytics program?

When I told Professor McIntyre about my plan to graduate a semester early, he called me up and told me about the new Data Analytics program in Graduate & Professional Studies. He said he thought I'd be a good fit for it. He knows me, he knows what I'm interested in, and knows what I'm good at. Again, I trusted him. I spent a week or two looking into it and talked with my parents. I just thought with everything going on with COVID, the best option was to go into this grad program, continue my education, and further distinguish myself from other graduates in my field to get more employment opportunities in the future.
What are you up to now?

I started job searching again in April and I started working in firm-wide operations at Morgan Stanley at the beginning of July. Work so far has been completely remote, and I've been balancing that with my online, asynchronous grad school program. It's nice to be able to go to work during the day and then I can manage my time and pace out my assignments in the evening for school. A lot of what I'm learning in school I'm already able to apply to work. Getting data sets, sorting them, running scripted statistics and regression models, and even just Excel skills. I've learned a lot more about Excel in class, which has already directly helped me at work.

What are you looking forward to as you proceed in the Data Analytics program?

My classmates are really smart and almost all of them already have jobs in the field. I learn a lot from our weekly discussion board posts and what they share. I think the Data Analytics master's degree is going to bring me more lucrative job opportunities rather than just a bachelor's in Economics and Business Administration. Right now, I'm just focusing on the experience I'm gaining at work and getting the best grades I can in my Data Analytics program so I can come out a year from now with my master's degree, ready to succeed in the Data Analytics field.

Hear more from Dominic and Professor McIntyre on the accelerated bachelor's to master's Data Analytics program:
Career: Stock Loan Analyst with Morgan Stanley
Class: 2020, M.S. 2022
Major: Economics and Business Administration
Graduate Degree: M.S. in Data Analytics