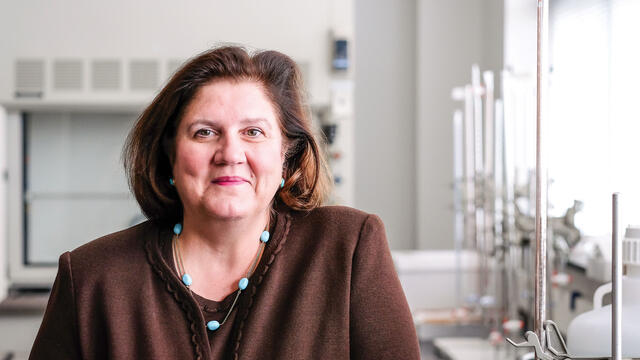 Anthrax attacks, massive oil spills, wildfires and hurricanes are just a few of the natural and man-made disasters that dominate Georgeann Morekas' thoughts. As a senior vice president at CSS-Dynamac, the scientist and entrepreneur leads her company's recovery-and-response operations, answering more than one middle-of-the-night phone call in recent years to mobilize her teams in the wake of a devastating event.
For Morekas '78, preparing for the worst isn't just a motto for life, but a business plan — a way to combine her passion for the environment with her capitalist ambitions. The work also underscores her strengths as a clear thinker and even-tempered leader who appreciates collaboration but is also comfortable calling the shots. The employee-owned CSS-Dynamac has responded to the nation's largest oil spills — including Deepwater Horizon and Exxon Valdez — hurricanes Katrina and Rita, the D.C. anthrax attacks, West Coast wildfires, the space shuttle Columbia disaster and numerous industrial accidents and train derailments.
Morekas, who went on to earn a master's in civil and environmental engineering at Duke University, has never been daunted by the difficult. In college she pursued a major in Chemistry, which did not come as naturally as her courses in the humanities.
"I was a good student but I had to work hard at chemistry; the math was difficult for me," she says, explaining that support from the department's professors got her through. "Once I took P-Chem (Physical Chemistry), I finally had my aha moment and realized what it all meant and why I was doing all these differential equations."
She credits her liberal arts education for her ability "to think and think differently — both quantitatively and qualitatively." Although well aware of all that can go wrong in the world, she finds working in the field of disaster preparedness and emergency response to be oddly reassuring because she has an insider's insight into how well the nation is equipped to deal with catastrophe. "We plan for the what-ifs so our country can be prepared and minimize the impact when something bad happens."
Career: Senior Vice President, Emergency Response & Disaster Recovery
Class: 1978
Major: Chemistry