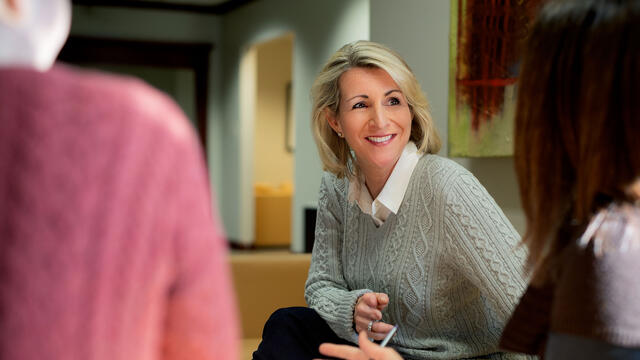 Jennifer Wuamett '87, now executive vice president and general counsel at NXP Semiconductors, a global company headquartered in the Netherlands with offices in Austin, Texas, started out as a Biology major with an Art minor, who at one point aspired to a career in medical illustration.
Once she realized she didn't enjoy creating art on demand, she switched to a Chemistry minor, and her career goals shifted. Perhaps she'd try to go into medicine or genetic counseling. Wuamett enrolled at University of Maryland for a Ph.D. in biochemistry, until she realized that while she loved science, she didn't really want to spend her life in a lab environment.
After a move across the country, getting married and having her first child, the wise words of her mentor from McDaniel College, Chemistry professor Dave Herlocker, came back to her. He had encouraged her to think about law school because her science education could be beneficial in patent law.
"I'll never forget the breadth of education and encouragement on the Hill. At McDaniel, I learned how to continue to pursue my dreams — even if they changed over time." – Jennifer Wuamett '87
And that's how a scientist and artist turned into a lawyer — although she doesn't really call herself primarily a lawyer anymore either.
"Today, I consider myself a businessperson with a science background who practices law for a global technology company," says Wuamett. "I liked technology and I liked science, but problem-solving also really appealed to me."
And that science background has come in handy. Wuamett is surrounded by people who she says are smarter than her every day, many of them engineers. While she does not have an engineering background, she finds her science background and lab experience is useful.
"Having studied science, I am not intimidated to try to dig in and understand the technology," Wuamett says. "So much of what I do practicing law in a technology company is understanding the key drivers of the technology. Whether negotiating deals, protecting or enforcing intellectual property rights or managing compliance issues, it's important not to be intimidated by the technology that is at the heart of everything. I don't have to be able to recreate it, but I have to understand it.
"I am glad that I took the challenge to study science, even though I didn't stay directly in a science career. I'll never forget the breadth of education and encouragement on the Hill. At McDaniel, I learned how to continue to pursue my dreams — even if they changed over time."
Career: Executive Vice President and General Counsel
Class: 1987
Major: Biology