Kevin Webster '19
Alum Kevin Webster '19 leveraged his faculty and alumni connections to find his career path in the sciences. Here, he answers a few questions about discovering his passion for biology, chemistry, and research in the field of healthcare.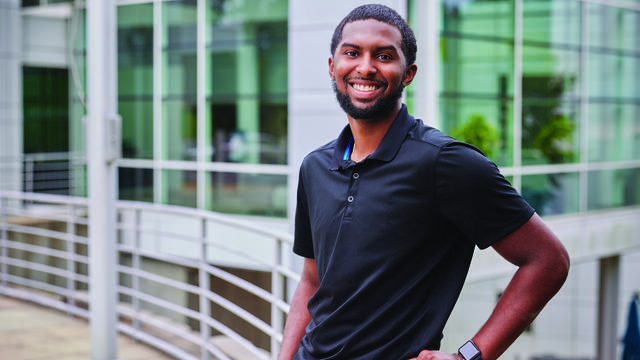 Q&A with Kevin Webster '19
Which professor had the most impact on your time at McDaniel?

My relationship with Dr. Dana Ferraris is really special. He's like an uncle. He was somebody I could go to at the end of the day, somebody I can always trust and lean on. I still call him to this day and ask him about my 401(k) and benefits. He's always open to talk to me and give me advice. He actually pushed me to pursue the work I'm doing now.

What brought you to the Hill?

I liked how small McDaniel was and how the campus was pretty isolated. There wasn't any outside interference. I didn't want any city schools. McDaniel felt like a community to me and it still sticks with me. Coming into college, I didn't have an ounce of knowledge about what I wanted to do. I just knew I had to take science classes as prerequisites. I thought I was pretty good at Biology and then did some internships that solidified me wanting to be a doctor.

Which class or experience had the most profound impact on your time at McDaniel?

Molecular Biology with Dr. Susan Parrish. She really made me feel like I could do this if I just put a little work in. Even through the hard tests and massive amount of work, she was always there to support and guide me to success. I had several internships, including one at the Department of Forensic Science, where I was able to watch a medical examiner perform an autopsy. It was amazing to me how he knew everything about the body from head to toe. That experience shaped me and pushed me to take more Biology and Chemistry classes. I also studied abroad in Chile and studied health care there. I realized I wanted to be a doctor who helped patients in under-resourced areas.
What are you up to now?

After I graduated, I pursued a master's degree in Biology with a concentration in cancer biology prevention and control at the University of the District of Columbia. I graduated in April and was working at Walgreens, but I wasn't trying to be a pharmacist or anything. Then I was asked to co-host the virtual Green Terror Talk on COVID Research on the Hill during Homecoming 2020 with Sam Hopkins '80. I didn't know anything about Sam before that, but Dr. Ferraris was on the panel and since I'd done research with him and Sam is a renowned researcher in the field, we were asked to host it.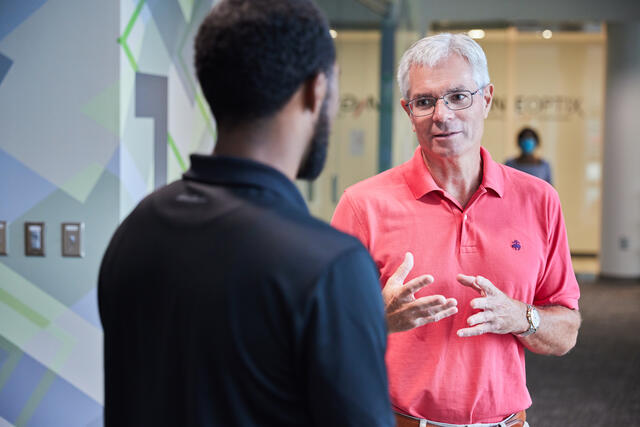 Afterward, someone from the Hill reached out to me and said Sam wanted to talk to me about a job opportunity, but I thought, "I know what I want to do. I want to be a medical doctor. I don't want to do research."

Then Dr. Ferraris texted me and said, "Kevin, you need to get in contact with Sam. It would be very good for you." I said, "Yeah, sure, I will." Then I didn't. [laughs] Eventually, I got in touch with him and he said he had an offer for me. Basically, he told me if I wanted to work with him at AskBio, they'd get me down to North Carolina as soon as possible. "If you want to leave, you can leave. But this is an option you always have on the table," he told me. "I'm only putting this on the table for McDaniel alums like us." I thought that was the kindest thing anybody had ever said, giving me an opportunity like this. So, I am a research associate here, and I screen individuals to see if they meet the requirements to be part of a study.

What advice would you give to McDaniel students who aren't sure what they want to do?

First of all, internships are what help support what you want to do. They help guide you. If you want to try something, try it. Do an internship. If you don't like it, you go somewhere else. You don't have to have it all figured out. And work the network. McDaniel is a small school. Sam reaching out to me as another alum, I had to take it. You feel honored that someone has reached out to you. I couldn't turn it down. He is such a cool dude and has done so much amazing work in his career.

Listen, we are decades apart, but because we have that McDaniel connection, we're on common ground. He was open to the fact that I don't know what I want to do. I can go on to the medical field or I can stay in research and he's open to all of that. He still gave me the opportunity. Everything is still on the table for me. Research held very little weight for me for a long time. This experience has boosted it in my mind. I want to give it a year or so and then think about either pursuing my M.D. or Ph.D. It's still early in this research job, but I think Ph.D. may be the way I go. At the end of the day though, "Dr." is still what I want in front of my name. That's my goal.
Career: Research Associate at AskBio
Class: 2019
Major: Biology
Minor: Chemistry