Perri Freeman '21
Perri Freeman '21 is paving her own way in the world of construction. A Business Administration major with a focus in Entrepreneurship, Freeman grew up helping with her father's paving business. Inspired by the creativity and dedication that running a business requires, Freeman joined the industry full time after graduation.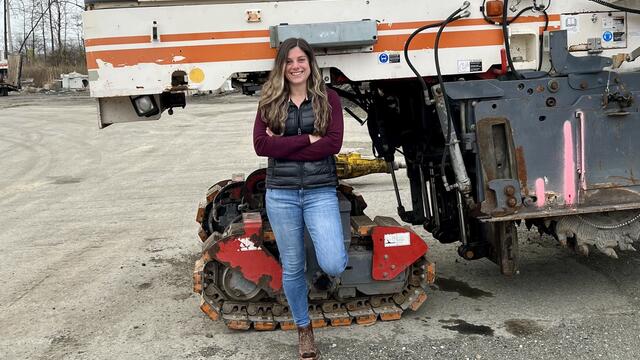 A typical day for Perri Freeman '21 might include driving a tow truck, scheduling social media posts, and finishing up some estimates. As an employee at her family's paving business, Gradeline Construction, Freeman wears many hats, including a hard hat.
In her early days at McDaniel, Freeman thought she would become a pre-med major and enter the medical field after graduation. All the while, she was pitching in with the company her father founded on weekends and holidays, shoveling blacktop asphalt and running equipment with "the guys." During the week, her father would teach her how to estimate through real-world cases at the company.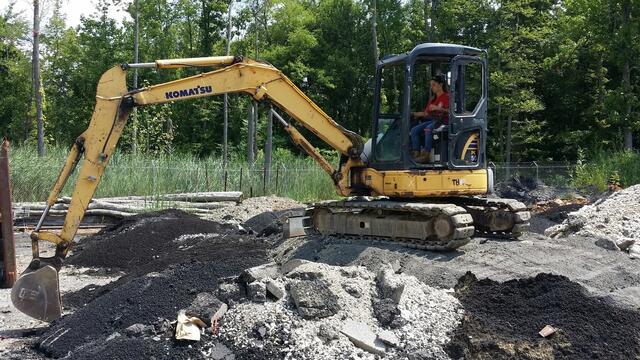 "Working with family and being in the construction industry is a unique lifestyle," Freeman says. "But honestly, I wouldn't have it any other way."
By the middle of her sophomore year, Freeman realized that the family business might just be the right place for her. She ultimately declared a Business Administration major with a focus in Entrepreneurship to build up her business acumen.
"My dad, being an entrepreneur, inspired me to choose a focus in Entrepreneurship," she says. "It seemed like it would best fit the next chapter of my life."
Freeman recalls how Lecturer Lori Hockley's Entrepreneurship course was a creative oasis for her. "I loved how it was nontraditional and gave my classmates and I the space and opportunities to learn in our different ways," says Freeman. She began with a business idea in the class, built and improved it over the semester, and supported her peers as they did the same.
"That class let me be creative when a lot of business classes are rigid and structured. She taught us to look at things from other perspectives, which, for an entrepreneur, is what it's all about," she says.
While she was still a student, Freeman interned with a construction company that Gradeline considers a friendly competitor. They affectionately referred to her as a "spy," which Freeman says wasn't far off from the truth. Through her experience at that larger business, she was able to bring back new perspectives to her family's smaller business.
"I did large-scale estimating, shadowed their project managers during jobs, and went to their asphalt plants and learned how asphalt was made," she says.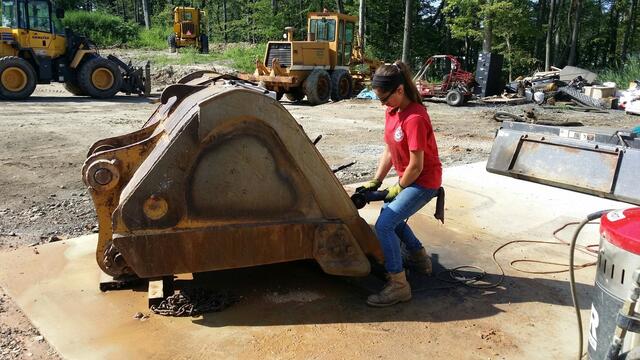 Asphalt, as Freeman explains, is more specialized than you'd think. An airport runway and a Walmart parking lot require very different recipes. "The actual process of making it isn't too complicated, but when you get into the different types, that's when it gets complex," she says.
In Freeman's opinion, construction doesn't get the appreciation it deserves: "It's a lot more involved than people think. It's easy to be frustrated with construction because it causes traffic jams or road closures, which I get. But it also stimulates the economy, provides jobs, and gets you new, beautiful roads with no potholes."
In the world of construction, misconceptions aren't uncommon. As a woman, Freeman is sometimes an unexpected presence on a construction site, but she's always felt like part of the team.
"It's exciting to do certain tasks that you know men typically do, because I'm just as capable as any man. I think it's so much fun," she says. "If we're shorthanded on any of the crews, I'm the first one that gets selected to go out there and help, whether it's running any of the big machines or shoveling asphalt. I've done it all."
She's also involved in the Maryland chapter of Women of Asphalt, an organization that empowers women in asphalt careers. "It's about women supporting women, but it's also about giving back to the communities that we're working within through events, apprenticeships, and fundraisers," she says.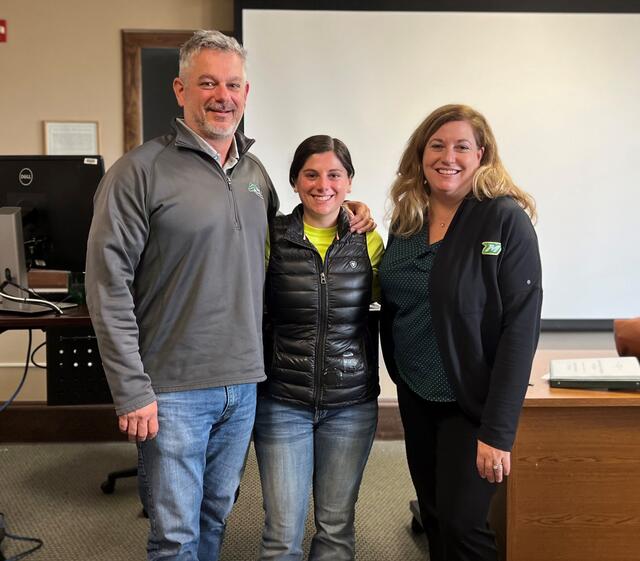 Since graduation, Freeman has twice returned to Hockley's Entrepreneurship class with her father, Cory Freeman, to speak about running a family business. Her connection to McDaniel has also flourished through other alumni.
"I made some fabulous friends at McDaniel, and in less than a year since graduation, I've already found connections with other graduates that I never expected," she says. "McDaniel students and alumni are so involved in their communities, and it's great to be around fellow Green Terrors."
While her next goal is to earn her Commercial Driver's License to work with larger trucks and equipment, her longtime goals may include launching her own construction business. When that time comes, the things she learned at McDaniel and through her family's entrepreneurship have prepared her to start paving her own way.
"Hard work comes with a price and requires sacrifice — it's not glamorous. The payoff is long term. Work hard and work through the lows, because things will always get better."
Career: Marketing and Estimating
Class: 2021
Major: Business Administration