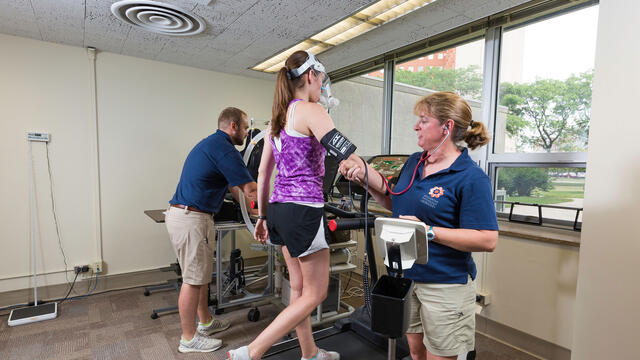 Tracy Baynard '93, an associate professor of kinesiology and nutrition at the University of Illinois Chicago (UIC) can pinpoint the place that set her career on the right path: "McDaniel is where it all started for me," Baynard says.
She recalls that the late Professor Emeritus Sam Case '63, M.Ed. '66 showed her a whole new world while she pursued her degree in Physical Education and Exercise Science with a minor in Athletic Training.
"Dr. Sam Case was highly influential in providing hands-on experiences to students and he was very gracious with his time," Baynard says. "In the summer of 1992, we went up to SUNY Maritime College to conduct research together and it was a wonderful experience."
It took me a couple years to look at my own research experience and say, 'Hey, I did really enjoy that, and I think I was good at it. Maybe I should pursue it further.'" – Tracy Baynard '93
Now the director of the Integrative Physiology Laboratory in UIC's College of Applied Health Sciences, Baynard hopes that she's able to serve in a similar role for McDaniel Kinesiology students through The Experiential Learning Opportunities Fund. Baynard hosted her first McDaniel student, Catherina "Cat" Park '20 in the summer of 2019. She says it was a mutually beneficial experience because it gave her Ph.D. students time to work on their teaching and leadership skills.
"Our students got to learn more about how to act and provide a quality experience in the role of a supervisor," Baynard says. "The students really enjoyed having Cat in the lab. We received a number of compliments on her capabilities and her personality."
Baynard knew going into the summer that Park wasn't planning to pursue research as a career — but that's a familiar sentiment for her. "I totally understand it. It took me a couple years to look at my own research experience and say, 'Hey, I did really enjoy that, and I think I was good at it. Maybe I should pursue it further,'" Baynard says. "It wasn't until many years later that I looked back on those experiences and realized how they helped influence what's become a real passion and love for research."
Career: Professor, Kinesiology and Nutrition
Class: 1993
Major: Kinesiology (Exercise Science and Physical Education)