First Year Seminar
First Year Seminars (FYS) are innovative topical and thematic courses on a range of subjects suitable for first-year students that provide an introduction to the liberal arts and an academic transition to college. They seek to excite students intellectually and engage them as scholars. In addition to offering a rigorous academic content, First Year Seminars focus on fundamental skills that are necessary for academic success: critical thinking, effective writing, analytic reading, and oral communication.
Close Faculty Mentorship & Connection
Explore Recent Seminars
Are U Ready 4 Some Football?
Heroic Leaders & Evil Tyrants
Odyssey: Africans to France
Unseen Math in Puzzles and Games
Take It to the Streets!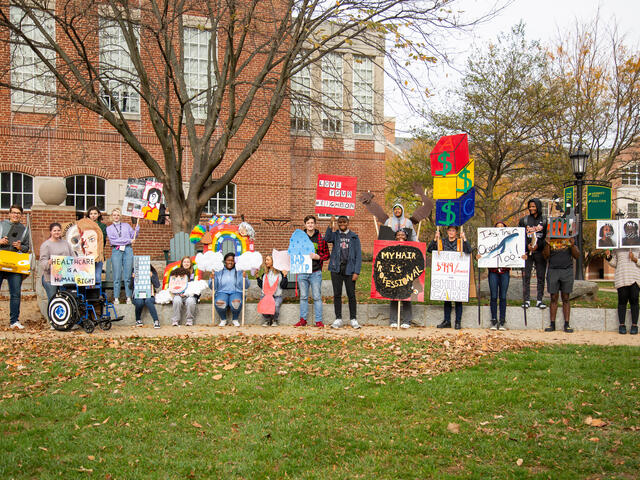 First Year Seminar
Art on the Edge students parade their art to speak out on social issues
What's Your Cause
Art professor Chloe Irla's Art on the Edge First Year Seminar students might be new to McDaniel, but they are well acquainted with the issues of the day. They reflected those issues in art projects and staged an Issues March across campus.
Encore: Juniors return to First Year Seminar as peer mentors
Juniors Taylor Hoey and Matt Hopson are enrolled in another round of the First Year Seminar "Rebels in Early America" — and History professor Stephen Feeley couldn't be more pleased to have them back in his class.
First-year students examine 'Game of Thrones' through Shakespeare's lens
Any illusions that the HBO series based on George Martin's "A Song of Fire and Ice" series is breaking new ground in entertainment were pretty much shattered by the second meeting of professor Paul Zajac's First Year Seminar, "Shakespeare's Game of Thrones."