Students gain storytelling powers in Marvel-themed First Year Seminar
Students in Associate Professor Paul Muhlhauser's First Year Seminar are discovering that there's more than meets the eye when it comes to their favorite Marvel superheroes as they examine tropes, representation, and transmedia in the Marvel Cinematic Universe.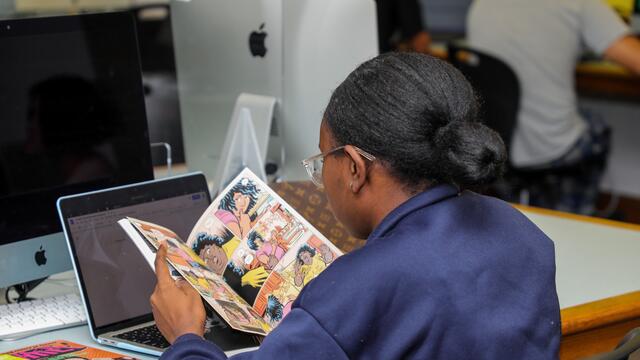 Students in the Marvel-themed First Year Seminar I am Groot are learning that when it comes to their favorite superheroes, there is more than meets the eye. A tragic backstory and heroic plotlines are only a small part of what makes stories in the Marvel Cinematic Universe (MCU) so compelling on the big screen — and off of it.
Transmedia expert, English professor, and long-time Marvel fan Paul Muhlhauser knew the MCU was perfect for a class on transmedia storytelling. Transmedia refers to the use of different media types, like movies, TV shows, and video games, to tell a cohesive story.
"I've been a fan of the MCU for a long time, and I've done some research on it," says Muhlhauser. His essay "The Avengendering of the Lambs: the Avengers, the Silence of the Lambs, and Remix" earned a Creative Expression Award at the Organization of Communication, Language, and Gender Conference. "Just because you're a fan doesn't mean you can't critique it."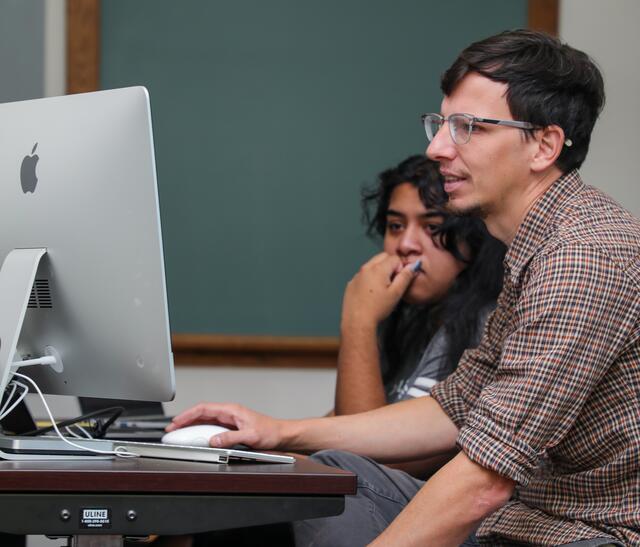 "I love this class, it's my favorite," says Methmi Dias, a first-year student from Gaithersburg, Maryland, who has seen every Marvel movie. "I've learned a lot about gender roles, diversity, and transmedia storytelling. For instance, before now, I didn't realize just how much they sexualize female characters through their costumes and certain scenes."
Varia Alston of Baltimore was also surprised by some of the depictions in the MCU, and she soon began recognizing them in other media.
"We learned about the Smurfette trope, which places one female in a group of males," Alston says. "It's common in Marvel, but I also like the Power Rangers, where it shows up. How come I never knew about it?"
As an FYS, the course develops the students' critical thinking, research and writing skills, and introduces them to academic resources at McDaniel. Within the theme of the MCU, the students have written alternative endings for movies, arguments for new characters to join a series, and trope analyses.
"We learn different ways to break media down, so we can pick apart the storyline, predict what's going to happen next, or look deeper into a character," says Tyler Vath of Coram, New York. "We're also able to talk about stuff we're passionate about with people who feel the same way."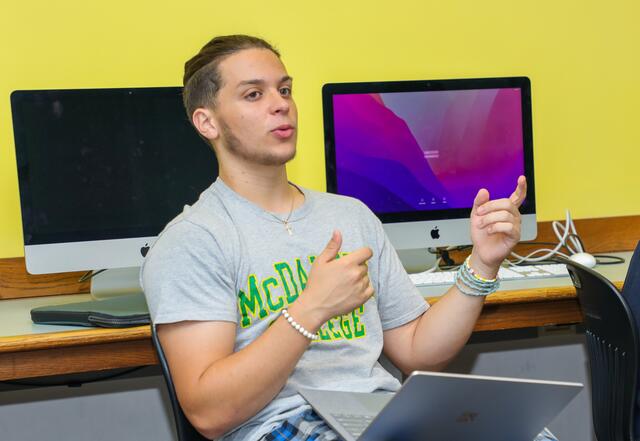 Casual Marvel fans like first-year student Elliott Barnette are just as engaged, even if class discussions require a little extra research. "I love the ideas and theories about Marvel, which is why I joined this class. So far, I've learned a lot about the integration of culture and diversity into the MCU, like with the Muslim hero Kamala Khan," says Barnette.
Peer Mentor Lauren Logue supports students in the FYS and afterwards, as they navigate their first year at McDaniel. "I always try to tell my mentees, 'You might not be into cartoons or Marvel, but you'll learn the scope of what you'll be doing in college,'" says Logue, who is a junior Health Sciences major with a minor in American Sign Language.
During her first semester at McDaniel, Logue enrolled in Muhlhauser's cartoon-themed FYS Tooning In. She then served as peer mentor for Tooning In during her sophomore year. "Students always come out of their FYS with something they learned about the McDaniel experience," says Logue.
At the start of a recent class, students watched the trailer for the upcoming movie "Ant-Man and the Wasp: Quantumania." One student responded with immediate confidence: "I already know how it's going to end," says Josh Brenner of Olney, Maryland.
Brenner is a long-time Marvel fan — he even keeps an Ant-Man poster on his wall. "Ant-Man is such an underrated character. I recently wrote a 1,300-word essay on where he's going to go in the future," he says.
"This class has reinforced my ideas about transmedia storytelling, and I learned how to analyze films differently," says Brenner, who plans to major in Cinema. "I started to realize that tropes are everywhere, but they're essential to storytelling. They make you go, 'I've seen this before, so now I know how to feel about this character.'"
Read about more First Year Seminars: