Students run, jog, and walk their way through their First Year Seminar
Students in Adjunct Lecturer Lisa Lebo's First Year Seminar course, Find Your Strong: Running for Your Life, are off to a running start at McDaniel. That is, they're spending time at the track and in the classroom exploring the physiological, emotional, and community-building benefits of running as part of their introduction to McDaniel.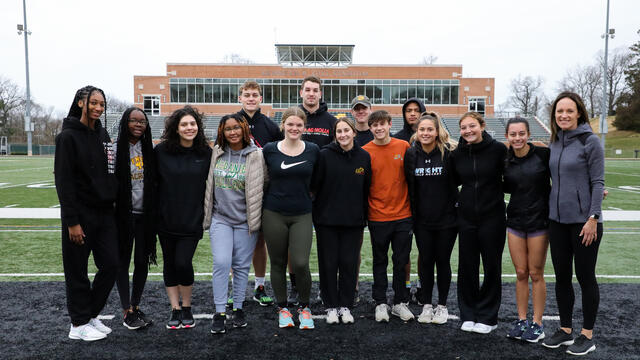 Outside in the cold December weather, students in the First Year Seminar (FYS) Find Your Strong: Running for Your Life were feeling warm. Part of it was the 5K they were running as part of their end-of-semester project. The rest of the warmth came from the positive impact the 5K has for Girls on the Run of Central Maryland, a nonprofit that inspires and supports girls while they build essential life skills.
Adjunct Lecturer Lisa Peterson Lebo '01 knew the Girls on the Run 5K was the perfect finale to her course Find Your Strong: Running for Your Life, an FYS that rounds up all things running.
The cultural significance of running, how to dress for winter runs, and nutritional science are a few of the many topics that students explore in the course through research and active exercises.
"When I saw this FYS being offered, I thought it looked like a lot of fun. I really like that it's not a typical class where you're sitting inside all the time," says Jack Sears of New Market, Maryland, who is a member of the men's cross-country and track and field teams. "I've learned a lot that I didn't know much about before, like cadence and nutrition."
FYS courses support first-year students as they transition into college academics, with a focus on faculty mentorship. For both the recreational runners and the athletes in the course, running is a familiar way to enter into McDaniel College and the liberal arts.
Lebo, who has been a dedicated runner for 12 years now, hopes that her students' endurance in running translates to endurance in their college journeys.
"Runners are known for their goal setting, discipline, consistency, and strength. These are all qualities that will serve my students well in their non-running pursuits," Lebo says. "I want my students to always run with a full heart, to pace themselves, and to remember that you get out of it what you put into it — just like life."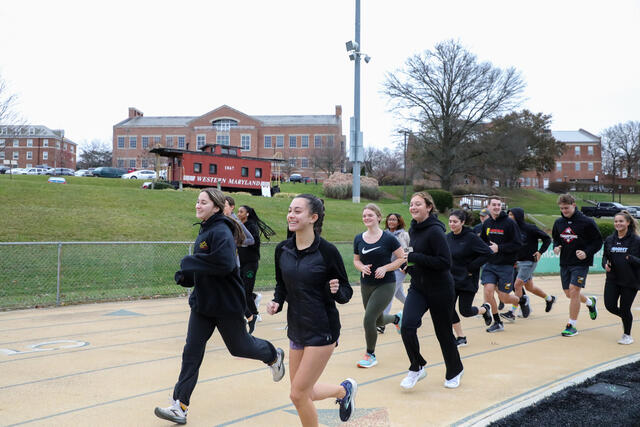 In addition to learning about the history and health benefits of going for a jog, students hit the on-campus track, went on a scavenger hunt (using pumpkins sourced from local Baugher's), and made playlists with just the right beats per minute to match their individual running cadences. Student presentations covered diverse topics like the central governor theory, the Boston marathon, and running in Native American cultures.
"Some of it I already knew, but it's nice having a firmer background in it," says peer mentor Glory-Gifty Fomena, a sophomore Health Sciences major with a specialization in Nursing, with a minor in Sociology. Fomena, who plans to have a career in public health, has enjoyed learning alongside the first-year students. As their peer mentor, she supports them during their first two semesters at McDaniel.
"The students have formed partnerships across campus and in the surrounding community," Lebo says. During a visit in September to Run Moore in downtown Westminster, Maryland, the students heard from founder Steve Moore about training, safety, and the best running shoes.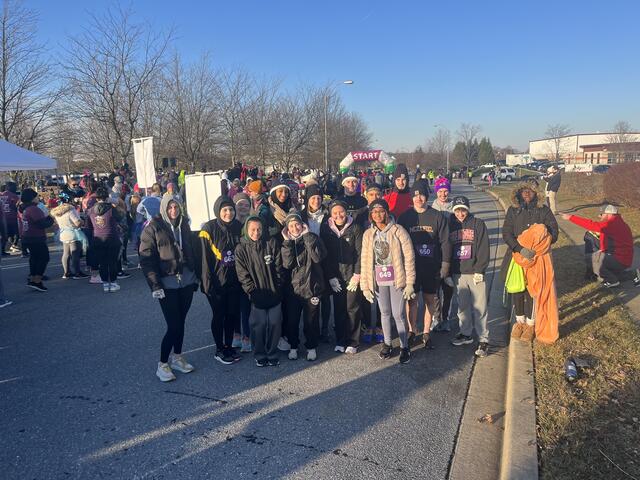 Other guest speakers in the class include Dave Griffin of Flying Feet running club; Dana Mealing, a community nutrition educator at Carroll Hospital; Billy Clem of Frederick Steeplechasers Running Club; and McDaniel's own Brittany Lang, an assistant coach for cross country and track and field.
"It's my favorite class," says Piper Nagaraj, a first-year Health Sciences major from Eldersburg, Maryland. "Professor Lebo is a great teacher, and sometimes I forget it's a college course because I have so much fun in it."
As the students in Find Your Strong: Running for Your Life crossed the 5K finish line, they prepared to write reflections on the run — and their first semester at McDaniel — for their final hurdle in the course.
"Creating this class and teaching students about running has been a dream come true," Lebo says. "I so enjoyed it, and I hope my students have, too."
Read about more First Year Seminars: