Alum earns prestigious Boren Fellowship to study in Senegal
Yelli Coulibaly '20, who majored in Political Science with a specialization in International Studies and minored in French, was awarded a Boren Fellowship to travel to Senegal, where she will intern with the National Democratic Institute and study the Wolof language for a six-month term.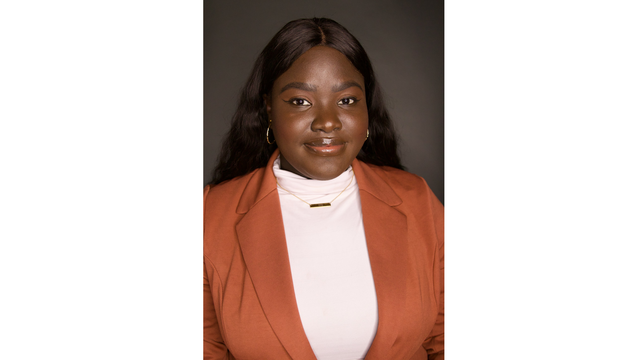 Yelli Coulibaly '20 was awarded a Boren Fellowship from the Defense Language and National Security Education Office to spend six months in Senegal, where she will intern with the National Democratic Institute (NDI) — an organization that promotes and protects democratic institutions and processes globally — and study Wolof, the most widely spoken language in the country. She is one of only two fellows studying Wolof in Senegal, out of more than 300 fellows and scholars with Boren Awards.
"I'll be working on election monitoring and support with NDI, but specifically I hope to work with civil society, engaging people who don't have representation, like women, youth, and people with disabilities," says Coulibaly, who is currently a graduate student at Syracuse University studying International Relations with a concentration in Sub-Saharan Africa.
She says that now is a prime time to focus on elections in Senegal, as there have been recent instances of democratic backsliding in the country followed by protests, and an upcoming presidential election could add fuel to the fire.
"I feel that it is important for U.S. nationals to see what's going on there and have people who are familiar with local contexts," she says.
Her idea for the fellowship proposal came from a year she spent working at NDI before graduate school. She got involved in a project on democratic elections and election monitoring in Senegal, working with individuals from the country, aided by her knowledge of French and her passion for politics in West Africa.
"The only way we were able to fully understand local context was through Wolof. So, I decided that if I wanted to keep being interested in that region, specifically in Senegal, I needed to know the language."
When deciding on her Boren Fellowship proposal, she realized it was the perfect opportunity to immerse herself in Senegalese culture, gain fluency in Wolof, and continue her earlier work with NDI.
During her fellowship, Coulibaly will be in the capital city of Dakar but plans to visit other regions to see sights like the architecture and mosques of Touba, Senegal, and the famously pink waters of Lake Retba. "Senegal overall has a very rich culture, and I hope to partake in some cultural exchanges," she says.
Africa — especially West Africa — holds a special place in Coulibaly's heart, because her family immigrated to the U.S. from the Ivory Coast.
"I hope that with my knowledge and studies, I'm able to create good connections between Senegal and the U.S. that will hopefully lead to prosperity, because the U.S. is also my new home," she says. "I know that I'm one person and I can't do that alone, but hopefully I'm able to have some impact."
At McDaniel, Coulibaly majored in Political Science with a specialization in International Studies and minored in French. Her undergraduate experiences prepared her for graduate school and helped her develop her career goals. "McDaniel really helped me to home in on what I wanted to do specifically, although I had a general interest," she says.
"I've always looked at things through an international lens. I was heavily involved with the Global Fellows and Global Bridge program, and I did summer research with Dr. McNichols regarding establishing connections with and opportunities for people from third cultures within the U.S."
She was president of Africa's Legacy and The League of United Latin American Citizens, and she worked as a student ambassador and resident assistant. "McDaniel was a really great place for me to grow and blossom," she says.
She traveled to New York City and China with Model U.N., led by Associate Professor Francis Grice. It was one of Grice's classes that convinced her to specialize in International Studies.
"I took pretty much every class Dr. Grice ever taught, because I thought he was a really great professor. He provided new perspectives and ideas of what can be done through international relations," she says.
"I had an amazing time at McDaniel and met some of my best friends there. I had some of the coolest experiences there. I feel that the teachers and the professors genuinely cared. Professor Martine Motard-Noar, Professor Amy McNichols, Dr. Grice, Dr. Christianna Leahy, all of them went out of their way to make sure that I had what I needed, answered my questions, and provided guidance when I felt like I didn't have ideas for what I wanted to do."
Since graduating, she's returned to McDaniel to speak with French-studying undergraduates in Motard-Noar's classes to share how her French fluency benefitted her career. "That's been a really great opportunity and connection to make with students to showcase the importance of language," she says.
"McDaniel being such a small place and having such welcoming and open professors and staff really lets you come into your own and prosper. I'm so obsessed with McDaniel that my little brother goes there now, because he saw how obsessed I was," she says with a laugh.
When Coulibaly returns from her fellowship, she hopes to have a career in international relations — and to have formed long-lasting connections with the people she'll soon meet in Senegal.