Environmental Studies major immerses in real-life experiences around the globe
The Hill has become a home base of sorts for Jackie Fahrenholz's adventures in experiential learning. Nature is the McDaniel senior's classroom in remote locations all over the world.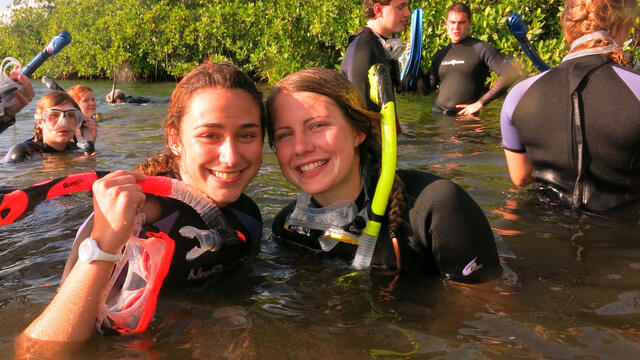 When Jackie Fahrenholz was a little girl in Scotch Plains, N.J., nature was her playground. She flipped over rocks and wanted to know the identities of the critters that scrambled out. She splashed in the waves at the Jersey shore and asked the name of every shell that tumbled in with the surf.
Fahrenholz evicted her Barbies from their Dream House and moved her toy frogs in.
Wildlife ID books were crammed into her childhood bookcase, and she was captivated by David Attenborough's early nature documentaries, the Planet Earth series and Life on Earth.
To the surprise of absolutely no one who even remotely knows her, Fahrenholz chose Environmental Studies as her major.
But it doesn't end there. In fact, the Hill has become a home base of sorts for her adventures in experiential learning. Nature is still the McDaniel senior's playground — but in recent years that playground circles the globe.
Fahrenholz spent her sophomore Jan Term exploring and researching marine life in the Bahamas. That summer, thanks to a Cargill Grant through the Environmental Studies department, she trekked deep into the jungles of Borneo, grinning as the orangutans she was studying pelted her with the small green fruits that are the Granny Smith apples of their world.
A member of the Green Terror women's soccer team, she spends her fall semesters on campus, taking courses and gathering all the information she'll need for her next field study. Her Conservation Biology class during the fall of her junior year discovered the first ever recorded rare black jaguar in the remote Ichigkat Muja-Cordillera del Cóndor National Park in Peru while analyzing footage from camera traps their professor helped position there.
Come January 2019, she was off to Galapagos, Darwin's observation center known for its extraordinary biodiversity, in a program run by McDaniel partner AIFS. With only a few days to pack, Fahrenholz headed to The Turks and Caicos Islands for a semester of marine resource studies and research.
"All of these opportunities have allowed me to experience the cultures of different parts of the world as well as increase my academic knowledge of the ecosystems, their weak points in regards to human development, and what's being done to mitigate that," says Fahrenholz, her sea green eyes reflecting an earnestness that leaves no doubt she'll make an important difference someday.
The program with the Center for Marine Resource Studies (CMRS) on South Caicos is based on sustainability and group living. There, Fahrenholz and 33 other students from all over the world plus about 15 staff members all took responsibility for upkeep of the center.
"We were only allowed one freshwater shower a week, had to use biodegradable products, reef-safe sunscreen and all those good things," she says, her smile hinting she would have chosen the center over a five-star resort in a heartbeat. "We students did all of the cooking and cleaning on weekends."
The semester included coursework in Resource Management, Marine Ecology, Environmental Policy and Directed Research. Fahrenholz studied fishery management, identification of organisms in seagrass beds, mangroves and coral reefs and the history of the island and the sociological side to development and the well-being of the islanders.
Research was designed to prepare the students for research during the first half of the semester and launching actual research projects after spring break. Armed with sharpened skills in Excel, data reporting and basic statistics, they divided into groups of four or five and literally dove into research. Fahrenholz, on Team Mangrove, used the relatively new technique of baited remote underwater video to capture images of the apex predators that live among these intertidal trees and shrubs.
On one of the final days of data collection they picked up a donkey-dung sea cucumber for team members to touch because they are slimy.
"We were told that the fishermen say if you kiss it you get seven years of good luck," she says. "So naturally, my research partner and I kissed it!"
During one of their excursions, they found an octopus in the middle of the ocean living in a glass jar. In the jar with him were the seashell remains of his meals. Although octopi generally live in holes in rocks, Fahrenholz says this one made himself at home in the jar.
"It was kind of ironic though because the glass bottle shouldn't be there and it shows human or  anthropogenic impacts and how organisms are attempting to adapt to their ever-changing surroundings," she says, explaining that the CMRS program's remote location offered an amazing connection to the natural world, which in turn made the program better than even she expected. 
After the semester on South Caicos, Fahrenholz returned to campus for three weeks in the summer of 2019 to work with Environmental Studies professor Jason Scullion on a project to identify threatened chokepoints in existing habitat corridors used by wildlife and find ways to protect them. One area they mapped, the Leuser ecosystem on Sumatra in Indonesia, is the only place in the world with populations of elephants, tigers, rhinos and orangutans all living together.
"In our studies, the chokepoints are areas where the landscape of intact forest narrows to a point that connectivity of the north and south regions would be lost if the forest were destroyed," she says. "In other words, the wildlife would not have the freedom to move from one area to another, which would decrease genetic diversity throughout the population leading to problems down the road with the persistence of the species as a whole."
A few weeks later, Fahrenholz was tossing snowballs at her teammates on the women's soccer team during their 10-day European tour to Germany and Switzerland before arriving back on campus for her senior year. She'll again assist Scullion with wildlife hot-spot mapping this year — and heads for the Amazon over Jan Term with the Forest Online course. The mission of the course is for students to experience this richly biodiverse and threatened ecosystem so they bring back and tell compelling stories that can and perhaps will change the world.
While Amazonian Peru is another stop on her environmental studies odyssey, there's no doubt that Fahrenholz will find a way to put what she learns to use after her May 2020 graduation.
"My experiences have been more around becoming a better scientist, gaining more confidence in my abilities to not only conduct research but present it in front of a group of people whose lives are affected by what I found," she says. "These times also allowed me to gain some knowledge about myself and give myself time to reflect on what's important to me by connecting with the natural world around me."