First year students learn through play as they tinker with discovery
A class full of first-year students are "Tinkering with Discovery" in the First Year Seminar their professor hopes will serve as a metaphor for life.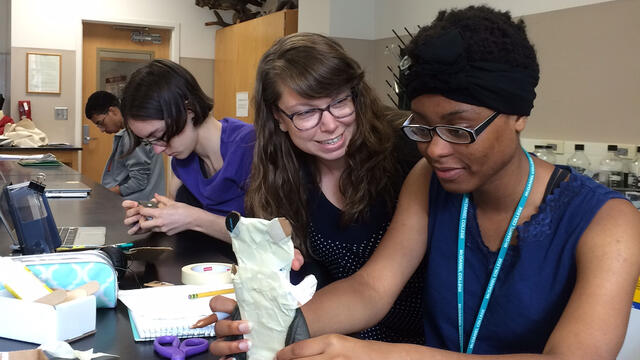 A class full of first-year students are "Tinkering with Discovery" in the First Year Seminar their professor hopes will serve as a metaphor for life.
"Every inventor — every scientist — has failures," says McDaniel Biology professor Katie Staab, an inaugural Boehlke Engaged Faculty Fellow. "But they have to learn how to pick themselves back up and try again. We all need to do that at one time or another in our lives.
"That's what I want my students to learn as they tinker with discovery: how to say, 'well, that didn't work so back to the drawing board.'"
In this brand new course Staab designed, students try new things — things they don't yet know how to do, things they haven't tried before. The options are limitless, from 3D printing and robotics to creating textiles and even repurposing old items into something new and useful. Risk and curiosity are encouraged, if not required, because that's what leads to discovery, Staab says.
"Science and engineering may conjure images of stark, precise and rigid procedures, when in fact innovative scientists must practice creative thought processes in order to get to that 'eureka' moment," she says.
The first assignment was to design a cell phone holder, but not just any cell phone holder. Each student was tasked with designing a cell phone holder in a way that it made sense for their individual use. They were finishing up their holders during a recent open tinkering class period, and some were on to new projects.
Favour Ubani of Laurel, Md., created her cell phone holder in the image of a teddy bear, while Kevin Gicking of Eldersburg, Md., used baseball icons to decorate and build his. Mollie Riner of Hanover, Pa., covered her phone stand with artificial flowers, in a style that reflects her hobby of crafting.
John Rigatti of Sante Fe, N.M., has wanted to learn how to use a 3D printer for some time now.
"I knew nothing about 3D printing when I came to this class, and now I can design things and print them," says the Kinesiology and Business Administration major who went to the makerspace at Ting in Westminster for help learning how to use the 3d printer and software. "This class is very hands on and gives you an opportunity to learn and try new things."
Their professor has her own list of goals that include recognizing and appreciating that inventors do not possess magical skills but instead practice problem-solving skills using creativity. She also wants them to learn how to find and effectively use written and web-based resources for making, creating and problem solving while approaching a problem by engaging in iterative processes.
As with all First Year Seminars, Tinkering with Discovery is anchored in campus-wide learning objectives such as critically analyzing college level material, demonstrating effective speaking skills and being able to research, evaluate and cite basic information.
The best part? Learning through fun play, says Staab.
"We use the culture of the maker movement, the psychology of inventors and the social impacts of making/do it yourself as a framework for campus-wide FYS objectives," Staab says. "And we tinker and play in between the reading and researching."
Open tinkering sessions are scheduled throughout the semester so students have a chance to catch up on assigned projects or just experiment with something that piques their curiosity. Make no mistake about the rigors of learning through play — they also have formal writing assignments, quizzes on Staab's "Science for Makers" lectures and a final project complete with presentation and paper.
Eager to dive into building a remote-control car, Kelly Carter of Olney, Md., finished her cell phone holder outside of class. She is fascinated with all types of remote-control cars, helicopters, boats and more.
"I love to take things apart and put them back together, but this is my first chance to really experiment with making different things," says Carter, whose response to Staab's question as to whether she would like to build and program an Arduino robot was an enthusiastic, "I don't know what an Arduino robot is but I am sure going to try it!"
Read about more First Year Seminars: