The Forest Online course turns McDaniel students into great storytellers
The Forest Online course at McDaniel College is not only about researching wildlife, forest protection, ecotourism and community in the Peruvian Amazon but also has the purpose to teach students to become great storytellers and turn what they have learned into high-impact stories. The three-part course is taught in the fall semester, during McDaniel's January Term and in the spring semester.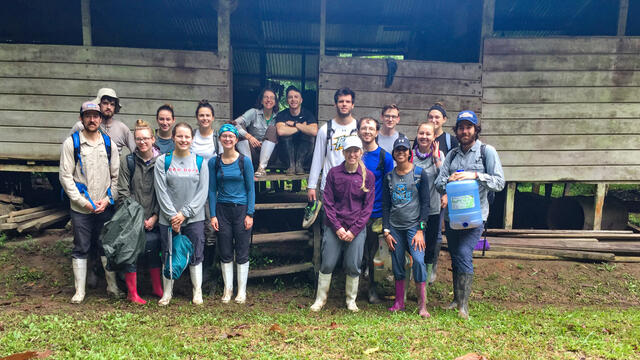 Crumbs bouncing off a roof from the mouths of hungry little monkeys snacking on fruit trees above an open-air shower is one sound McDaniel College senior Jackie Fahrenholz will never forget from her experience in the Peruvian Amazon.
Something that seems so simple and minuscule left a mark in Fahrenholz's memory.
She also remembers the unique view to the Amazon rainforest from there and the peace it brought.
"I loved being out in the forest and having time to reflect in this discipline that I so ever enjoy," said Fahrenholz, an Environmental Studies major with a concentration in Biology, Earth Systems Science and Policy and Management.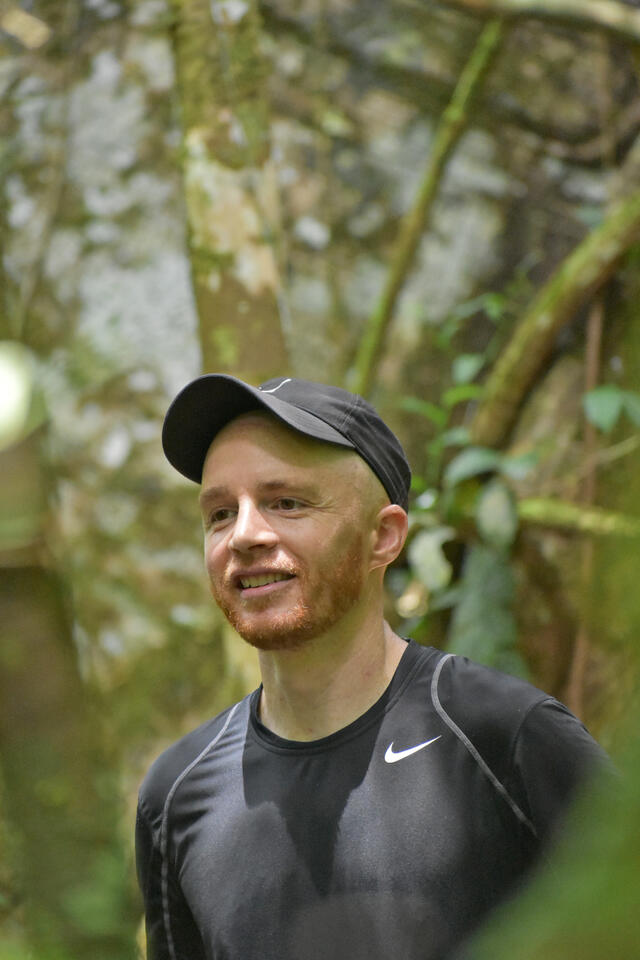 It was more than a one-time travel experience for McDaniel College students. It was part of The Forest Online, which is offered as a three-part course in the fall semester, during McDaniel's January Term and in the spring semester, according to Jason Scullion, associate professor and department chair of Environmental Studies at McDaniel College.
"My hope is that this travel experience sticks with the students throughout their lives that they can look back on their visit to Peru as a transformational time that helped them grow," Scullion said. "Perhaps a moment they came to better know themselves and what they want to do with their lives. I also hope that the students better understand who they are as citizens, including the great wealth and opportunities that we have in our country compared to most people living in remote and developing parts of the world."
While the goal of the course is to research wildlife, forest protection, ecotourism and community in the Amazon rainforest, the purpose is also for students to turn what they have learned into high-impact stories, Scullion said.
"The best way we knew how to help our student develop into great storytellers was to bring them to the Las Piedras River on an expedition, so they could bear witness to and document what was taking place," Scullion said. "Our hope, which has now been realized, was that through their experiences on the Amazon frontier, the students would learn how to tell great stories and change the world in the process."
The 16 McDaniel students split into four research teams based on the places they visit and the people they meet while in Peru, according to Scullion.
"Once they are on a team, the students decide among themselves what stories they want to tell when they return to McDaniel. Often the teams begin with an idea for their story, but over time this idea evolves, or they start over after they discover a different story they would prefer to tell. Very often the story they end up telling is their own story," added Scullion.
For McDaniel College sophomore Molly Sherman, she enjoyed visiting the community of Boca Pariamanu and seeing the jungle as a home. Sherman said the best part for her was being a part of "nature and the human experience in all its abundance."
The trip also gave her strength and resilience in the rainforest.
"I learned that I could find beauty in myself and solidarity in others after long, sticky days spent being pestered by bugs and longing for the comforts of home," said Sherman, who is a double major in Economics and Environmental Studies with a specialization in Biology.
In the fall semester, The Forest Online course shows students the background on culture and prepares them for traveling abroad prior to going to the Peruvian Amazon during McDaniel's January Term, a three-week session that allows students and faculty to explore new areas and expand their intellectual horizons with specially-designed courses. Following the trip, students continue the course in the spring to share their experiences in presentations using their new storytelling techniques.

Scullion said the course has included three expeditions to the Peruvian Amazon over the last six years. But his connection to the Amazon rainforest runs deeper than his time at McDaniel College. In 2011, he conducted Ph.D. research in Peruvian Amazon with a focus on how to best conserve the rainforest during a massive gold mining boom.
"Through this experience, I met a number of amazing people fighting to save the Peruvian Amazon, which is one of the most species-rich places on the planet," Scullion continued. "We decided to work together, raising the money to buy the rights to a highly threatened tract of rainforest on Peru's Las Piedras River and to set up a research and education center."
The Forest Online course was developed in 2015 with Josh Ambrose, who is the associate dean of campus and community engagement at McDaniel College, according to Scullion.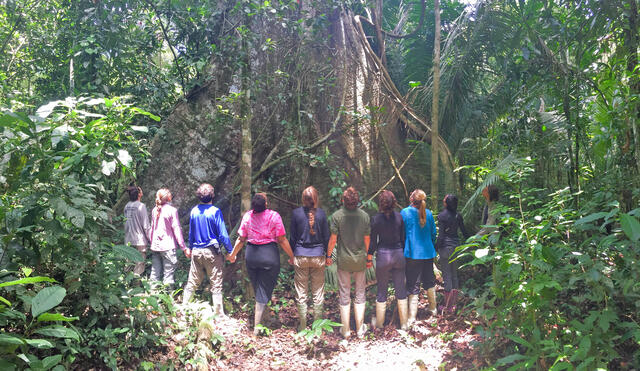 McDaniel's trip to Peru motivates students to become more involved in making a difference when they return, whether it's student clubs, service projects or beyond the McDaniel campus, Scullion said.
The experience also brings to light the beauty and importance of the natural world to students, added Scullion.
The best part for Emma Findeisen, a McDaniel College senior double major in History and Environmental Studies with a specialization in Policy and Management, was viewing the Amazon rainforest during a sunset from the top of an overlook.
"I have never seen something so beautiful yet mysterious at the time," Findeisen added. "It's this huge mass that is so hard to wrap your brain around. It's huge and beautiful and worth conserving and by watching the sun set over the forest really instilled the love I have for the wild places left on Earth."