Homecoming 2022 celebrated on the Hill
Alumni, students, families, friends, and community members cheered on the Green Terror during Homecoming 2022 festivities.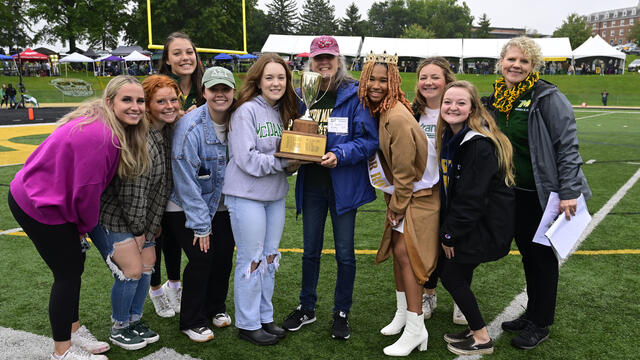 Alumni, students, families, friends, and community members didn't let a little rain prevent them from celebrating Homecoming 2022 on Saturday, Oct. 1.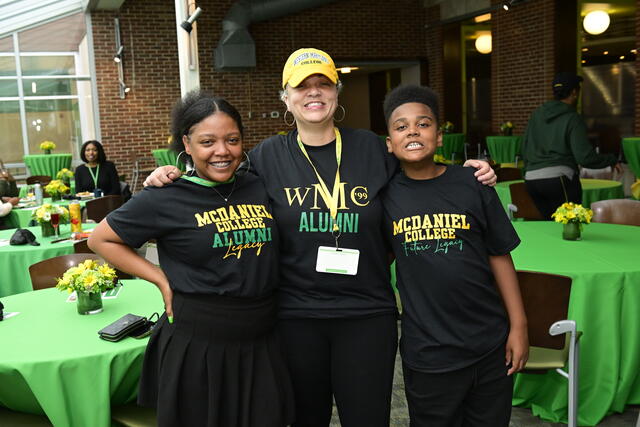 The day began with brunch hosted by the Diversity, Equity, and Inclusion Committee of the Alumni Council. In Baker Chapel, the Student Alumni Council honored the tradition of reading the names of alumni who have passed during the Memorial Bell Ringing Ceremony.
At Kenneth R. Gill Stadium, alumni were welcomed at the Decades Tent while others experienced McDaniel's one-of-a-kind tailgating during the football game. McDaniel won the Homecoming football game against Dickinson (Grinwis Totals Three Touchdowns in 21-13 Homecoming Win).
Pre-game activities included the presentation of the Homecoming Court by President Julia Jasken. Senior Sovereign were Alex Otusajo of Baltimore and Nick Jones of Randallstown, Md.; Junior Royalty were Danielle Whittington of Upper Marlboro, Md., and Destiny Haley of Parkville, Md.; Sophomore Majesties were Amya Jones of Baltimore and Alex Brown of Elkridge, Md.; and First-Year Eminence were Caroline Mujokoto of Middle River, Md., and Shayli Garcia of Montgomery Village, Md.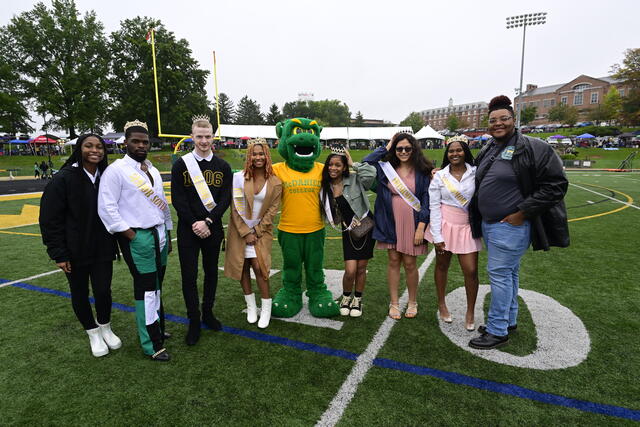 Alpha Sigma Tau earned the James Brant Memorial Cup as the McDaniel Greek organization that excels in academics, varsity sports, leadership, and community service, and also won the Letters on the Hill.
Other home athletic contests for men's soccer (Neary Connects on Header as Men's Soccer Beats Swarthmore), women's soccer (Clawson Scores in Draw Against the Garnet), and volleyball (Second-Set Rally Falls Short in Loss to Haverford) were also enjoyed on Saturday, Oct. 1. Field hockey (Williams Scores Fourth Goal in 4-1 Loss to Muhlenberg) played Friday, Sept. 30, along with the kick off of the Homecoming festivities with the Alumni Association Awards and Green Terror Sports Hall of Fame Awards Celebration hosted by McDaniel College's Alumni Association.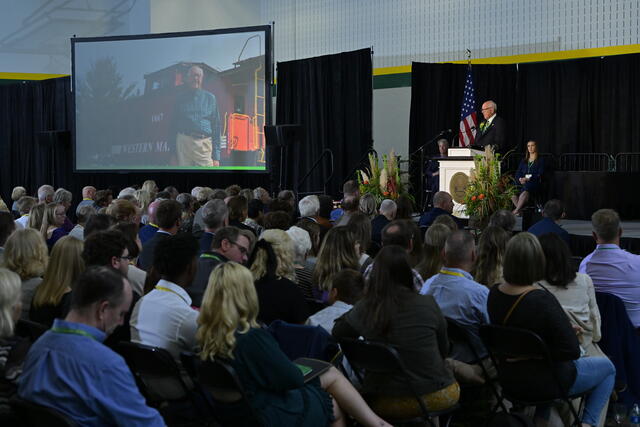 Notable alumni were recognized during the awards celebration for professional achievements as well as for community and college service. Marcus "Lee" Primm '89 was honored as the Alumni of the Year and Dr. Theresa Anne Hess '07 was the recipient of the Young Alumni Award.
Other alumni awards included Don Dea '76, Alumni Community Service Award; John "Jack" W. Fringer Jr. '60, Alumni College Service Award; and Michelle Shearer M.S. '96, Alumni Professional Achievement Award. The late Lt. Gen. (Ret.) Otto J. Guenther '63 was recognized posthumously with the Lifetime Service Award. Read more here.
Named to the Green Terror Sports Hall of Fame were Ardella Campbell Darlington '58; Joan Wood Peters '60; Wayne N. Whitmore '63; Gary "Mac" McWilliams '71; Kari Thompson McBride '98; Mat Mathias '99; Jess Rouse Custer '02, M.S. '07; Michelle Mullen Keller '07; and Brock Glotfelty '11. Read more here.
Student-athletes during the 2021-2022 academic year were also honored by being named to the Fellowship of Champions and the Green and Gold Honor Roll.
2021-2022 All-American
Hannah Schepers '22, Women's Soccer
USC First Team/D3Soccer.com Second Team
Jules Dotterweich '22, Women's Soccer
USC Second Team/D3Soccer.com First Team
Ryan McGarry, Men's Golf
PING GCAA Honorable Mention
2021-2022 Conference Player of the Year
Hannah Schepers '22, Women's Soccer Player of the Year
Josey Klingenberg, Women's Basketball Defensive Player of the Year
Shane Daley, Baseball Rookie of the Year
2022 Green and Gold Honor Roll
Kealey Allison '22, Women's Lacrosse
Michael Bromley, Wrestling
Chett Brunner, Track and Field
Katherine Carstensen '22, Women's Soccer
Sarah Case '22, Track and Field
Gabby Collins, Track and Field
Evie Craig, Softball
Chuck Csejka '22, Men's Golf
Jules Dotterweich '22, Women's Soccer
John Geniti, Track and Field
Anna Jezerski '22, Volleyball
Paytyn Hazelton, Softball
Megan Horsey '22, Softball
Joey Hubinger, Baseball
Alex Huffer, Track and Field
Anders Madsen, Track and Field
Nick Razze, Track and Field
Hanna Schepers '22, Women's Soccer
Zach Stango '22, Track and Field
Jessica Weinoldt, Women's Soccer
Mattie Whalen '22, Softball
Alumni Association Awards and Green Terror Sports Hall of Fame Awards Celebration