McDaniel, Carroll Community College sign Dual Admissions Agreement
Officials from Carroll Community College and McDaniel College have signed a Dual Admissions Agreement offering a clear pathway for students to earn a bachelor's degree at McDaniel after completing an associate degree at Carroll.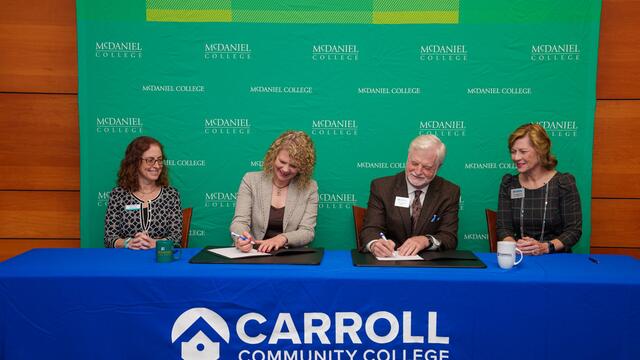 McDaniel College and Carroll Community College (Carroll) have signed a new dual admissions agreement that will offer students who transfer to McDaniel directly from Carroll a clear pathway to a bachelor's degree after completing an associate degree at Carroll.
Carroll Community College President James D. Ball and McDaniel College President Julia Jasken along with Rosalie Mince, Provost at Carroll, and Wendy Morris, Acting Provost and Dean of the Faculty at McDaniel, signed the Memorandum of Understanding Nov. 16 during a ceremony held at Carroll.
"Carroll and McDaniel are collaborating to provide students more opportunities to achieve their dreams," said President Ball. "Both of our campuses attract students who seek quality higher education experiences. This new agreement provides an affordable and seamless pathway for our students to access the baccalaureate at a nationally ranked institution," he said.
The agreement, which goes into effect for students planning to enter McDaniel for the Fall 2023 semester, establishes a collaboration between McDaniel and Carroll that encourages Carroll students to graduate with an associate degree prior to transferring to receive guaranteed admission to McDaniel.
Students transferring from Carroll can apply to the dual admissions program after completing 30 credits at Carroll and McDaniel will accept all Carroll Community College coursework for transfer up to 64 credits as agreed upon by a McDaniel advisor.
Students will have access to an advisor or academic dean at McDaniel for academic advising to ensure alignment with their proposed transfer program. The McDaniel advisor will collaborate with the Carroll advisor to coordinate the degree and the McDaniel transfer requirement.
Carroll students who plan to take advantage of this agreement will need to apply to McDaniel by February 1 and deposit by March 1 to enter the college for the fall semester or apply by September 15 and deposit by October 15 for the spring semester.
President Jasken said, "McDaniel and Carroll have established a number of articulation agreements over the years, but this dual admissions agreement makes it easier for any student, regardless of major, to transfer from Carroll and complete their bachelor's degree at McDaniel."
"In addition to receiving guaranteed admission to McDaniel, I am also excited to announce the creation of a dedicated scholarship fund to be used specifically for Carroll students who are transferring to McDaniel through this dual admission agreement," said President Jasken.