Recent Psychology graduate studies how DIII student-athletes coped with COVID
Psychology major and women's soccer player Lauren Murray '22 conducted research on the coping mechanisms of Division III student-athletes in response to the COVID-19 pandemic. She presented her findings at the 36th Annual Association for Applied Sport Psychology Conference and McDaniel's Inaugural Academic Symposium.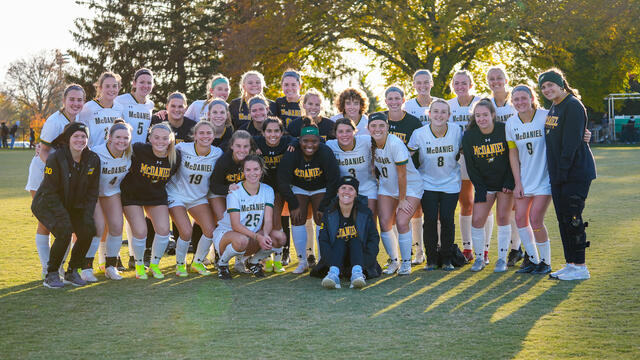 Lauren Murray played Division III soccer all four years at McDaniel, but the COVID-19 pandemic changed the game in her sophomore year, when the Centennial Conference canceled competitions and championships.
At that same time, in the spring of 2020, the NCAA estimated that mental health concerns were 150-250% higher than historical estimates for athletes in all divisions. Some early research studies focused on the negative mental and emotional effects of the pandemic on Division III athletes, but not on how student-athletes — specifically in the Centennial Conference — were coping with restrictions after a year.
Murray, facing those restrictions along with her teammates, wanted to know more about how student-athletes were doing on a larger scale. A Class of 2022 Psychology major with a minor in Sports Coaching, Murray decided to turn her curiosity into a scientific question.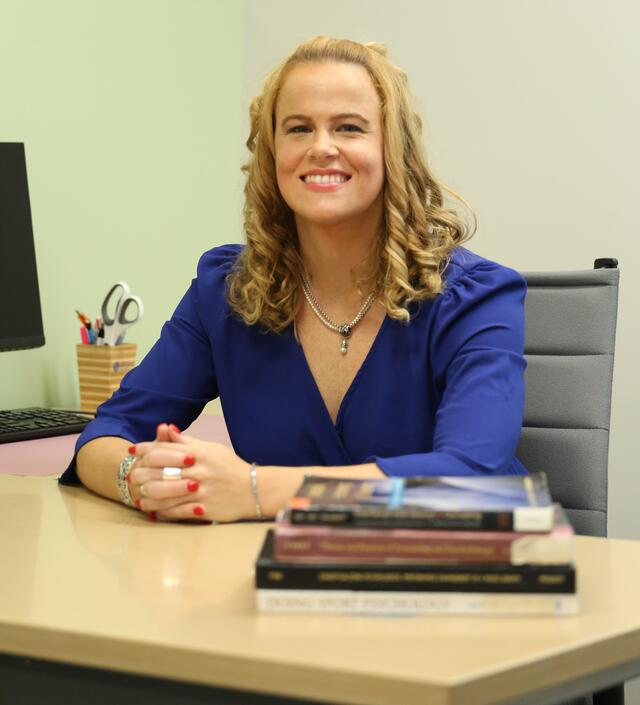 She jumped right into student-faculty research with Assistant Professor of Kinesiology Jessica Ford to conduct an independent study titled "Exploring the coping mechanisms utilized by Division III student-athletes representing a single athletic conference in response to the COVID-19 pandemic," which Murray presented at the 36th Annual Association for Applied Sport Psychology Conference and McDaniel's Inaugural Academic Symposium in April.
The study was limited to student-athletes in the Centennial Conference to examine how students in very particular circumstances were coping. "For a lot of Division III athletes, their sport is a huge part of their identity. They chose to play in college because they love the sport. So having it taken away and wondering, 'Who am I without my sport?' can be a huge stressor," says Ford.
Murray's study surveyed 175 students in the Centennial Conference, representing eleven institutions, with open-ended questions and sections that asked participants to rank the frequency of their coping responses.
Results showed that the most common coping responses were acceptance, self-distraction, and humor. The least common were substance use, denial, and religion, although religion positively correlated with resilience. Resilience — successfully coping despite stress — was not significantly different across athletes' year in school, type of sport played, amount of coronavirus anxiety, and ways of coping.
"The results were interesting because there was a mix of athletes who described feeling depressed and athletes who were more accepting than expected. Before this study, I didn't realize that so many athletes were at the stage of acceptance," adds Murray.
Open-ended responses were categorized by theme, with major ones being isolation, loss, and a desire for greater mental health support.
"We kept the study intentionally exploratory for the sheer reason that we didn't know what we would find. Now that we see what's going on, we can design future studies to address what's occurring," says Ford.
"Finding the results and feeling like I could make an impact with them is really exciting," says Murray. "Coming to the conclusion that I could really help people with our findings is the best part of research for me."
Although the scope of the study only included student-athletes, the results can have wider implications. In fact, despite the name, non-clinical/educational sport psychology focuses broadly on "mental strategies that performers of any kind — musicians, athletes, firefighters, students, tactical populations — can implement," according to Ford.
"On the professional side of things, it is refreshing to see people willing to have a conversation about the impact of the pandemic on performance," says Ford, whose Ph.D. and M.S. degrees have an emphasis in Sport Psychology. "I find it valuable that students were upfront about wanting more support in mental health. We've been having these conversations not just in athletics but across the board."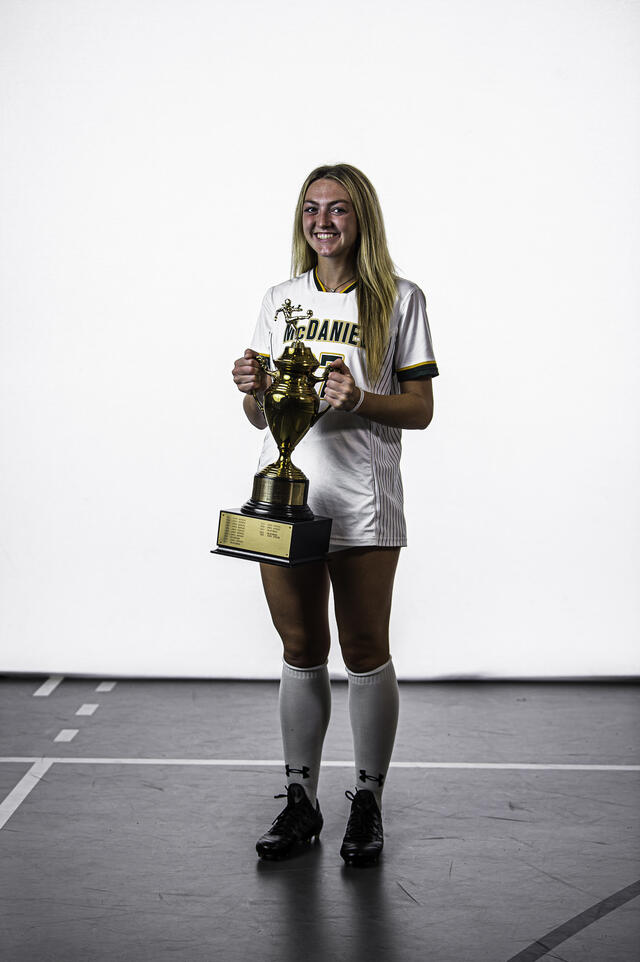 With competitions in the Centennial Conference now resumed — Murray and her teammates won the 2021 Centennial Conference Championship in women's soccer — there may be opportunities to re-examine support systems. McDaniel students currently have access to free Wellness Center counseling, a sport psychology consultant, and open sessions for student-athletes.
This fall, Murray will be attending Georgia Southern University's Master of Science in Kinesiology program with a Sport and Exercise Psychology concentration.
"I feel like I have an edge," she says, having gained this early research experience. Her plans for the future include becoming a Certified Mental Performance Consultant through the Association for Applied Sport Psychology and working with collegiate coaches and athletes.
Murray chose her career path after listening to a talk by Ryan Defibaugh '02, M.S. '05, M.S. '14, a lecturer at McDaniel and owner of MBS Performance Counseling in Frederick, Maryland. "He talked about confidence, cohesion, and how to enhance your mental game. I immediately thought, 'You can do this as a career? I want to do that.' His talk was integral to my decision to pursue sport psychology," she says.
With one-third of McDaniel students involved in athletics across more than 20 Division III teams, McDaniel's faculty, staff, and coaches are committed to supporting student-athletes, whether they are completing research in the field of sports or competing on the field.