Theatre Arts major in the spotlight for lighting design
"There is a beauty to stage lighting — it's a work of art. The time and effort that goes into it is very inspirational," says Kim Parson, junior Theatre Arts major, who was awarded a 2022 Collier Robert Woods, Jr. Scholarship to support her pursuits in lighting design.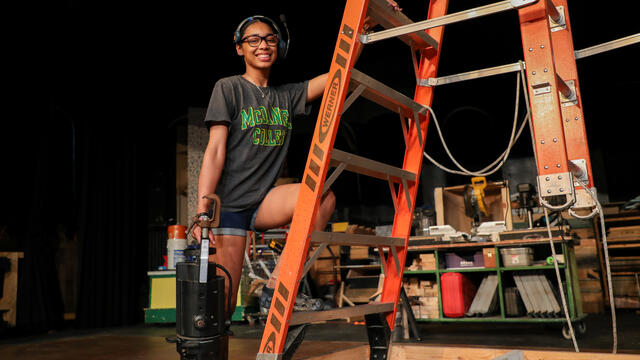 Theatre Arts major and Cinema minor Kim Parson, who usually spends her time directing the stage lights, recently found herself in the limelight.
A junior from Pikesville, Maryland, Parson was recognized with a 2022 Collier Robert Woods, Jr. Scholarship, awarded by the United States Institute for Theatre Technology (USITT), for her passion for lighting design and stagecraft.
"I am truly honored to have been chosen to receive this amazing scholarship," Parson shared with USITT. "My love and dedication to the theatre is paying off, and to be recognized for it is absolutely a blessing."
The scholarship shines a light on Black and African American students pursuing lighting design, theatre production and technology, and associated fields. It was established by the family of the late Collier Robert Woods, Jr. expert lighting designer and stage technician.
"There is a beauty to stage lighting — it's a work of art," says Parson. "The time and effort that goes into it is very inspirational, and I've always been fascinated by it." Growing up, she and her sisters were involved in school plays and choir, and she got involved in stage crew at her middle school.
She firmly believes that all it takes is one good play for someone to see the beauty of theatre; for her, that was King Kong on Broadway during her senior year of high school.
"Some people are like, 'Well, why would I want to go see a play?' But I think you just have to see one good play to become interested," Parson says. "And then you'll start to think, 'Wow, that actor was great on stage,' or 'The lighting looks really good,' or 'That sound effect is really cool.'"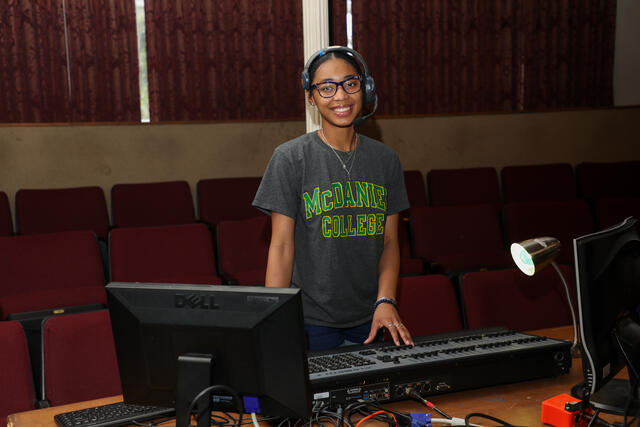 Although she arrived at McDaniel with an interest in mechanical engineering, Parson decided to go all-in on Theatre Arts after taking Stagecraft in her first year.
It's where she was introduced to the lightboard, a control panel for theatre lighting, which sparked her enthusiasm for both art and the technical world. "I've always been interested in the theatre and art mediums like drawing and photography, so in a way I can put all of my interests on stage," she says.
Filters, dimmers, cues, focus points, and ambiance are just some of the terms that Parson uses on a regular basis. She keeps photos of light plots — maps for stage lighting — on her phone for quick access; they look like the theatre version of a football play.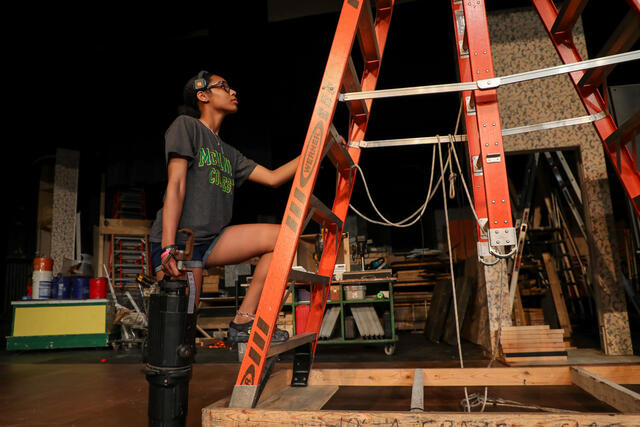 Since coming to McDaniel, Parson has gained practical experience through four on-campus productions, including this fall's "Wintertime."
Assistant Professor of Theatre Arts Shana Joslyn specializes in stage design and technology and works closely with students pursuing the technical side of stage work — especially through courses like Stagecraft and Theatre Appreciation.
She knew right away that Parson would be a good fit for the Collier Robert Woods Jr., Scholarship. "I'm proud of Kim and all of her hard work," Joslyn says. "She is a great recipient because of her dedication to theatrical lighting and continuous learning in the field."
Joslyn says McDaniel's Theatre Arts department stands out for its small class sizes, which allow for more face-to-face time with professors and a hands-on learning experience. "Our students and alumni are working regionally and nationally, and our faculty have connections with local theatres," she says. "So, students can build their theatre resume outside of the classroom."
"Shana is open-handedly showing me — and many other students — great opportunities to advance our careers," says Parson.
Parson has learned the ropes from other McDaniel students, too. Fellow junior Gibson Cameron of Arlington, Virginia, assists productions as master electrician and is helping Parson train to become a master electrician.
"Receiving this scholarship has encouraged me to continue what I'm doing and showed me that if you work hard, you're going to see the benefits of it, even if it's just recognition of what you do. It made me so happy to receive it," Parson says.