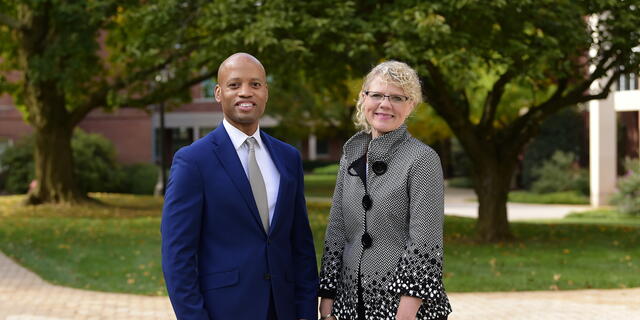 DEI Subcommittee of the Board of Trustees' Academic and College Life Committee
Responsibilities
Advise, review, and monitor progress of the College's ongoing strategic efforts pertaining to Diversity, Equity, and Inclusion. ​
Receive and review reports from Administrative Team to ensure efforts align with strategic priorities. ​
Provide nominations to the governance committee of the Board to increase BIPOC representation.​
Report to the Board of Trustees on recommended actions and& the endorsement of policies.
Membership
Ralph O. Frith '84
Trustee, Divisional Sales Manager (ret.), Spectrum Brands, Inc.
Carolyn Landis
Trustee, Managing Member, Catalyst Partners, LLC
Bruce H. Preston '75
Trustee, Chair, Preston Realty, LLC
Aaron Slaughter '10
Trustee, Senior Manager, WithumSmith+Brown, PC
Sue Stevenson '85
Trustee, Executive Director, Novartis Institutes for Biomedical Research, Inc.
Patrick Stokes '91
Trustee, President and CEO, Sage Brothers Holdings
Barbara Thomas '70
Trustee, Global Village Team Leader, Habitat for Humanity, International
Erin Benevento '15
Chief of Staff , President's Office
Shelley Ensor
Senior Lecturer in Music
James A. Felton III '95, M.S. '98
Alumni Council DEI Committee Chair, Vice President for Inclusive Excellence, The College of New Jersey
Julia Jasken
President
Robert Lemieux
Associate Professor of Communication & Cinema
Victoria Marshall
Student representative, Junior Sociology and Psychology major from Harwood, Maryland
Wendy Morris
Acting Provost & Dean of the Faculty
Martine Motard-Noar
Professor of World Languages, Literatures, and Cultures
Andrea Phillips '04
Associate Chief of Staff & Events Coordinator, President's Office
Jathiya Singleton
Administrative Assistant, President's Office
Richard Smith '00
Associate Provost for Equity & Belonging
DEI Committee of the Alumni Council
Responsibilities
Ensure BIPOC alumni are considered in alumni engagement efforts.
Create distinctive opportunities that invite BIPOC alumni to be engaged with the college.
Establish opportunities for BIPOC alumni and BIPOC students to interact and connect with one another.
Membership
James Felton '95 (Chair)
Veronica Esteves Dietz '00
Diane Drakes '98
Erika Herron Hall '99
Salini Jayamuni '09
Calvin Lineberger '97
James Martin '93
Kimberly Bloch-Rincan '99
Thomas Roberts '94
Carl Taylor '01
Jasmin Chavez-Cruz '19
Alexaundria Leonard '17
Jennifer Cormeny '93
Demetrios Lambros '92
DEI Administrative Team
Responsibilities
Examine policies and procedures to promote inclusion, anti-racist practices, and zero tolerance of symbols of exclusion.​
Lead community in identifying strategic diversity-related initiatives. ​
Operationalize DEI efforts as articulated in the College's strategic plan.
Review plans of action to attract more people of color to faculty and staff.​
Offer opportunities for DEI-related conversations with various constituencies in the McDaniel Community, including fellow board members. ​
Membership
Richard Smith (chair)
Associate Provost for Equity & Belonging
Julia Jasken
President
Janelle Holmboe
Executive Vice President for Constituent Engagement
Wendy Morris
Acting Provost & Dean of Faculty
Dave Sears
Vice President of Institutional Advancement
Christine Moran
Associate Vice President of Student Success
Heidi Reigel
Associate Vice President of Alumni & Parent Engagement
Eric Immler
Director of Campus Safety
Vickie Mazer
Dean of Graduate and Professional Studies
Liz Towle
Dean of Students
Adam Hertz
Director of Athletics
Rose Mercier
Director of Human Resources
Jenni Glennon
Associate Vice President for Administration
Bryn Upton
Professor of History
Apollo Mian
Professor of Physics
Anna Isner
Financial Aid Specialist
Jathiya Singleton
Administrative Assistant