Class of 2023: Reuben Hubbard
Reuben Hubbard is a Philosophy major with a deep appreciation for art. His capstone, "Hands: an Aesthetic of Wittgensteinian Wonder," combines his art and philosophy knowledge — plus a more than 30-foot scroll of hands drawn by Reuben. In addition to graphic design work for multiple campus organizations, Reuben stayed busy in campus communities like Dangersauce, Progressive Student Union, and the Honors Program.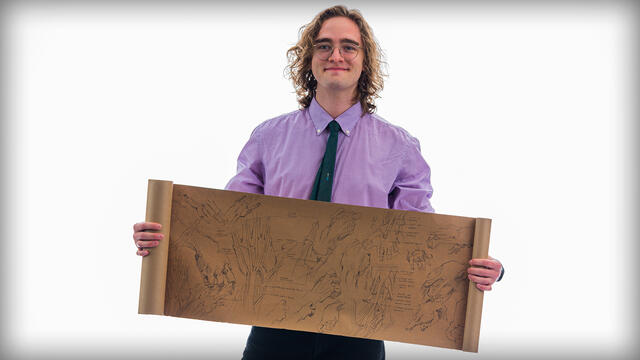 Reuben Hubbard is a Philosophy major with minors in Art and Cinema from Bigfork, Montana.
When I took my first step on the Hill, I was: Nervous, overwhelmed, and unsure of myself. Excited! But cautious.
The me who will ring the Old Main bell on Commencement Day is: A completely different person.
Real world experiences: I studied abroad in Budapest in the spring semester of my freshman year. I had a good time, but I think I was overly ambitious to study abroad my second semester. It was already a big adjustment being on the other side of the country; jumping across an ocean was an even bigger one.
My favorite achievement of this sort has probably been my work as a graphic designer for the Office of Student Engagement (OSE). I'm given a lot of freedom and it's been a great way to build my portfolio, develop my style, and improve my skills.
My aha moment: In the last half of my last semester, I've been forced to reconsider my values and priorities. My whole life, I've been obsessed with being a "high achiever" and impressing my peers and superiors (teachers, professors, mentors). I really based my personal worth on my productivity and the opinions of others, and because of this I always felt like I wasn't doing enough, and my work wasn't good enough; no matter how well I did, I was constantly failing.
It's only now, amid the most difficult semester I've ever had, that I realized I don't always need to chase the highest accolade in every area of my life! I've put more time into taking care of myself and enjoying this last little period while I'm still in college, and I'm really optimistic about my future.
Footprints I'm leaving on the Hill: It's hard to say what impact I'll leave. I designed three logos for clubs (Dangersauce, McDaniel Live Music Club, and the Free Press), and I've produced a lot of graphic design content on campus; I think that will stand as the most concrete and obvious evidence that I was here.
What I really hope is that the people who helped me get where I am remember how hard I worked and how much I cared. I would like to think that professors will talk about me or use my work as examples — I would LOVE to be asked to help future students with their philosophy, art, design, or cinema work. I wasn't the most involved in the McDaniel community, but I really value the relationships I built here.
Faculty or staff member who most influenced who I have become: Personally, I would have to say the former chair of the Philosophy department, Vera Jakoby. I took her Native American Philosophy course my freshman year and her Environmental Philosophy and Critical Thinking courses my sophomore year. The things I learned in her classes radically challenged the worldview I had brought with me, and while it was terrifying at first, it eventually led to the way I see the world today. She encouraged me on my path to developing my personal philosophy, reassuring me that it was normal and even good for the framework I had been using to fall out from under me; that's what philosophy is all about. She was also an incredible instructor: compassionate, thoughtful, well-read, brilliant, and flexible.
Best class ever: Advanced Studio completely changed how I see myself as an artist. The readings gave me a lot of art theory to chew on, the daily chronicles allowed me to develop my hand lettering skills, and the total freedom of the main projects gave me a structure to practice the thing I love most: drawing. While I have very little "formal" art training, this course (really these courses, Advanced Studio I and II) was absolutely essential in my artistic development.
Took me totally by surprise: People are so willing to help. Not only professors, but staff, community members, and experts in my field who have nothing to do with my college career have all been invaluable resources. If you can prove that you care and articulate exactly what you need, there's almost always someone who is willing to share what they know.
My favorite spot on campus: This is a tough one! For the sake of brevity, I'm going to say the corner that connects Lewis Hall of Science to Eaton, specifically the third floor. The massive windows provide one of the best views on campus, and there's rarely anyone there, making it a great place to study.
Most mind-boggling idea I learned at McDaniel: Anthropocentrism and its problematic implications. Humans, western society in particular, have a tendency to place ourselves at the pinnacle of creation. We have determined that we are the ontological center of a generally dead and indifferent universe. I now fundamentally disagree with this idea for reasons that deserve a whole paper of their own.
My capstone title: "Hands: an Aesthetic of Wittgensteinian Wonder."
What it's about in plain talk: The Austrian philosopher Ludwig Wittgenstein describes wonder as an experience in which you see the world as miraculous, wherein you contend with truths you cannot fully articulate. My thesis attempts to lay the framework for a theory of aesthetics based on the idea that art is uniquely capable of interacting with this experience and thus giving us insight into the most important elements of our lives. As an example, I use "The Scroll of Hands," an art project I've been working on since last semester.
Tell us a little about your activities, including sports, during your years at McDaniel: I have been in Dangersauce and Progressive Student Union, and have worked as a writing tutor, peer mentor, postal worker, and graphic designer for OSE. I've had three works accepted to the Kathryn E. Wentz Juried Undergrad Show and was asked to design the socks for One Hill, One Day 2023. I'm also a Dorsey Scholar and member of the Honors Program.
What's next: In the short term I want to work in an art space. My dream would be to work at STABLE in Washington, D.C., a nonprofit that provides studio space, programming, and advocacy for artists and the arts in the district. If I can't work at an organization that does something in that vein, I'll take whatever job I can get that puts me around artists, including working at Blick.
While I work whatever job I get, I'm going to develop my project star garden (intentionally lowercase), which will eventually grow into a company that represents and supports artists. This too deserves a whole paper of its own.
If you received financial aid, what did that mean for you and your family? I'm a Dorsey Scholar, meaning my tuition, room, and board were fully paid for. My parents aren't in a position to help me financially, so this meant I was able to avoid the nightmare that is student loans. I am incredibly grateful to be able to graduate debt free and hopeful that this will give me more power to give back to the people who got me here.
How will you stay connected to McDaniel? As previously mentioned, the most important things I'm leaving behind are relationships. I hope to stay in touch with the professors who have meant the most to me to show them how their hard work is paying off!
Major: Philosophy
Class of 2023
"People are so willing to help. Not only professors, but staff, community members, and experts in my field who have nothing to do with my college career have all been invaluable resources."