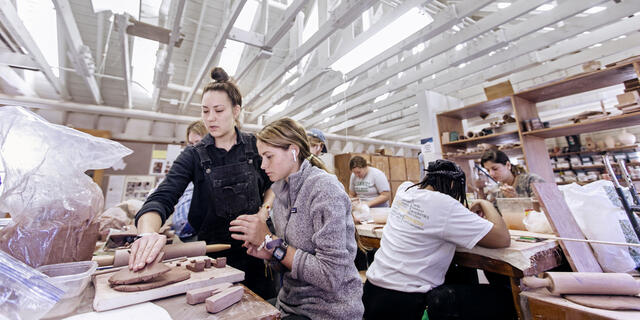 Overview
The Art Department faculty work to nurture students' creativity by developing critical and technical skills grounded in an appreciation of art as an essential element in a fulfilling life.
Majors, Minors & Specializations

The Art faculty works to nurture students' ability to use art to convey their ideas through traditional, digital, and intermedia approaches to examine, interpret, understand and negotiate the natural and soci-cultural world they inhabit. 

Perfectly combines the strengths of both the Art and Communication departments with diverse coursework in graphic design, photography, core communication curriculum, and in depth research opportunities.

A specialization in the Art department, Graphic Design equips you to put your artistic sensibilities to use communicating ideas and concepts in ways that can be informational, beautiful, helpful, or purely entertaining. And the good news is that graphic designers work in industries and businesses of all types—from Hollywood to advertising to publishing and many, many more.