Fellowship in Spain reinforces sophomore's dream of serving others through medicine
Sophomore Elva Joya seizes every opportunity to explore a future in medicine from her double major in Biomedical Sciences and Psychology to her internship in Spain shadowing surgeons and learning about the country's free public healthcare system.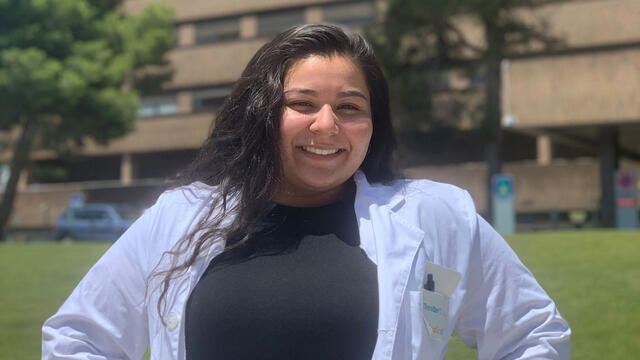 Elva Joya fell in love with medicine, with the doctor-patient interaction, when she was only 10 years old. A first generation Salvadoran-American, Joya went with her grandparents to their doctors' appointments to serve as translator.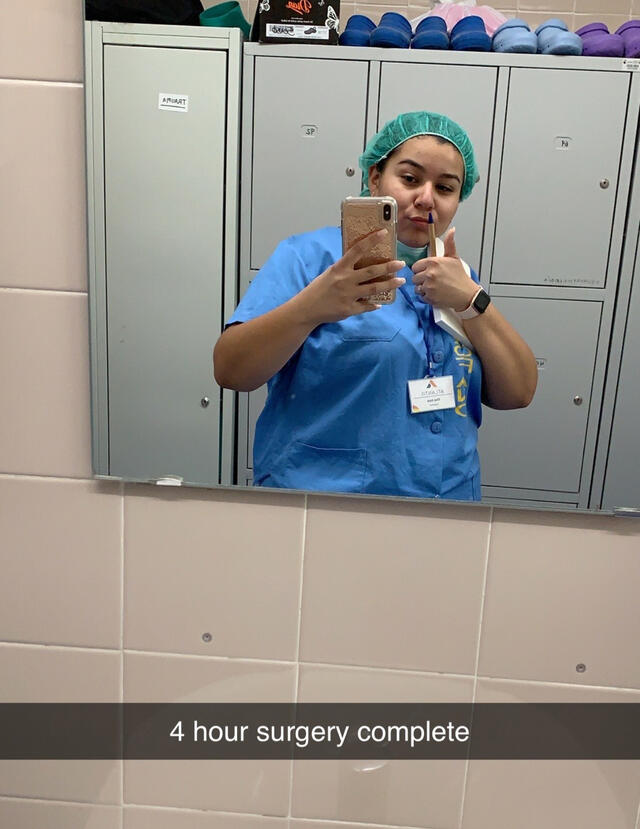 She relayed their ailments and concerns to the doctors, and then explained to her grandparents — mis abuelos — how to take their medications and what each pill was for. All the while her drive to help people and to give back to her family took root and grew stronger.
While still in high school in her hometown of Rockville, Md., Joya volunteered at Johns Hopkins Suburban Hospital as a medical explorer. She put together food drives and care packages for patients, looked into career opportunities in medicine and earned her CPR and automated external defibrillator certification.
Now a sophomore with a double major in Psychology and Biomedical Sciences and a minor in Spanish, Joya is a CEO ambassador and a resident assistant, and last year worked as an assistant and outreach specialist with McDaniel's Wellness Center. She spent the first half of the summer after her freshman year working for the Food and Drug Administration performing clerical tasks for its Immediate Office and Human Capital Management branch.
Then, with support from The Rupe-Stuart Internship Award, courtesy of McDaniel trustee Mark Stuart M.S. '94 and Timothy Rupe, and The Nora Roberts Foundation, Joya flew to Albacete, Spain, for an internship with the Atlantis Fellowship and an opportunity to learn more about the Spanish National Healthcare System with its free and universal health care for all.
In Spain she spent Monday through Thursday in the hospital shadowing doctors, watching surgeries and always paying particular attention to the doctor-patient interaction.
"With public healthcare, all cases are treated the same," she says. "Doctors are young and very much on their game with more exposure to patients because patients aren't afraid of the cost of seeing a doctor."
Dressed in scrubs, she stood by the side of the operating table watching a surgeon remove a baseball-size tumor from a patient's parotid gland. The team of surgeons explained everything during the 5-hour procedure, including the delicate nature of the surgery in which one nick of the facial nerve could leave the patient with facial paralysis.
"I just kept thinking how beautiful the surgery was, how amazing," she says. "Everything happened in such an orchestrated manner."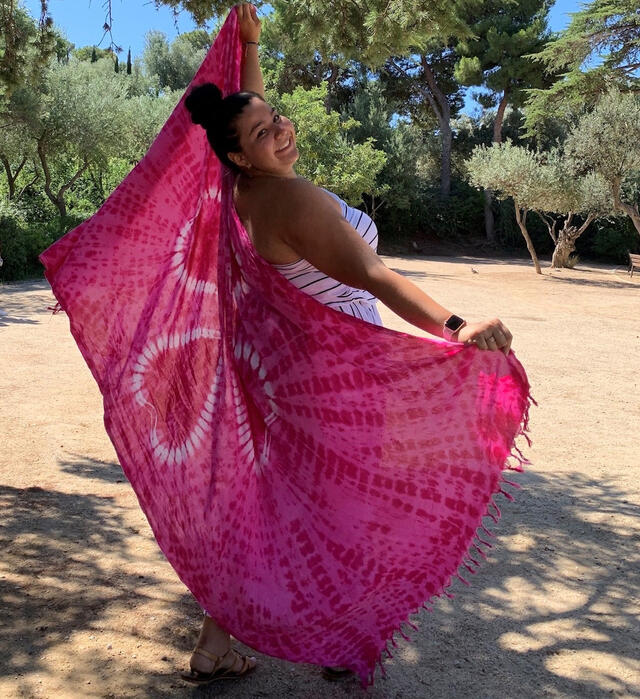 As she races after her dreams, embracing every opportunity to turn those dreams into reality, Joya thinks of her family. The grandparents who relied on her. Her parents and sisters who supported her and sacrificed so she could even consider going to college. Her hard work and dedication won her a spot in McDaniel's Honors Program and a full-tuition Presidential Scholarship.
She was recognized as a freshman with the Felix Woodbridge Morley Memorial Award was established in 1952 by Mr. and Mrs. Felix Morley in memory of their son who was a freshman at the college during the 1951-1952 academic year. The award is presented to a first-year student who by his or her development on the Hill has most happily justified admission to the college community.
And always on her mind is her desire to give back to those who have given so much to her and to serve others.
"After the amazing and unforgettable experience in Spain, I solidified my passion for medicine and the service of others," says Joya, who is a member of the Hispano-Latinx Alliance and the League of United Latin American Citizens, organizing the "I Stand with Immigrants" campaign. "I made a commitment to myself to never give up and do whatever it takes to fulfill my dream of serving as a physician.
"I made the commitment to myself, my family, my mentors and the future people I will serve."