Four ROTC cadets commissioned as Army officers
Four McDaniel graduating seniors, who served as members of the Green Terror Battalion, were commissioned as Army officers on May 21. Maj. Gen. Clement S. Coward, director of the Department of Defense Sexual Assault Prevention and Response Office, served as the keynote speaker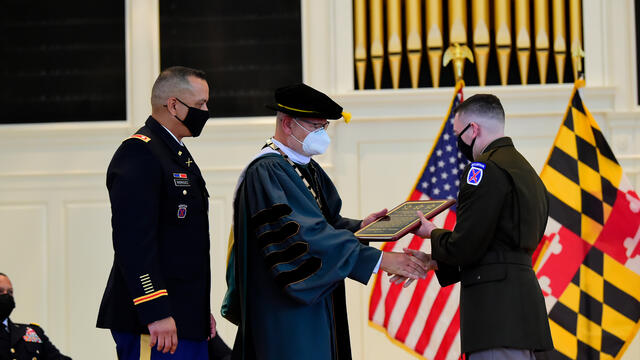 Four McDaniel graduating seniors, who served as members of the Green Terror Battalion, were commissioned as Army officers at 9:30 a.m. May 21 in a ceremony in Baker Memorial Chapel. Cadets from Mount St. Mary's University and Hood College were commissioned in separate ceremonies.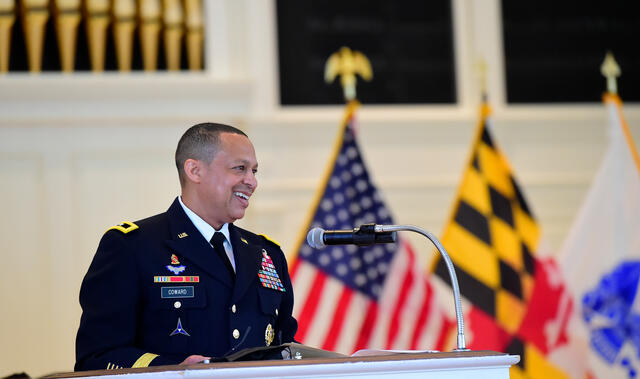 Maj. Gen. Clement S. Coward, director of the Department of Defense Sexual Assault Prevention and Response Office, served as the keynote speaker.
Coward shared advice, noting to hold onto what pushes the cadets through each day when they are "down and tired."
"A couple of other things that I still think about is treat people how you want to be treated and don't forget where you came from," Coward said, adding that success also came from the people who supported them.
A new award was created in honor of retired Lt. Gen. Otto J. Guenther '63, chair of the McDaniel College Board of Trustees, who has provided continued care and mentorship to all of the cadets of the Green Terror Battalion over the last five decades.
Cameron Victor St Andre of Westminster, Md., was recognized with the inaugural Lieutenant General (R) Otto Guenther Leadership Award, which goes to the commissioning cadet who best exemplifies the character, morals and leadership, and lifelong dedication demonstrated by Guenther both to the U.S. Army and to his alma mater, McDaniel College each year.
The following McDaniel seniors took the oath of office and received commissions as second lieutenants in the U.S. Army: