McDaniel research: Invasive spotted lanternflies may be on these trees in your backyard
In a 2023 study published in Florida Entomologist, McDaniel College researchers identify three new tree species not previously recorded as hosts for invasive spotted lanternfly nymphs. Back in 2019, two students and Associate Professor Holly Martinson surveyed the insect's nymphs and egg masses in Pennsylvania, as well as plants at the McDaniel campus and McDaniel Environmental Center, with support from the Student-Faculty Collaborative Summer Research Program.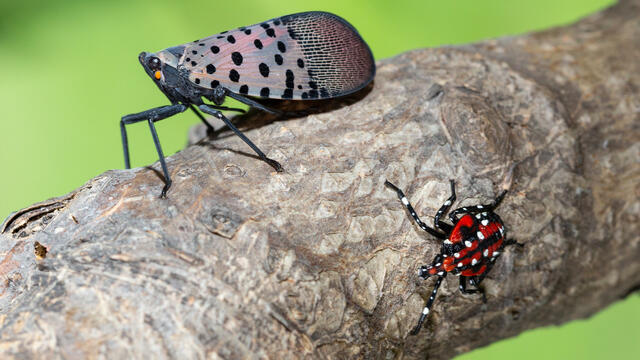 In 2019, Associate Professor of Biology and entomologist Holly Martinson and two McDaniel Biology students, Su Kim '20 of Frederick, Maryland, and Anna Kuhn '21 of Bel Air, Maryland, began an investigation that was recently published in Florida Entomologist: "Host Preferences of Spotted Lanternfly and Risk Assessment of Potential Tree Hosts in Managed and Semi-Natural Landscapes."
In the study, the researchers document three new tree species as preferred host plants by nymphs (the juvenile stage of lanternflies), then survey plants on McDaniel's campus and the McDaniel Environmental Center (MEC) to consider the risk of lanternfly spread.
"At the time, even less was known about the spotted lanternfly than now, making it an interesting challenge to design a study on them," Kuhn says. "Even with these challenges, I remember having so much fun doing the field work."
The invasive spotted lanternfly is flashy, with wings partly red and partly sheer with black polka dots. It's pretty cute — for a bug. Which is why it may come as a surprise that if you encounter one, the U.S. Department of Agriculture (USDA) wants you to squash it on sight, regardless of its good looks.
Martinson knew the insects were a problem when they were first seen in Pennsylvania around 2014. There was plenty of buzz about their arrival stateside in the research community.
Lanternflies hail from eastern Asia, and spread through flight or by hitching a ride on produce or products moving across state lines. It's an equal-opportunity eater without specialized predators outside of Asia, putting U.S. crops and native plants at risk.
Entering the quarantine zone
The insect presented a unique opportunity for researchers to learn new protocols for studying invasive species. Areas where lanternflies are found become quarantine zones, meaning certain activities in those areas (like professional landscaping) require a permit and extra checks for stowaway bugs. Many Americans may even be living in a quarantine zone without realizing.
Martinson, Kim, and Kuhn entered a zone in Pennsylvania to conduct field surveys, with support from McDaniel's Student-Faculty Collaborative Summer Research Program, a program that has launched the research careers of many Green Terrors.
"We met with USDA agents to talk about how to do this safely and what our goals were," Martinson says. "The students saw parts of research that we don't usually have to go through because this is a new and invasive insect."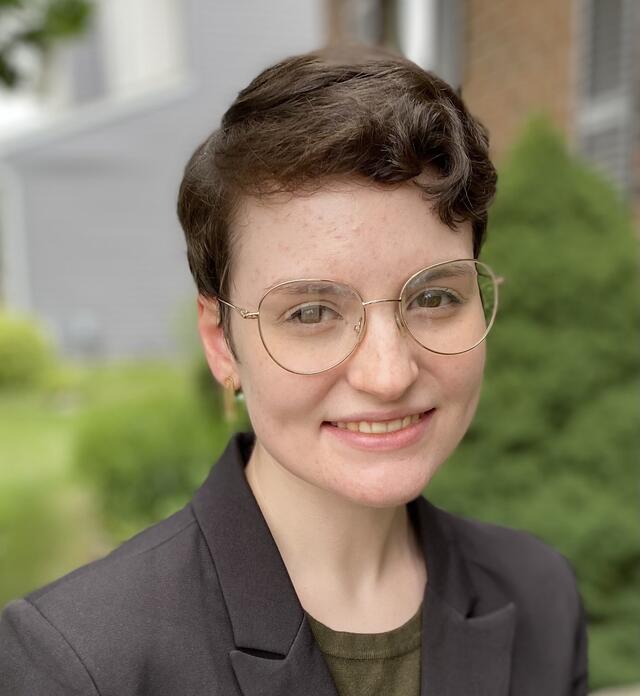 For Kuhn, the experience has stuck with her in the years since conducting field research.
"After graduating from McDaniel, I was able to adapt my skills to work in a professional lab at the Johns Hopkins Center for Immunization Research," Kuhn says. She is now a physical and occupational therapy clinic assistant at MedStar Health.
The researchers counted nymphs and egg masses on trees, vines, and shrubs, finding them on 12 plant species known to be preferred by the nymphs and discovering egg masses or nymphs on three tree species not previously documented: sweetgum, green hawthorn, and eastern redbud.
The 12 known species included: sugar maple, tree of heaven, serviceberry, winter king, American beech, black walnut, tulip tree, eastern white pine, rose, blackberry, tetradium, and grapevine.
"This project was one of the things that defined my college experience," Kuhn says. "Dr. Holly Martinson has made such a positive impact on my education and career, and I can't thank her enough for that."
A unique approach to researching invasive insects
Their next question was how many of those bug-loved plants were right here at McDaniel, which at the time was not an infestation zone.
"We took a creative approach by considering how the infestations in Pennsylvania would predict ones in Maryland," Martinson says.
They applied the findings from their field surveys to the McDaniel campus and MEC to tally at-risk plant species close to home — and identified a significant number of at-risk species on the Hill.
Kim and Kuhn saw the full publication process, from research and writing to peer review and revision. While the whole process took four years, it was a valuable learning opportunity, and the data may be even more relevant today than it was in 2019, since lanternflies have since spread to over 12 states.
After the study was published, Martinson was contacted by researchers at a theoretical ecology lab in Pennsylvania interested in the original data for use in predictive models for insect spread. "Being a part of the conversation has been such a valuable aspect of this," Martinson says. "I'm glad that my former students can be so proud of their work."
Lanternflies lay eggs in October and early November, and the nymphs emerge in May. While they prefer trees, they'll lay eggs on many flat surfaces. If you see a spotted lanternfly, follow guidelines from your state's department of agriculture to report the sighting and learn how to manage the pest.
Additional Resources on Lanternflies:
U.S. Department of Agriculture
Maryland Department of Agriculture