Together again for Homecoming 2021
After 742 days, Homecoming 2021 consisted of a plethora of activities, including alumni awards, milestone class reunions, cheering for the Green Terror, and more.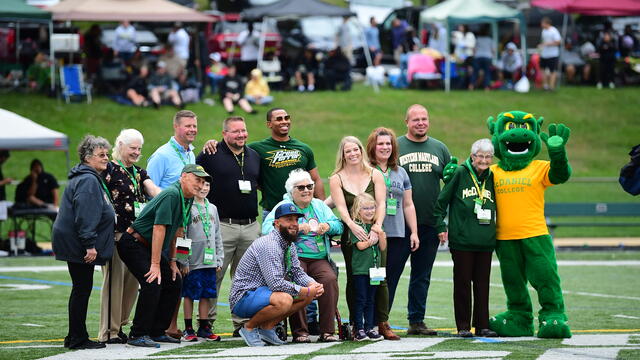 After 742 days, alumni were welcomed to campus to celebrate an in-person Homecoming on the Hill.
The weekend kicked off on Thursday, Oct. 14, with a welcome from college leadership.
Later that evening, over 100 alumni gathered virtually to share a toast with the 2021 signature Homecoming cocktail "8 a.m. Friday Class" created by Brett Young '94, while participating in the ever-popular virtual Green Terror Trivia moderated by Fernando Gomes '10. Maria O'Toole '08 won the grand prize of an athletic event catered for 10 in one of the college's suites in the stadium or Gill Center and a $100 McDaniel gift basket. Second place went to Scott '07 and Lauren Koleszar '11, who earned a $75 McDaniel gift basket, and Maureen Martin '86 earned a $50 McDaniel gift basket for placing third.
Friday, Oct. 15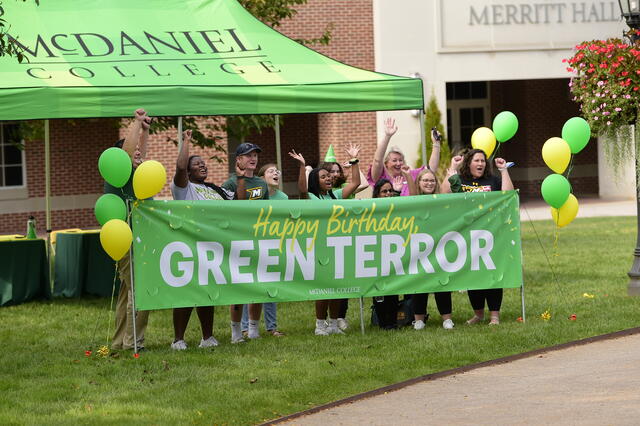 The day began on Friday, Oct. 15, with a class reporter summit bringing together the alumni who serve as class reporters for The Hill alumni magazine, representing the class of 1950 to the class of 2013.
While current students celebrated the Green Terror's birthday, President Julia Jasken hosted a luncheon for alumni commemorating a milestone reunion of 50 years or more. The Golden Reunion classes of 1970 and 1971 were specifically recognized with a medal ceremony. A dessert reception followed for those interested in learning more about how planned giving impacts the college.
Friday's culminating event was the Alumni Association and Green Terror Sports Hall of Fame Awards celebration honoring the 2020 award recipients and Hall of Fame inductees. These notable alumni were recognized for professional achievements as well as for community and college service. Alexander G. Ober '63, M.Ed. '69, was honored as the Alumnus of the Year and Aaron Slaughter '10 was the recipient of the Young Alumni Award.
Saturday, Oct. 16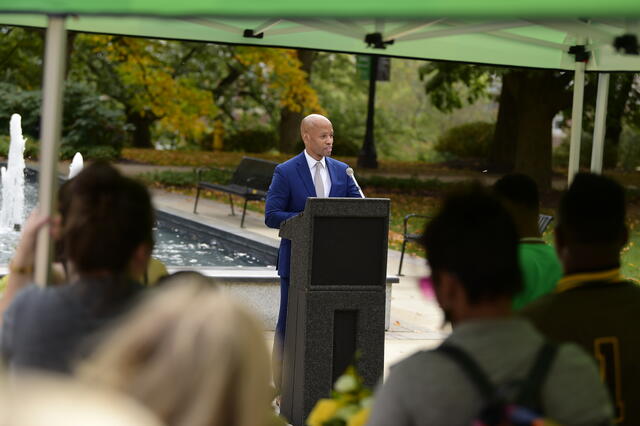 Game day was Saturday, Oct. 16, with a plethora of exciting activities. Alumni had the opportunity to tour campus, including the Roj Student Center, where students and faculty showcased their summer research projects during the Green Terror Research Showcase.
Richard M. Smith '00, Associate Provost for Equity and Belonging, spoke about his vision for inclusive excellence and the college's commitment to diversity initiatives during "A Time to Connect," which was followed by members of the Diversity, Equity, and Inclusion Committee of the Alumni Council hosting a moment of reflection at the McTeer-Zepp Plaza.
The Student Alumni Council honored the tradition of reading the names of alumni who have passed during the Memorial Bell Ringing Ceremony. There was a special moment of silence in memory of retired Lt. Gen. Otto J. Guenther '63, chair of the McDaniel College Board of Trustees, who passed away on Oct. 14 at the age of 80.
Cheering on the Green Terror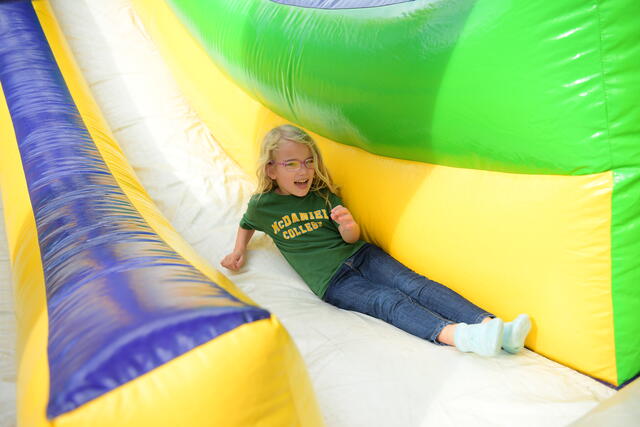 It would not have been a game day without the opportunity to cheer for the Green Terror, including tailgating at Kenneth R. Gill Stadium during the football game and having the opportunity to watch other home athletic contests for women's and men's soccer, volleyball, and field hockey. There were even special activities for McDaniel's youngest Green Terrors at the Tiny Terror Zone.
Prior to kickoff of the Green Terror football game, President Julia Jasken presented the James Brant Memorial Cup to Phi Mu as the McDaniel Greek organization that excels in academics, varsity sports, leadership, and community service. The thousands of alumni, students, family, and friends in attendance at the game did not let a little rain dampen their spirits.
Class Reunions
The weekend would not have been complete without class reunions and due to COVID-19, the college hosted two years' worth including those for Golden Reunion Weekend.
Milestone reunions included the classes of 1960 and 1961 (60 Years), 1965 and 1966 (55 Years), 1970 and 1971 (50 Years), 1975 and 1976 (45 Years), 1980 and 1981 (40 Years), 1985 and 1986 (35 Years), 1990 and 1991 (30 Years), 1995 and 1996 (25 Years), 2000 and 2001 (20 Years), and GOLD (Graduates of the Last Decade).
The classes of 1960, 1961, 1965, 1966, 1970, and 1971 were joined by other 55-plus Green Terror graduates during Golden Reunion events on Sunday, Oct. 17.