Scholarships Change Lives
Each year, more than 90% of McDaniel students receive some form of financial aid. You make this possible. In 2020-2021, this includes $4.6 million awarded from more than 350 endowed and annual scholarship funds. So many families are navigating unprecedented challenges right now, and never has your ongoing support been more important. You light the way for McDaniel students during the darkest of times, showing them that they are never alone on this journey. Thank you.

Want to share a message with McDaniel scholarship students about why you give?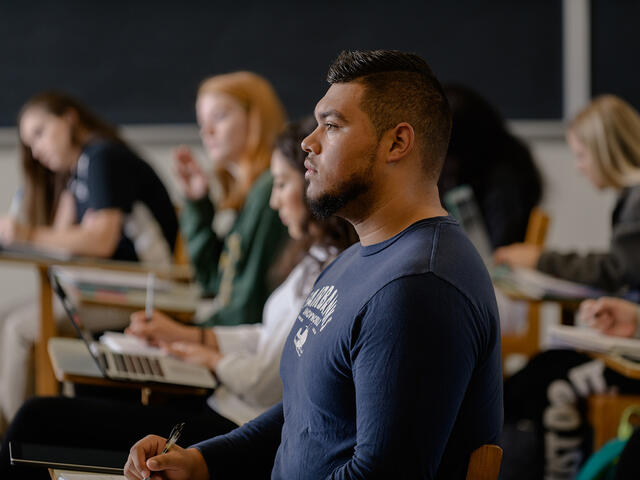 Every Scholarship has a Story
Steve Kousouris '79
Everyone has a story. When you support a scholarship, the story of your  McDaniel journey converges with that of a current student. When Steve Kousouris '79 decided to establish the Louis J. Kousouris and Peter J. Kousouris Scholarship Fund to honor his father and uncle, he knew he wanted to support a student from Baltimore City where his family is rooted. Sophomore Kobe Morrison of Baltimore, this year's recipient of Steve's fund, was given a chance to meet and thank his donor in person. We hope you enjoy seeing how their stories intersect.  
2020-2021 Annual & Endowed Scholarship Funds
At McDaniel, hundreds of endowed and annual scholarship funds established by generations of alumni and friends provide needed support to eligible students, helping them become one step closer to achieving their dreams. Browse funds below, or use Control + F to search for a fund.
| | |
| --- | --- |
| Official Fund Name | Fund Description |
| Alumni Classes Memorial Scholarship Fund | Established in 1998 to receive gifts from members of the Honor Classes in memory of classmates. This fund will provide scholarship support for worthy students at the College based on need. |
| Richard D. and Lynda J. Adams Scholarship Fund | Established in 2005 by Richard and Lynda Adams, the scholarship is awarded annually to assist students of average academic abilities who would be unable to attend without financial assistance. Preference will be for a student who has overcome obstacles, has a strong desire to receive a college education, and has proven to be hard working and tenacious. |
| Jay Martin and Patricia Jones '59 Anderson Scholarship Fund | Established in 2010 by Jay and Patricia Anderson. The scholarship is awarded annually to a student who requires financial aid in order to attend McDaniel College and is studying the humanities. Preference is given to a student who is pursuing a minor or major in a second modern language. |
| Julie Badiee Memorial Scholarship Fund | Established in 2001 in memory of Julie Oeming Badiee, Professor of Art History at the College for 22 years. This fund will provide scholarship for a student majoring in art history giving the student the opportunity to study abroad. |
| BB&T Endowed Scholarship Fund | Established in 2006 by BB&T, the scholarship is awarded annually to assist students majoring in business administration, communications or economics. Preference will be given to a student with financial need and academic distinction. |
| Scott S. and Anita B. Bair Memorial Scholarship Fund | Established in September 2009 through a gift by their son, Glenn S. Bair, this scholarship is to be awarded annually to a student that is a resident of Carroll County, Maryland. The scholarship is based upon academic merit and financial need. The student must maintain a 3.0 GPA to have the scholarship renewed for the following year. |
| Dr. George Stansbury Baker Memorial Scholarship Fund | Established in 2000 in honor of Dr. George S. Baker, Class of 1927, by Charles D. and Turner Baker Broll. The scholarship is awarded annually to deserving students, either sophomores, juniors, or seniors majoring in the sciences who demonstrate academic distinction and financial need. Preference may be given to those who wish to pursue a career in medicine or a related field. |
| Richard J. '42 and Jean L. '42 Baker Scholarship Fund | Established in 1997 by Richard J. and Jean Lamoreau Baker, both members of the class of 1942. This scholarship is awarded annually to an undergraduate student who is a U.S. citizen, who graduates in the top 10 percent of his/her high school class, who exhibits an interest in business studies, and who has financial need. The scholarship may be awarded to a student during each year of his/her study as long as the student maintains the equivalent of a B or higher average. |
| William G. Baker, Jr. Scholarship Fund | Established as a memorial to Mr. William G. Baker, Jr., a devoted trustee of the College. |
| Ballard-McDonald Treasure Seekers Scholarship Fund | Established in 1987 by Virginia Sweeney Ballard, Class of 1942, Worthy Grand Matron, and Robert D. McDonald, Worthy Grand Patron 1986-87, of the Grand Chapter of Maryland Order of the Eastern Star. This scholarship was established by the Worthy Grand Matron as her special project in Education of the Deaf through contributions and fund raisers. The scholarship is to be awarded annually to a student or students in the Education of the Deaf Program. The recipient(s) shall be selected by a committee chaired by the director of the Education of the Deaf program. |
| Baltimore Alumni Chapter Endowed Scholarship Fund | This scholarship is awarded annually to an entering freshman from Baltimore. |
| Honorable Ernest and Lorraine Barnes Scholarship Fund | Established in 2007 by Greg '72, Ken '76, Gail, Rick '77 and Doug '79 Barnes in honor of their parents whose determined work ethic, unwavering commitment to family, dedication to education, intellectual curiosity, loyalty and unquestionable integrity to live a moral life have shaped their lives. The scholarship is awarded annually to a deserving sophomore, junior, or senior who exemplifies the characteristics of their parents and demonstrates financial need. Preference will be given to a student who has one or more siblings who are in attendance or has graduated from the College. |
| Barnes and Noble Annual Scholarship | Awarded to students with financial need. |
| Barnes Scholarship Fund | Established in 1981 through the bequest of Vivian Englar Barnes, Class of 1921, to provide scholarships for students to learn how to teach the deaf. |
| Albert Neumann Barrenger '45 Scholarship Fund | Established in 2000 through the bequest of Albert Neumann Barrenger, Class of 1945, this scholarship is awarded annually to a student based on financial need. |
| Paul L. Bates Memorial Scholarship Fund | Established in 1999 in memory of Colonel Paul L. Bates, Class of 1931 and an All-American football player at the College, who commanded the first all African-American combat tank battalion in Northern Europe during WWII, a unit recognized by the President of the United States for extreme gallantry in action. This scholarship, established as a tribute to the brave men who fought under his command, provides awards for lineal descendants of members of the 761st Tank Battalion who served with the unit from August 1944 through April 1945. Recipients must possess and maintain a 2.0 GPA and demonstrate financial need. In the event that no lineal descendants are eligible, the Scholarship is awarded annually to a student who has a 2.0 GPA or better, demonstrates financial need and excels in extracurricular activities. |
| Wilmer V. and Alice H. Bell Memorial Scholarship Fund | Established in memory of Wilmer V. Bell, Class of 1930, former Alumni Association president, winner of the Alumnus of the Year Award in 1970, and outstanding educator in the Baltimore area. |
| D. Robert '43 and Edna Haller '46 Beglin Scholarship Fund | Established in 2001 by D. Robert and Edna Haller Beglin in celebration of their love for and dedication to their alma mater. The scholarship is awarded annually to a deserving student, either sophomore, junior, or senior majoring in music or economics and who demonstrates academic distinction and financial need. |
| Darryl G. Behrman Memorial Scholarship Fund | Established in 2002 in memory of Darryl G. Behrman by Dennis G. Sisco '68 and Alexine S. Lesko. It is awarded annually to a student engaged in a course of study centered on economics and business administration or on the earth sciences whose academic achievements, extracurricular endeavors, and personal accomplishments reflect unflinching integrity, a strong will, a settled purpose, and an invincible determination to succeed. The scholarship may be awarded to a student during each year of his/her study at the College. |
| Clarence H. and Dorothy Gilligan Bennett Memorial Scholarship Fund | Established in 1984 in memory of Clarence H. Bennett, Class of 1928, past president of the Alumni Association and long-time, devoted trustee of the College. This scholarship is to provide financial aid for outstanding, academically qualified students in the humanities. |
| George & Patricia Benson Scholarship Fund | Established in 2009 by George R. and Patricia R. Benson for those in need of financial assistance to attend McDaniel College. |
| Anonymous Scholarship Fund | Anonymous scholarship for students with financial need from Caroline, Dorchester, and Talbot Counties. |
| Dennis F. '45 and Margaret Fredrich '45 Blizzard Memorial Scholarship Fund | Established in 2001 through the generosity of friends and family of Dennis F. and Margaret Fredrich Blizzard. This fund will provide for at least one but no more than three annual scholarships to a junior or senior majoring in art or art history who has demonstrated financial need. |
| Board of Beneficence of St. John's I.M.P. Church Scholarship | This scholarship is awarded to students from the Baltimore area with financial need. |
| Jean Boehlke Memorial Scholarship Fund | Established in 2006 by Charles A. Boehlke, Jr., Class of 1978, in honor of his mother Jean Boehlke who ensured that her children would be able to attend college. Jean Boehlke dreamed of attending college and made many sacrifices to ensure that her children had the opportunity to earn their college degrees. In recognition of his mother's commitment in providing this opportunity, this scholarship will be awarded to a student who would be unable to attend without financial assistance. |
| Doris Kemp Boone '46 Scholarship Fund | Established in 2001 by Doris Kemp Boone in recognition of her devotion to Western Maryland and her appreciation for higher education. The scholarship is awarded annually to a sophomore, junior, or senior student majoring in biology or exercise science and physical education who demonstrates financial need. |
| Thomas and Beverly Bosworth '59 Lisle Annual Scholarship | Established in 2011 by Mr. Thomas Lisle and Ms. Beverly Bosworth Lisle, Class of 1959. The scholarship is awarded annually to a deserving student who demonstrates financial need. |
| Margaret A. Bowers Scholarship Fund | Established in 1980 in memory of Margaret Anne Bowers, Class of 1926, to assist deserving women students. |
| Bessie C. Branin Music Scholarship Fund | Established in 1982 through the bequest of Bessie C. Branin, Class of 1924, for scholarship aid to a music major. |
| James Breuer Target Endowed Scholarship Fund | Established in 2012 in honor of Jim Breuer for his service as chair and member of the Board of Trustees of Target Community and Educational Services from 2006-2012, and who provided significant support and assistance in many ways throughout the agency's thirty-year history. The scholarship will support graduate students in the Human Services Management Program at McDaniel College who are completing internships as Community Living Managers with Target Community & Educational Services, Inc. |
| Caroline A. Brocato Scholarship Fund | Established in 2009 by Target Community and Educational Services, Inc. to honor Caroline Brocato for her more than 12 years of service on the Target Community and Educational Services, Inc. Board of Directors. The scholarship is intended to benefit a graduate student in the Community-Based Human Services Management Program affiliated with Target Community and Educational Services, Inc. |
| Arthur Gorsuch "Otts" Broll Endowed Scholarship Fund | Established in 1992 in honor of Arthur G. Broll, Class of 1929 and Trustee Emeritus, on the occasion of his induction into the Western Maryland College Sports Hall of Fame by his sons, Arthur Jr., Charles, and William, to honor their father's lifetime service and loyalty to the College. This scholarship is awarded annually to deserving students who have achieved or shown potential in both academics and in extracurricular activities, and who have demonstrated financial need. |
| George E. Brown Family Memorial Scholarship Fund | Established in 1995 by Mary Brown Bryson, Class of 1935, and Brady O. Bryson, Class of 1935, in honor of George E. Brown and his four children, Maud, Edwin, Sheldon, and Mary, all of whom were students at the College. |
| Peter H. Büttner Memorial Scholarship Fund | Established in 1999 by the family of Mary and Ernest Moritz to honor the memory of Professor Peter H. Büttner. The scholarship is awarded to a deserving sophomore, junior, or senior who is majoring in a foreign language, with preference given to an international student and/or a German major. |
| Franklin L. Byers and Louise C. Byers Memorial Scholarship Fund | Established in 1984 through the bequest of Louise C. Byers, because of the family's long-time interest in the College, to provide scholarships for students demonstrating excellent scholarship. |
| Margaret and Peter Callas '49 Scholarship Fund | Established in 2008 through a gift from Peter Callas '49, this non-renewable scholarship is awarded annually to a graduate of a high school in Washington County, Maryland, who is minoring in elementary, secondary, or PK12 education. The selection of a recipient for this endowed fund is based on the recipient's academic merit and financial need. |
| Virginia Calloway Scholarship Fund | Established in 2002 through the bequest of Virginia Calloway Hand, Class of 1938. |
| Carroll County Bank & Trust Scholarship | Established in 2001 this scholarship will benefit graduate students in the Community-Based Human Services Management Program affiliated with TARGET, Inc. |
| Carroll County Chamber of Commerce Endowed Scholarship Fund | Established in 2013 by the Carroll County Chamber of Commerce. The scholarship will be awarded annually, with preference given to a graduating high school senior who demonstrates financial need; will major in Business, Accounting or Economics; and who attended school or was home schooled within Carroll County, Maryland. Student must provide a list of community activity/leadership roles. There will be no more than one award per school per year. |
| Carol Armacost Carter and Robert Carter Scholarship Fund | Established in 2005 through the generosity of Carol Armacost Carter, Class of 1969, and Robert Carter. The scholarship is awarded annually to a sophomore majoring in the natural sciences and is based on academic distinction and financial need. Recipients may receive the scholarship through their senior year as long as they remain in good academic standing. |
| Roger N. Casey and Robyn Allers Scholarship Fund | Established in 2010 by Target Community and Education Services, Inc. to honor the ninth President of McDaniel College, Roger N. Casey, and his wife, Robyn Allers. The scholarship is intended to benefit graduate students in the Human Services Management Program affiliated with Target, Inc. |
| Castagna Scholarship Fund | Established in 1999, the scholarship is awarded annually to a student (or students) in good standing at the College demonstrating financial need. |
| CCSGP Scholarship Fund | This fund provides support for an annual scholarship for every student from Carroll County. |
| William W. Chase Scholarship Fund | Established by the late William W. Chase, M.D., Class of 1923. |
| Class of 1932 Scholarship Fund | Established in 1988 as a memorial to the members of the Class of 1932. It provides scholarships to students who demonstrate a true interest in academic pursuits; participation in community service activities will be considered as a positive factor in favor of an applicant. |
| Class of 1939 Extra Mile Scholarship Fund | Established in 1994 to celebrate the 55th Reunion of the Class of 1939. This scholarship is to be awarded annually to an incoming first-year student who shows promise of successful achievement at Western Maryland College, and who demonstrates financial need. |
| Class of 1962 Scholarship Fund | Established in 1987 on the occasion of their 25th reunion as a memorial to the members of the Class of 1962 to provide scholarships to students who demonstrate a true interest in academic pursuits. |
| Class of 1963 Scholarship Fund | Established in 1988 on the occasion of their 25th reunion as a memorial to the members of the Class of 1963 to provide scholarships to students who demonstrate a true interest in academic pursuits. |
| Class of 1965 Endowed Scholarship Fund | Established in 2015 by an anonymous donor who is a member of the Class of 1965, the scholarship is awarded annually to a student or students with financial need with a preference to first generation college students as defined by the College. |
| Class of 1967 Endowed Scholarship Fund | The Class of 1967 Endowed Scholarship Fund: Established in 2016 by the 50th Reunion Committee of the Class of 1967, the scholarship is awarded annually to a first-year student or students who demonstrate a true interest in academic pursuits as witnessed by both attitude and scholarship achievement. The recipient(s) must demonstrate financial need, with preference given to a first-generation student. |
| Class of 1971 Annual Scholarship | The Class of 1971 Scholarship Fund was established in 2016 in honor of their 45th reunion. The Fund shall be maintained by the Board of Trustees of McDaniel College in accordance with its customary policies, and the annual gifts shall be used for the following purpose: The Class of 1971 Annual Scholarship Fund: Established in 2016 by the 45th Reunion Committee of the Class of 1971, the scholarship is awarded annually to a student or students who demonstrate a true interest in academic pursuits as witnessed by both attitude and scholarship achievement. The recipient(s) must demonstrate financial need to be awarded this scholarship. |
| Class of 1972 Scholarship Fund | Established in 2017 by the 45th Reunion Committee of the Class of 1972, the scholarship is awarded annually to a student or students who demonstrate a true interest in academic pursuits as witnessed by both attitude and scholastic achievement. The scholarship is awarded with preference given to students showing academic promise and financial need. |
| Class of 1977 Scholarship Fund | Established in 2017 by the 40th Reunion Committee of the Class of 1977, the scholarship is awarded annually to a student or students who demonstrate a true interest in academic pursuits as witnessed by both attitude and scholastic achievement. The recipient(s) must demonstrate excellence in the classroom to be awarded this scholarship. |
| Class of 1980 Annual Scholarship Fund | The Class of 1980 Annual Scholarship Fund was established in 2016 in honor of their belated 35th reunion. The Fund shall be maintained by the Board of Trustees of McDaniel College in accordance with its customary policies, and the annual gifts shall be used for the following purpose: The Class of 1980 Annual Scholarship Fund: Established in 2016 by the 35th Reunion Committee of the Class of 1980, the scholarship is awarded annually to a student or students who demonstrate a true interest in academic pursuits as witnessed by both attitude and scholarship achievement. The recipient(s) must demonstrate financial need to be awarded this scholarship. |
| Class of 1981 Annual Scholarship Fund | The Class of 1981 Annual Scholarship Fund was established in 2016 in honor of their 35th reunion. The Fund shall be maintained by the Board of Trustees of McDaniel College in accordance with its customary policies, and the annual gifts shall be used for the following purpose: The Class of 1981 Annual Scholarship Fund: Established in 2016 by the 35th Reunion Committee of the Class of 1981, the scholarship is awarded annually to a student or students who embody the principles and spirit of being a Green Terror as witnessed by both attitude and scholarship achievement. The recipient(s) must demonstrate excellence in the classroom to be awarded this scholarship. |
| Class of 1986 Scholarship Fund | The Class of 1986 Annual Scholarship Fund was established in 2016 in honor of their 30th reunion. The Fund shall be maintained by the Board of Trustees of McDaniel College in accordance with its customary policies, and the annual gifts shall be used for the following purpose: The Class of 1986 Annual Scholarship Fund: Established in 2016 by the 30th Reunion Committee of the Class of 1986, the scholarship is awarded annually to a student or students who embody the principles and spirit of being a Green Terror as witnessed by both attitude and scholarship achievement. The recipient(s) must demonstrate financial need to be awarded this scholarship. |
| Heinbaugh and Clayton Family Scholarship Fund | Established by Jeffrey A. '76 and Cathryn C. '77 Heinbaugh in 2004 in honor of their family's extensive tradition at the College. Many members of the Heinbaugh and Clayton families, including parents, aunts and uncles, grandparents, and cousins, pursued educations at the College. Jeffrey and Cathryn pay tribute to these individuals through the establishment of this fund. The scholarship is awarded annually to a deserving student who has demonstrated financial need and strong academic merit, and who has exhibited exemplary community service through campus activities. |
| Katharine H. Clower Memorial Scholarship Fund | Established in 1988 by Dr. Richard A. Clower, Class of 1950, in memory of and in tribute to his beloved wife Kay, M.Ed. Class of 1973. |
| Carine W. Cockburn Scholarship Fund | Established in 2003 through the bequest of Catherine W. Cockburn, Class of 1931. |
| James F. and Hazel Gompf Coleman Scholarship Fund | Established in 1984 by the children of James F., Class of 1938, and Hazel Gompf Coleman, Class of 1938, in memory of their parents. It is to be awarded annually to a returning student (sophomore, junior, or senior) from the Eastern Shore with at least a B average. |
| Joan Develin Coley Scholarship Fund | Established in 2009 by Target Community and Educational Services, Inc. to honor Joan Develin Coley for her 10 years as President of McDaniel College and her more than 25 years of service and support for Target Community and Educational Services, Inc. The scholarship is intended to benefit a graduate student in the Community-Based Human Services Management Program affiliated with Target Community and Educational Services, Inc. |
| Coley-Rice Scholarship Fund | Established in 2007 in honor of Joan Develin Coley and M. Lee Rice, Class of 1948. This scholarship is awarded annually to a sophomore, junior or senior with academic merit and/or financial need. |
| Michelangelo Francis Converso Scholarship Fund | Established in 2012 through the generosity of his son Michael F. Converso, Class of 1950. This scholarship is awarded annually to a deserving student who is a member of the College's orchestra and plays a string instrument. The individual must maintain a grade point average of 3.0 or higher; possess strong character; and demonstrate financial need. If there is not a string instrument musician who meets the criteria another musician may be selected. |
| Cook Family Scholarship Fund | Established in 2006 by Jack P. Cook, Jr., Class of 1973. This scholarship is awarded annually to a student with financial need. Preference may be given to student(s) who desire to expand their global knowledge through the experience of studying abroad. |
| Donna May Grewell Cornwell '62 Scholarship Fund | Established in 2012 by William J. Cornwell, this fund is in tribute to his beloved wife Donna May Grewell Cornwell, Class of 1962, her love for teaching young children, and for her warmly remembered educational and social experiences on the Hill. This Scholarship will be awarded annually, to a deserving freshman, sophomore, junior, or senior who demonstrates academic distinction and financial need. A preference should be given to a deserving student from the State of Maryland who is earning their teaching certificate in elementary education and who also demonstrates financial need. Participation in community service activities, particularly environmental concerns, will also be considered as a positive factor in favor of the applicant. |
| Crawley Scholarship Fund | This scholarship fund is established in honor of Genevieve and Catherine Crawley, who recognized the enduring value of the liberal arts experience and the importance of providing financial support to deserving students. Endowed in 2004 by Michael '73 and Catherine Mock, this scholarship is awarded annually to a deserving student with strong academic merit and demonstrated financial need. |
| John Crooms Annual Scholarship Fund | Established in 1998 by John W. Crooms, Class of 1973. The scholarship is to be awarded annually to a minority student from the inner city of Baltimore who demonstrates financial need. |
| Dahlka Family Scholarship Fund | Established in 2003 by Edward and Nancy Dahlka. The scholarship is intended to benefit graduate students in the Community-Based Human Services Management Program affiliated with TARGET, Inc. |
| Laura Panebaker Darby Scholarship Fund | The Laura Panebaker Darby Scholarship Fund: Established in 1991 through the bequest of Laura Panebaker Darby, Class of 1919. This scholarship is awarded annually to Carroll or Frederick County students. |
| Dolly Dalgleish Darigo '51 and Carl E. Darigo Scholarship Fund | Established in 2007 by Dolly Dalgleish Darigo '51 and her husband, Carl E. Darigo, in honor of Rebecca L. Martin '80, M.Ed. '81, Head Coach for McDaniel College Women's Basketball. This fund recognizes and celebrates the Darigos' friendship with Becky and their interest in McDaniel athletes. The scholarship is awarded annually to a female student who demonstrates spirit, financial need and whose academic and athletic potential show promise to the McDaniel community. |
| Hugh '69 and Kathy Dawkins Scholarship Fund | Established in 1989 by Hugh '69 and Kathy Dawkins. "Education is the road to our future and we want that road to be easier to travel for the students that benefit from this scholarship." This fund is to provide scholarships to students who demonstrate a true interest in academic pursuits as witnessed by both attitude and scholarship achievement. The recipient(s) must demonstrate financial need and involvement in student organization leadership to be awarded this scholarship. A student granted this scholarship may be eligible to receive the award in consecutive years. |
| Julie Ann Dawson Memorial Scholarship Fund | Established in 1990 by Chet and Julia Dawson in memory of their daughter, Julie Ann Dawson, Class of 1973. This scholarship is awarded annually to a student who demonstrates financial need, with preference given to a student majoring in the arts. |
| John DeMey '62 Memorial Scholarship Fund | Established in 2001 by W. Anthony "Tony" '61 and Rhea '61 Wiles in memory of John DeMey '62 and other graduates of the College who gave their lives in service to our country. It is awarded annually with preference given to students involved in extracurricular activities and who contribute to the College community. |
| Helen Pumphrey Denit Charitable Trust Endowed Scholarship Fund | Established in 2010 by The Helen Pumphrey Denit Charitable Trust. The scholarship is awarded annually to deserving students in Baltimore City with financial need. Preference will be given to those who wish to earn their teaching certification in elementary or secondary education. |
| Lillian Frey Dexter, Class of 1934, and Edward B. Dexter Scholarship Fund | Established in 2000 by Lillian Frey Dexter, Class of 1934, and her husband, Edward B. Dexter. Mrs. Dexter, a dedicated teacher and supervisor, served the College as her class secretary for over 65 years. Mr. Dexter, her husband, also served his community as an educator and administrator. The scholarship is awarded annually to a sophomore, junior, or senior showing academic achievement and majoring in English, a foreign language or history with preference given to a student planning to teach. |
| Philip Dorsey Scholarship | Dorsey Scholars Program. |
| Randolph V. Dove '74 and Joanna Sheets Dove Endowed Scholarship Fund | Established in 2006 by Randolph V. Dove, Class of 1974 and Joanna Sheets Dove. The scholarship is awarded annually to a student with financial need who desires to expand their global knowledge and enhance their liberal arts experience by studying abroad. |
| David V. Downes '72 and Linda "Lenny" Swift Downes '73 Annual Scholarship Fund | Established in 2008 by David V. Downes, Class of 1972 and Linda "Lenny" Swift Downes, Class of 1973. The scholarship is awarded annually to a student with financial need who strives to do the most possible amount of good for others. Preference is for a student who demonstrates passion for service with youth, Christian ministries and missions and the homeless. |
| William and Winifred Dulany Scholarship Fund | Established in 1997 by William B. Dulany, Class of 1950, and Winifred Spencer Dulany, Class of 1953. This scholarship is awarded to students using the following preferences. Demonstrating Financial Need and Academic Distinction, Majoring in Music with a preference for those studying in voice and/or piano |
| Mary Lynn Durham '70 and William Roj '70 Merit Scholarship Fund | Established in 2007 through a gift of Mary Lynn Durham '70 and William H. Roj '70. This scholarship is awarded annually to a student with the potential to excel academically, who will demonstrate superior academic performance at McDaniel College and who is expected to become an exemplary alumna or alumnus of the College. |
| Kenneth H. and Patricia Foster Ekin Scholarship Fund | Established in 2005 through the bequest of the Estate of Kenneth H. and Patricia Foster Ekin. The scholarship is awarded annually to a deserving freshman, sophomore, junior, or senior who demonstrates academic distinction and financial need. |
| Dorothy Elderdice International Student Scholarship Fund | Established in 1979 by the friends of Dorothy Elderdice, Class of 1911, in recognition of her long devotion to the College and to her loving interest in the many foreign students who attended the College. The scholarship is awarded annually to a worthy student from a foreign country. |
| Lloyd M. '33 and Ruth G. '34 Elderdice Memorial Scholarship Fund | Established in 1991 in loving memory of Ruth G. Elderdice and amended in 1999 by their daughter Betty to include Lloyd M. Elderdice. The scholarship is awarded to assist a worthy student in completing his/her education. |
| Janus Yentsch Ellenburg '42 Scholarship Fund | Established in 2013 to provide partial tuition scholarships for the Department of Chemistry and the Department of Physics to junior and senior students, majoring in chemistry or physics, who exhibit academic excellence and are in financial need. No recipient may receive more than one-third (1/3) of the Fund's income during any one (1) academic year. |
| Ellin Scholars Fund | Established in 1999 these scholarships will be awarded to talented minority students and McDaniel College-Budapest Program students who will enrich the cultural and academic life of the campus. |
| Dr. Homer O. and Laura Breeden Elseroad Scholarship Fund | Established in 1999 in loving memory of Laura Breeden Elseroad, Class of 1940, by her husband, Homer O. Elseroad, Class of 1940, in recognition of Laura's lifelong service to her community and alma mater. The scholarship is awarded to a deserving junior or senior majoring in education. |
| Dr. Homer O. and Mary Ruth O'Kelly Elseroad Scholarship Fund | Established in 2005 by Dr. Homer O. Elseroad '40 in honor of his wife, Mary Ruth O'Kelly Elseroad '48. The scholarship is awarded annually to a deserving freshman, sophomore, junior, or senior who is majoring in math or science with a preference for a student who is completing a minor in education, and who demonstrates academic distinction and financial need. |
| Joseph Englar Scholarship Fund | Established through the bequest of Joseph Englar, a trustee of the College from 1897 until his death in 1924. |
| Charles "Rip" and Mary Broughton Engle Scholarship Fund | This fund was begun in 1974 as an annuity to assist a worthy student in attending the College. Both Charles and Mary Engle were of the Class of 1930. |
| Eloise B. and Lowell S. Ensor Scholarship Fund | Established in 1972 at the time of Dr. Ensor's retirement as fifth president of the College by the faculty, friends, students, and alumni to honor Dr. and Mrs. Lowell S. Ensor for their 25 years of dedicated service. It is awarded to students who most appropriately demonstrate the dedication to the College that Dr. and Mrs. Ensor did during their years on the Hill. |
| Chance/Enstice Family Scholarship Fund | Established in 2006 by Philip G. '71 and Gail Chance '73 Enstice in order to encourage legacy students at McDaniel College who have a sibling who is a graduate from or who is currently attending the College. The scholarship is awarded annually to a freshman, sophomore, junior or senior based on financial need and academic distinction. |
| Park and Marjorie Roy Espenschade '76 Scholarship Fund | Established in 2008 by Park Espenschade and Marjorie Roy Espenschade, Class of 1976. This scholarship is awarded to a student majoring in history. |
| Dr. James D. Essig Memorial Scholarship Fund | Established in 1985 in memory of Dr. James D. Essig, history professor at the College at the time of his death, by his family, friends, colleagues, and students as a living memorial to an outstanding scholar and teacher. The scholarship is to be awarded annually to a history major with at least a B average demonstrating high personal and academic integrity. Awarded annually at the Spring Awards Ceremony. |
| Dr. Page Etchison/Dr. Willis Morse Memorial Scholarship Fund | Established by the Organized Bible Class Association of Washington, D.C., in memory of Mr. Page McKendree Etchison and Dr. Willis B. Morse. |
| W. Farley Howe Ezekiel Scholarship Fund | Established in 2009 by Davis and Amy Howe in honor of their daughter W. Farley Howe, Class of 2012. This scholarship is awarded annually to a student residing outside of the state of Maryland who requires financial assistance in order to attend McDaniel College. |
| Jerome H. '56 and Rheda Fader Scholarship | Established in 1998, the scholarship is awarded annually to a junior or senior economics and/or business administration major who demonstrates academic excellence and financial need. |
| Charles and Mary Falkenstein Memorial Scholarship Fund | Established in 1989 by Ruth A. Falkenstein as a proper and fitting memorial to her parents. This fund is to provide scholarships to students who demonstrate a true interest in academic pursuits as witnessed by both attitude and scholarship achievement. The recipient(s) must demonstrate financial need to be awarded this scholarship. A student granted this scholarship may be eligible to receive the award in consecutive years. |
| Nanci H. Feltham, MEd '86 and Edward Feltham Scholarship Fund | Established in 2011 through the generosity of Nanci and Edward Feltham. The scholarship is awarded annually to an undergraduate student who is majoring in math, history or English with preference for a student who is completing a minor in education. Recipients must demonstrate academic merit and financial need. |
| William A. '48 and Esr "Bonnie" Gutbub '49 Finck Scholarship Fund | Established in 1999 in loving memory of William Albert Finck, Class of '48, CEO and president of Purex Industries, and in honor of Bonnie Finck, Class of '49, teacher and community activist. The scholarship is awarded from accumulated income from the fund's principal on an annual or biennial basis to a deserving sophomore, junior, or senior who demonstrates academic distinction, who is majoring in either education or the sciences, and who has demonstrated financial need. |
| Gair Lee Fischbach, Jr. Memorial Scholarship Fund | This scholarship has been established by the friends and fellow students of the late Gaither Lee Fischbach, Jr., who died during his freshman year at Western Maryland College. Since it was his intention to prepare for the Christian ministry, it is the purpose of this scholarship to assist students whose aim and ideals are similar to those of Lee Fischbach. |
| Richard C. Flavin, Jr. Memorial Scholarship Fund | Established in 1981 by the friends and family of Richard C. Flavin, Jr., Class of 1950, an active member of the Board of Governors of the Alumni Association at the time of his passing. |
| Benjamin E. Fleagle Memorial Scholarship Fund | Established by Rena F. Kennedy in 1975 in recognition of her brother, an alumnus of the Class of 1904. |
| Maynard L. Fones '52 Memorial Scholarship Fund | Established in 2010 by Dorothy D. Bliss, Class of 1953 to honor her dear friend Maynard L. Fones, Class of 1952, in recognition of his inner strength, intelligence and great wit. This scholarship is awarded annually to a deserving student from Baltimore City with a preference given to a student who wishes to earn their teaching certification in elementary or secondary education. |
| Charles '32 and Lois Forlines Scholarship Fund | Established in 1988, this scholarship serves as a tribute to Charles and Lois Forlines, two people devoted to Western Maryland College. Mr. and Mrs. Forelines worked hard through life and struggled financially at times but always found time and money to support WMC. Through this scholarship a student with need will have the chance for the wonderful education Charles enjoyed. In addition to demonstrated need, the recipient must have and maintain at least a 2.5 GPA and be of exemplary moral character which must be clearly demonstrated by deed and action. |
| Arthur Pue and Amanda Clark Forsyth Memorial Scholarship Fund | Established by M. J. Grove in memory of the parents of his mother, a member of the Class of 1897. |
| Etta R. Fowlkes Annual Scholarship Fund | Established in 2017 by Carl A. Fowlkes in honor of his mother, Etta R. Fowlkes, the scholarship is awarded annually to a student or students who demonstrate a true interest in academic pursuits as witnessed by both attitude and scholastic achievement. The recipient(s) must demonstrate excellence in the classroom to be awarded this scholarship with preference given to a student who has demonstrated a strong commitment to or interest in diversity at McDaniel or in the larger community. |
| Sterling F. "Sheriff" and Virginia Karow Fowble Memorial Scholarship Fund | Established in 1993 to honor the lives of Sterling F. "Sheriff" Fowble, Class of 1936, and Virginia Karow Fowble, Class of 1939. The fund recognizes and celebrates their devotion to young people in Baltimore and their love for the game of baseball. This scholarship is awarded annually to a returning student with preference for an outstanding student who has a demonstrated history of participation in extracurricular activities while at the College. |
| Dr. Grace E. Fox Scholarship Fund | Established in 1984 through the bequest of Grace E. Fox. This scholarship, administered by the College, is awarded to high school graduates in the electoral district of Uniontown. |
| France-Merrick Scholars Program | Established in 2008 by the France-Merrick Foundation. It is awarded annually to deserving students in Baltimore City with financial need. Preference will be given to those who wish to earn their teaching certification in elementary or secondary education. |
| James L. and Diane S. Francis Scholarship Fund | Established in 2007 by James L. Francis '84 and Diane S. Francis. The scholarship is awarded annually to a sophomore, junior or senior, majoring in economics or business administration who demonstrates superior academic performance. |
| Karine Kaiser '45 and H. Theodore Frantum Scholarship Fund | Established in 2005 by Katherine Kaiser Frantum '45 and H. Theodore Frantum, Jr. Katherine celebrated her relationship with her alma mater as a President of the Alumni Association, a recipient of the Meritorious Service Award and the Alumna of the Year Award. Katherine was also a recipient of the Trustee Alumni Award. Her devoted husband, Ted, supported Kay in all that she accomplished. The scholarship is awarded annually to a deserving freshman, sophomore, junior or senior who is majoring in math or science with a preference for a student who is completing a minor in education, and who demonstrates academic distinction and financial need. |
| Sidney M. Friedberg Scholarship Fund | Established in 1983 by Sidney M. Friedberg, chairman of Fair Lanes, Doctor of Humane Letters, 1983. The scholarship is awarded to students demonstrating great potential for success in their chosen fields. |
| Jack '60 and Barbara '61 Fringer Endowed Scholarship Fund | Established in 2012, the Fund's recipient must demonstrate financial need. Preference will be given to students who are dependents of active or retired military personnel with sophomore, junior or senior status, or veterans of military service. Special consideration will be given to those minoring in education. |
| Samuel R. Frost '85 Memorial Scholarship Fund | Established in 2004, in memory of Samuel R. Frost, Class of 1985, by his family and friends as a tribute to his spirit, character and passion for life. The scholarship is intended to benefit a student who embraces and celebrates all facets of life at McDaniel College. The recipient will possess strong leadership qualities, be community and civic minded and have an appreciation for the arts. The student must be involved in student life as well as social and extracurricular activities. |
| Charlotte Fryling Endowed Scholarship Fund | Ms. Charlotte M. Fryling received her Bachelor of Arts degree from Western Maryland College in 1966. Her gift to the college is to provide scholarships for individuals studying in the area of science. |
| Robert M. Gagnon '71 Annual Scholarship Fund | Established in 2000 by Robert M. Gagnon, the scholarship is awarded annually to a sophomore, junior, or senior who is majoring in mathematics, demonstrates academic distinction, and financial need. |
| Eleanor B. Gair Memorial Scholarship Fund | Established through the bequest of Mr. and Mrs. James H. Gaither in memory of their daughter, a member of the Class of 1940. |
| Dickinson E. and Frances Layton Gardiner Scholarship Fund | Established in 2006 by Dickinson E. '58 and Frances Layton '62 Gardiner. The scholarship is awarded annually to a sophomore, junior or senior student who is involved in campus and extracurricular activities. Recipients may receive the scholarship through their senior year as long as they remain in good academic standing. Preference for the scholarship should be given to a student from Camden or Gloucester County in New Jersey or Bradford County in Pennsylvania. |
| Julia McCaskill Garraway Scholarship Fund | Established in 2004 by Dr. J. Elizabeth Garraway, Trustee, in honor of her mother, Julia McCaskill Garraway. The annual scholarship is awarded to a sophomore, junior or senior who has a concentration in elementary or secondary education. Preference will be given to those students who are majoring in history. |
| Arnold W. Garrett Memorial Scholarship Fund | Established in 1980 by his friends and family in memory of Arnold W. Garrett, Class of 1949. |
| Idamae T. Riley Garrott Scholarship Fund | Established in 2000 by Idamae Garrott Achievement Awards, Inc. to honor the life of Idamae T. Riley Garrott, summa cum laude graduate of the Class of 1936, lifetime advocate for citizen's rights and consummate Montgomery County (Md.) legislator. This scholarship will be made annually to a Maryland resident who is a freshman, sophomore, or junior majoring in political science or history. It was Senator Garrott's wish that preference be given to a student who is interested in working on good land use planning and/or environmental issues at the local and state government levels. |
| Gauge Digital Media Scholarship | Established in 2020 by former McDaniel students Joe Dominick and Brett Callegary '11, this scholarship is awarded annually to a student(s) with financial need, with preference given to first-generation students from single-parent homes who graduated from Carroll County Public Schools. If no student(s) meets this criteria, preference will first be given to a student who is a product of the Carrol County Public Schools system and meets one of the other two criteria. |
| Madeline W. Geiman Scholarship Fund | Established in 1987 through the bequest of Madeline W. Geiman, Class of 1922, to provide scholarship aid. |
| Mae Rowe Geist Endowed Scholarship Fund | Established in 1992 through the bequest of Mae Rowe Geist, Class of 1923, to provide scholarship aid. |
| Hering Leister Giggard Educational Fund | Established by Gertrude Giggard, in recognition of her brother, to provide scholarships to students with disabilities not otherwise able to obtain a college education. |
| Ken '61 and Joanne '62 Gill Scholarship Fund | Established in 2000 through a gift of Ken and Joanne Gill, this scholarship will be awarded to a student who excels in extracurricular activities. |
| Joel Goldblatt '68 Memorial Scholarship Fund | Established in 2007 in memory of Joel A. Goldblatt, Class of 1968, by Dennis G. Sisco '68, a classmate and fellow Trustee of McDaniel College, and by family and friends. The scholarship is awarded annually to a sophomore, junior or senior who is willing to work hard to take advantage of the opportunity for a liberal arts education. It is based on demonstrated character, academic distinction and financial need. |
| L. Carleton Gooden Scholarship Fund | Established in 2000 through the bequest of L. Carleton Gooden, Class of 1940, the scholarship is awarded annually to student(s) who have graduated from the public school systems of Caroline, Talbot, Queen Anne's, Kent or Dorchester counties of Maryland. |
| Joyce E. Gorsuch Endowed Scholarship Fund | Established in 2011 by Joyce E. Gorsuch, Class of 1949. The scholarship is awarded to a student who requires financial aid in order to attend McDaniel College. |
| William P. Grace Memorial Scholarship Fund | Established in 1985 by the family of Col. William P. Grace, Class of 1927, to honor an ROTC Junior Cadet not on an Army scholarship. The scholarship is credited to the Cadet's senior year. If in the future, the ROTC Program is unable to honor an ROTC Junior Cadet not on an Army scholarship, then the Board of Trustees may charge the Professor of Military Science to select an appropriate non-scholarship sophomore in the Basic Course. |
| Graduate Student Scholarship Fund | This scholarship will support graduate student financial aid at McDaniel College. |
| Reverend Frank W. Grippin Memorial Scholarship Fund | Established in 1981 in memory of The Reverend Frank W. Grippin, Class of 1926, by his wife. |
| Norman M. and Eleanor H. Gross Scholarship Fund | Established in 2001 through the bequest of Norman M. Gross. It is awarded to students of high scholastic standing. |
| Anna Forsyth Grove Memorial Scholarship Fund | Established by M. J. Grove in memory of his mother, a member of the Class of 1897. |
| Jimmy Grove Memorial Scholarship Fund | Established in 2005 by Henry H. Lewis Contractors in memory of Jimmy Grove. The scholarship is awarded annually to a student from Carroll County with demonstrated financial need. |
| Otto '63 and Jan Guenther Scholarship Fund | Established in 2007 by Otto '63 and Jan Guenther. The scholarship is awarded annually to a sophomore, junior or senior majoring in economics or business administration. It is based on financial need and academic distinction. |
| Kevin and Susanne Laws Haga Annual Scholarship Fund | Established in 2005 by Mr. Kevin Haga and Dr. Susanne Laws Haga '94. The scholarship is awarded annually to a deserving junior or senior female who is majoring in one or more of the life sciences with a strong preference given to a student interested in genetics who demonstrates academic distinction and financial need. |
| Stephen Haje Memorial Scholarship Fund | Established in 1985 in memory of Stephen Haje, Class of 1974, by his parents as a tribute to their beloved son. The scholarship is awarded annually to students majoring in art. |
| Jim and Sabine Hanks Scholarship Fund | Established in 2009 through a gift of James and Sabine Senoner Hanks, this scholarship is intended to benefit graduate students in the Community-Based Human Services Management Program affiliated with Target Community and Educational Services, Inc. |
| Kevin F. '72 and Alice Boyer '72 Hanley Scholarship | Established in 2005 through the generosity of Kevin F. '72 and Alice Boyer '72 Hanley. This scholarship is awarded annually with preference given to an entering student from a school in Anne Arundel or Prince George's County. It is initially awarded based on academic excellence and performance in high school. Recipients may receive the scholarship through their senior year as long as they remain in good academic standing. |
| William L. Hawkins, Jr. '48 and Louise Sapp "Sunny" Hawkins '49 Scholarship Fund | Established in 2001 in honor of their parents by their children and families. The scholarship is awarded to a deserving female sophomore, junior, or senior who demonstrates academic distinction. |
| Hearst Foundation Scholarship | This scholarship is awarded annually to deserving students in Baltimore City with financial need. Preference will be given to those who wish to earn their teaching certification in elementary or secondary education. |
| William Randolph Hearst Endowed Scholarship Fund for Undergraduate Students of Diverse Backgrounds | Established in 2001 by the William Randolph Hearst Foundation, one of the nation's largest private foundations. This fund will provide annual scholarships to students of diverse backgrounds. |
| Mark Helfrich Scholarship Fund | Established by the friends and family of Mark J. Helfrich, Class of 1980, who died in 1979 while a student at the College. The scholarship is awarded annually to a student majoring in art. |
| James R. Hendon Memorial Scholarship Fund | Established by the friends and family of James R. Hendon, Class of 1981, who died in 1978 while a student at the College. Because he was involved in music and varsity wrestling, preference will be given to a person with a high level of campus involvement with a preference to a music student. |
| Edwin C. Hermann, Jr. '70 and Susan Burgard Hermann '77 Scholarship Fund | Established in 2004 by Ed and Sue Hermann in recognition of their college ties that brought them together. Ed and Sue met after graduating from the College seven years apart. They met on a blind date because of their ties to the College and credit the College with helping to unite them. This scholarship is awarded annually to a deserving student majoring in either economics/ business administration or English. The scholarship will alternate every four years between the two majors to allow students to receive the scholarship from their first year and continuing through their senior year. |
| Dorothy McDaniel Herr Memorial Scholarship Fund | Established in memory of Mrs. Herr, an alumna of the Class of 1918 and long-time trustee of the College. |
| Dorothy McDaniel Herr Memorial Scholarship Fund | Established in 2006 in honor of Dorothy McDaniel Herr by her son and daughter-in-law, Dr. William McDaniel and Lois T. Herr. Dorothy McDaniel Herr was the daughter of William R. McDaniel and Ada S. McDaniel. Dorothy McDaniel Herr was an alumna of McDaniel College (then Western Maryland College) Class of 1918, and was the first female president of the Alumni Association. She served on the Board of Trustees from 1945-1974. Professor Herr retired from Southern Illinois University, Carbondale, in 1994 where he served as Chair of the Department of Agribusiness Economics and, later, as Dean of the College of Agriculture. The scholarship is awarded annually to one or more deserving junior or senior female students who demonstrate academic distinction. It may also be used to provide scholarships for women who wish to study abroad. |
| Barbara Bankson Hiestand '53 Scholarship Fund | This scholarship was established in 2005 in recognition of Barbara's long-time work in wildlife and habitat preservation, along with her interest in encouraging women to pursue careers in the sciences. The Barbara Bankson Hiestand Scholarship will be awarded annually to a sophomore, junior, or senior female student majoring in the Environmental Policy and Science program who has distinguished herself academically and who has a demonstrated commitment to conservation of the global environment. |
| Jim Hindman Scholarship Fund | Established in 1989 in honor of W. James Hindman, former football coach, by members of his football teams, family, and friends. |
| Ralph G. Hoffman Scholarship Fund | Established in 1987 upon his retirement as director and chairman of the Carroll County Bank and Trust Company Board of Directors by the officers and directors of the Bank, his family, and friends. The scholarship honors Ralph G. Hoffman, lifelong resident of Westminster; outstanding member of the bar; and emeritus member of the Board of Trustees at the College. It is awarded each year to a Carroll County student majoring in economics or business administration with an outstanding academic record. |
| Abbie White Holland Memorial Scholarship Fund | Established in 1981 by the family of Sarah "Abbie" White Holland, a member of the Class of 1902. The scholarship is awarded annually to a member of the senior class. |
| Holter Scholarship for Elementary Education | Established in 2017 by John Howard Holter '61, Diane Kanak Holter '62 and Tracey Holter Zirfas '92 in honor of Mary and Howard Holter, Tina and Dan Kanak, and Ben Kanak. The Holter Scholarship for Elementary Education is awarded annually to a student or students with financial need with a preference to students majoring in Elementary Education as defined by the College. |
| Colonel Webster R. and Doris Mathias Hood Scholarship Fund | Established in 1998 by Doris M. Hood, family, and friends in honor of Colonel Webster R. Hood and Doris Mathias Hood. Preference will be given to students from Carroll County, with the award given successively to a female, then a male, then a female, etc., and each selected student will receive support throughout his/her college career as long as they continue to demonstrate financial need. |
| Samuel and Elsie Hoover Scholarship Fund | Established in 1994 by Dr. Samuel H. Hoover and Elsie Wright Hoover. This scholarship is awarded annually with preference to students who demonstrate a commitment to higher education, scholastic aptitude in their chosen field of study, and genuine need. |
| Gerald W. Hopple Memorial Scholarship Fund | Established in 1991 by family, friends, and classmates of Gerald W. Hopple, Class of 1971. This scholarship is awarded to a student who best exemplifies Jerry's love for the College and his dedication to work, country, and academic discipline. The recipient must be an upperclassman majoring in political science who maintains a minimum 3.0 GPA. |
| Henry P. and Gretchen Stein Hornung Scholarship Fund | Established in 2001 by Henry P. Hornung in memory of his wife, Gretchen, and in celebration of their mutual interest in elementary education. It is awarded annually to a sophomore, junior, or senior who has elected to complete a minor in education with preference given to a student preparing to become an elementary school teacher. |
| Henry P. and Gretchen Stein Hornung Scholarship Fund | Established in 2001 by Henry P. Hornung in memory of his wife, Gretchen, and in celebration of their mutual interest in elementary education. It is awarded annually to a sophomore, junior, or senior who has elected to complete a minor in education with preference given to a student preparing to become an elementary school teacher. |
| David Huddle '52 Memorial Scholarship Fund | Established in 1989 in memory of David Huddle, Class of 1952, by his wife, Mary, and endowed in 1995. This scholarship is awarded to a returning sophomore, junior, or senior student of high integrity, academic distinction and proven participation in extracurricular activities. Preference will be given to students from Virginia or Maryland demonstrating financial need. |
| Paul S. and Carrie E. Hyde Memorial Scholarship Fund | Established in 1997 through a bequest from Paul S. Hyde, Class of 1937, this scholarship is awarded to first-year student from the Wicomico County region of Maryland who is selected by the Superintendent of Education of Wicomico County Schools. |
| Dr. Alvey Michael Isanogle Memorial Scholarship Fund | Established in 1952 as a proper and fitting memorial to a very important member of the WMC family. Dr. Isanogle joined the WMC faculty in 1920 and for most of his career he served as Dean of the School of Education, nurturing the growth of the department to a position of importance in the State of Maryland. Dean "I," as he was affectionately known, retired in 1948. This fund will provide scholarships to students who demonstrate a true interest in academic pursuits as witnessed by both attitude and scholastic achievement. The recipient(s) must demonstrate financial need to be awarded this scholarship. A student granted this scholarship may be eligible to receive the award in consecutive years. |
| Philip J. and Doris L. Jenkins Scholarship Fund | Established by Mr. and Mrs. Jenkins in 1974. |
| Virginia Hastings Johns Class of 1927 Scholarship Fund | Established in 1993 through the bequest of Virginia Hastings Johns, Class of 1927, to assist worthy students, determined by the character and scholastic record of the individual, with the cost of tuition, room, and board. |
| Florence Johnson Memorial Scholarship Fund | Established by Mrs. George S. Johnson of the Class of 1921. The income is used annually to provide assistance to a student preparing for full-time Christian service in music. |
| Dorothy Reed Johnson Memorial Fund | Established in 1989 through the bequest of Dorothy Reed Johnson, Class of 1929, to be used for scholarships for persons of need who wish to attend the College. |
| Dr. John Bayley Jones Scholarship Fund | Established in 1985 by the Frostburg United Methodist Church and his many friends and colleagues in honor of the 50th year of Dr. Jones' ordination. It is awarded annually to a junior or senior majoring in sociology and/or religious studies who, through scholarship, personal integrity, and a desire to make the world a more humane place, most effectively embodies the Christian life and thought of John Bayley Jones, a United Methodist clergy, director of public relations, instructor in sociology at the College, 1944-49; and long-time trustee of the College. Preference will be given to students from Frostburg or the western Maryland area. |
| June Beaver Jordan Endowed Scholarship Fund | Established in 1999 by her husband Howard G. Jordan, Class of 1954, the scholarship is awarded annually to a sophomore, junior, or senior majoring in mathematics or English. |
| D. M. Keel Scholarship Fund | Established in 1999 by Dorothy M. Keel, Class of 1935, the scholarship is awarded annually to a sophomore, junior, or senior. |
| Myra Goodling Keigler Endowed Memorial Scholarship Fund | Established in 1996 in memory of Myra Keigler, beloved wife, mother, grandmother and friend, by William S. Keigler, Chairman of the Board Emeritus, and her family and friends. This scholarship is awarded annually on the basis of financial need with preference given to a female student majoring in the sciences or psychology who wishes to pursue a career in health services. |
| Benjamin E. Fleagle and Rena F. Kennedy Scholarship Fund | Established in 1991 through the bequest of Rena F. Kennedy, Class of 1909. |
| Richard C. and Carine S. '46 Kiddoo Scholarship Fund | Established in 2000 by Trustee Emerita Catherine S. Kiddoo, Class of 1946, the scholarship is awarded annually to a sophomore, junior, or senior majoring in biology or the sciences. The scholarship is based on financial need. |
| Richard W. '34 and Susannah Cockey '33 Kiefer Scholarship Fund | Established in 2000 by Richard W. and Susannah Cockey Kiefer in celebration of their many years of service and devotion to their alma mater and the community at large. The scholarship is awarded annually to a deserving sophomore, junior, or senior majoring in political science or French who demonstrates academic distinction and financial need. Preference may be given to those who wish to pursue a career in law or teaching. |
| Doris Adair Howe Kilkuskie Memorial Scholarship Fund | Established in 2003 by Stanley R. Kilkuskie, Class of 1948, to honor the memory of his beloved wife, Doris Adair Howe Kilkuskie. The scholarship is awarded annually based on financial need. |
| Emma Bowen Kistler Scholarship Fund | Established in memory of Emma Bowen Kistler, Class of 1897, by her sister. |
| Sharon L. Klompus Music Student Support Fund | Re-established in 2020, through the generosity of Sharon L. Klompus MEd '75, this scholarship is awarded annually to a student(s) with financial need who demonstrates a true interest in academic pursuits as witnessed by both attitude and scholastic achievement with preference given to a first-generation student. |
| Louis J. Kousouris and Peter J. Kousouris Scholarship Fund | This scholarship fund was established in 2006 by Steven L. Kousouris '79 and Mary Lou Payne '81 Kousouris in honor of Steve's father and uncle, founding and long-term partners Kousouris Brothers Produce. This scholarship is awarded annually to a deserving student from Baltimore City College or Baltimore Polytechnic Institute. Lou attended City and Pete attended Poly in the 1930s, where both were outstanding athletes. Steve graduated from Poly in 1975. In a situation in which the College does not have a student meeting this specific criteria, the scholarship would be awarded to a deserving student from Baltimore City. |
| Leon F. Lamb Memorial Scholarship Fund | Established by the friends of Mr. Lamb, as a tribute to friendship and to assist a worthy student in completing an education. |
| Hilda C. Landers Scholarship Fund | Established in 1999 through the bequest of Hilda C. Landers, this scholarship is awarded based on academic distinction. |
| Carolyn P. and Mark Landis Scholarship Fund | Established in 2007 through a gift of Carolyn P. and Mark Landis, this scholarship is awarded annually to students who belong to a broadly defined under-represented group in the student population. The scholarship is based on academic merit and financial need. |
| Dr. Henry P. and Page Laughlin Scholarship Fund | Established in 1991, this scholarship is awarded annually to a junior or senior who has demonstrated outstanding scholarship, with noteworthy contributions to his/her class and to the College. |
| Jeanine Lave Memorial Scholarship Fund | Established in memory of Miss Lave who was a junior at the College at the time of her death in 1974. The scholarship is awarded annually to a student majoring in art. |
| Lee Scholarship Fund | Established through the bequest of Miss Grace Lee. |
| John J. Leidy Foundation Endowed Scholarship Fund | Established in 2008 by The John J. Leidy Foundation. The scholarship is awarded annually to deserving students in Baltimore City with financial need. Preference will be given to those who wish to earn their teaching certification in elementary or secondary education. |
| Clayton & Jeanette Leister Annual Scholarship | This fund shall award to qualified students a scholarship to students who demonstrate academic achievement and financial need. Preference will be given to students who are economic majors, who are majors in any subject area which concerns the environment or who are members of the ROTC Program at McDaniel College. |
| William O. and Betty J. Lenz-Hallmark Scholarship Fund | Established in 2000 by Betty Jean Hallmark, Class of 1950, this scholarship is awarded to a student majoring in biology, with a 3.0 GPA or better. Preference will be given to a student interested in the environmental sciences. |
| Eva L. Lewis Memorial Scholarship Fund | Established through the bequest of Dr. E. Ralph Lewis and awarded to a pre-ministerial student for the junior and senior years. The award is made by the College on the basis of academic ability and qualification for the Christian ministry. |
| Dr. Annabel Glockler Liebelt '48 Scholarship Fund | Established in 1988 upon the 40th reunion of Dr. Liebelt, to provide scholarships to students majoring in biology. |
| Loats Foundation Scholarship | Awarded annually, this scholarship provides support for a student from Frederick County, Maryland. Preference is given (in descending order of importance) to those students who are (1) orphans or (2) from broken homes, (3) those demonstrating financial need, (4) those with outstanding academic records, and (5) those who intend to pursue a career in public service in fields such as teaching, nursing, or social work. |
| James Lord, Jr. and Ruby K. Lord Scholarship Fund | Established in 2001 through the bequest of Ruby K. Lord. The scholarship is awarded to a deserving non-traditional student. |
| Julie Lucas Restricted Annual Scholarship | Established by Julie Lucas '95, this scholarship will support student financial aid at McDaniel College. |
| Mace-Newcombe Endowed Scholarship Fund | Established in 2012 through a bequest from Constance B. Mace MEd '75 and by the Charlotte W. Newcombe Foundation. This scholarship is awarded to students with disabilities. |
| Dr. Joel E. Macht Scholarship Fund | Established in 2009 by Target Community and Educational Services, Inc. to Joel Macht for his service as Target Community and Educational Services, Inc. second president and CEO and his years of service at McDaniel College. The scholarship is intended to benefit a graduate student in the Community-Based Human Services Management Program affiliated with Target Community and Educational Services, Inc. |
| D. Carlysle MacLea '22 Memorial Scholarship Fund | Established in 1988 by The Board of Beneficence of St. John's I.M.P. Church, family, and friends as a memorial and celebration of the life of D. Carlysle MacLea, Class of 1922 and a member of the College's Board of Trustees, and his total commitment to education and service to others. The scholarship is awarded to deserving students who are involved in on- and/or off-campus organizations, demonstrate moral character, and contribute to the College community. |
| MacPherson Annual Scholarship | Formerly the Cambridge Rubber Company Scholarship; first given in 1954, this scholarship is awarded annually to a local student, preferably from Taneytown. |
| Robert Lee Madison Memorial Scholarship Fund | Established in 2015 in memory of Miriam M. Hayden's son, Robert Lee Madison, the income from the fund shall be awarded to a worthy student or students selected by the Board of Trustees or such authority as may be designated by the Board of Trustees on the basis of achievement, need and promise of success at the College or in later life. |
| Frederick Malkus Scholarship Fund | Established in 2000 by loving family and friends, the scholarship is awarded annually to a sophomore, junior, or senior majoring in history or political science from one of the following Maryland counties: Caroline, Dorchester, Somerset, Talbot, Wicomico or Worcester. Preference will be given to a student from Senator Malkus' home county of Dorchester. |
| John F. and Jane Malloy Scholarship Fund | Established in 2009 by John F. Malloy and Jane Malloy in honor of their daughter Maria K. Malloy, Class of 2012. The scholarship is awarded annually to a student who requires financial assistance in order to attend McDaniel College with a preference given to a student showing academic promise in the humanities. |
| Kathy Mangan Endowed Scholarship for English | This scholarship is awarded annually to a student demonstrating financial need with preference given to student majoring in English or Writing. This scholarship is renewable. |
| Mann Family Scholarship Fund | Established in 2003 by Jack and Pamela Mann. The scholarship is intended to benefit graduate students in the Community-Based Human Services Management Program affiliated with TARGET, Inc. |
| Drs. Charles and Sherry Fischer Manning Scholarship Fund | Established in 2005 by Dr. Charles Manning '65 and Dr. Sherry Fischer Manning '65. This fund recognizes and celebrates the Mannings' appreciation for their education and experience on the Hill and their love for the game of basketball. The scholarship is awarded annually to a deserving first-year woman with a preference for a student who has demonstrated spirit and whose academic and athletic potential show promise for contribution to the McDaniel community and beyond. |
| Dr. Frank C. Marino Scholarship Fund | Under the provisions of this contribution, $250.00 is available annually to give scholarship aid to needy and deserving students. |
| Kendrick M. '51 and Elizabeth Muth '54 McCall Scholarship Fund | Established in 2000 by Elizabeth McCall in loving memory and in celebration of the life of Kendrick McCall who devoted his career to improving public education as a teacher, consultant, and administrator. The scholarship is awarded annually to a deserving sophomore, junior, or senior who is majoring in the physical sciences with a preference for a student who is completing a minor in education, and who demonstrates academic distinction and financial need. |
| Ann Kenney Walls McCool Scholarship Fund | Established in 1988 on the occasion of her 50th class reunion. This scholarship serves as a tribute to Ann McCool, a devoted teacher and honorary trustee of the College. The recipient must have and maintain at least a 2.5 GPA and be of exemplary moral character. Preference will be given to a student from Sussex County, Delaware, followed by a resident of the Eastern Shore of Maryland. |
| McDaniel College Community Scholarship Fund | Established in 1985 to honor family and friends of the College. |
| McDaniel Budapest Scholarship Fund | This scholarship is awarded to a deserving McDaniel College Budapest student. |
| McDaniel College Women's Leadership Network Endowed Scholarship Fund | Established in 2007 by the McDaniel College Women's Leadership Network in accordance with its mission to develop programs that attract and engage women in the life of the College. It will be awarded to an entering first-year female student who has exhibited leadership potential through academic, athletic, and/or community service. Scholarship can be awarded to the same person for a total of 4 years |
| John P. McGlaughlin and Shirley R. McGlaughlin '43 Memorial Scholarship Fund | Established in 1988 by Pete McGlaughlin, Class of 1970, in memory of his father, Class of 1941. Preference is given to those students who are spirited and whose academic and human potential would benefit from wise and sensitive support and counsel as they seek direction to their lives, and to those who enjoy and participate in extracurricular activities. |
| C. Victor McTeer '69 and Ira G. Zepp Jr. '52 Scholarship Fund | Established in 2009 by C. Victor McTeer, Class of 1969, All-American football player, member of the Student Opportunities Service, and one of the first African-American graduates of Western Maryland/McDaniel College, in recognition of Ira G. Zepp Jr., Class of 1952, Dean of the Chapel and Professor of Religious Studies at the College from 1963 to 1994, whose friendship and faithful adherence to the principles of his faith tradition inspired countless students to discover the courage to leave the Hill and work tirelessly to make social change a reality. This scholarship is awarded annually to a sophomore, junior, or senior with great financial need. Preference is further given to any student, regardless of race, color, creed, religion or national origin, or sexual preference, demonstrating a genuine commitment to enhancing and improving the lives of poor people in rural or inner-city America. |
| Philip Meredith '66 Endowed Scholarship Fund | Established in 2018 by an anonymous donor, this scholarship will be awarded annually to a student(s) who demonstrates academic distinction and financial need and maintains a GPA of 3.0 or higher with preference given to a student majoring in Chemistry or any Chemistry-related field (i.e., Exercise Chemistry, Biochemistry, etc.). |
| Middendorf Foundation Scholarship | Established in 2003 by The Middendorf Foundation, Inc. The scholarship is intended to benefit graduate students in the Community-Based Human Services Management Program affiliated with TARGET, Inc. |
| George Henry and Georgie Milby '43 Washington Scholarship Fund | Established in 1998 by the Washington family in memory of Georgie Milby and George Henry Washington. This scholarship is awarded to students with demonstrated academic distinction. |
| Charles J. Miller Endowed Scholarship Fund for Excellence in Mathematics | The Charles J. Miller Endowed Scholarship Fund for Excellence in Mathematics was originally established by Charles J. Miller, Class of 1967, as an award in 1995 and subsequently converted to an endowed scholarship fund in 2018. The fund will be used to support a student who is a rising junior that is a math major with a preference given to someone that is interested in pursuing a career as a math teacher. |
| Gerald F. Minnaugh Scholarship for Future Teachers | Established in 1998 by Richard G. Kief, in memory of his uncle, Gerald F. Minnaugh. This scholarship is to be awarded annually to students preparing to become teachers, with preference for students from the Maryland or Pennsylvania area. The students must be in good academic standing. |
| Mund Scholarship Fund | Established in 1969 by Allan W. Mund as a celebration of his life and total commitment to education and service to others. This loyal member of the College community is a distinguished businessman, dedicated church member, devoted family man, and trustee of the College, who gave of his time to serve as acting president of the College in 1970. This scholarship is awarded to a deserving junior or senior, not necessarily based on financial need. The student must have earned at least a 3.0 GPA. Major factors in the selection will be the student's involvement in on- and/or off-campus organizations, moral character, and contribution to the College community. |
| Amy Murphey Scholarship Fund | Established in 2009 by Target Community and Educational Services, Inc. to honor Amy Murphey for her 20 years of full-time employment at Target Community and Educational Services, Inc. The scholarship is intended to benefit a graduate student in the Community-Based Human Services Management Program affiliated with Target Community and Educational Services, Inc. |
| Dorothy J. and Charles E. Myers Endowed Scholarship Fund | Established in 1994 in memory of Dot Myers, long-time secretary for the art and art history, music, and theatre arts departments, by her husband, Charles E. Myers, and by her family and friends. This scholarship, in honor of Dot's many years of service as an employee as well as recognition of her accomplishments as a student, will be awarded annually to a student majoring in music, theatre or art with preference given to a non-traditional student who has demonstrated financial need. |
| Beverly Schott Myers '60 and Jonathan P. Myers '61 Scholarship Fund | Established in 2000 in honor of their reunions by Beverly Schott Myers '60 and Jonathan P. Myers '61. The scholarship is awarded annually to a sophomore, junior, or senior majoring in sociology or biology who demonstrates academic distinction and is based on financial need. |
| Sylvia Friedberg Nachlas Memorial Scholarship Fund | Established in 1995, it is awarded annually to a minority, graduate student in the Community-Based Human Service Management program affiliated with TARGET, Inc. |
| Elsie Held Naclerio and Thomas A. Naclerio Scholarship Fund | Established in 1985 by Elsie Held Naclerio, Class of 1928, and Thomas A. Naclerio. The scholarship is awarded annually to a worthy student majoring in the humanities. |
| Drs. Chitrachedu and Vimala Naganna Scholarship Fund | Established in 2008 through a gift of Drs. Chitrachedu and Vimala Naganna, this scholarship is awarded annually to a sophomore, junior, or senior who wishes to pursue a science, medical or teaching career. The scholarship is based on academic merit and financial need. |
| John D. Nawrocki '77 Memorial Scholarship Fund | This scholarship was established in 2019 by his teammates, fraternity brothers, friends and family in honor of John D. Nawrocki, Class of 1977. The scholarship will be awarded annually to a student with financial need, with preference given to a student(s) who is actively involved in the life of the campus through participation in extracurricular activities, like Johnny, and emulates the traits of quiet leadership through example, concern for classmates, friends and family, and a willingness to give fully themselves for the joy and benefit of others. |
| Nelson Family Scholarship Fund | Established in 2002 by Carl and Barbara Alving. The scholarship is intended to benefit graduate students in the Community-Based Human Services Management Program affiliated with TARGET, Inc. |
| Charlotte W. Newcombe Foundation Endowed Scholarship Fund | Established in 1999 by the Charlotte W. Newcombe Foundation, this scholarship is awarded to students with disabilities majoring in Deaf Education. |
| Newcombe Match Endowed Scholarship Fund | Established in 2012 through a bequest from Constance B. Mace MEd '75 and by the Charlotte W. Newcombe Foundation. This scholarship is awarded to students with disabilities. |
| Nichols Scholarship Fund | Established by Mrs. Laura Wilson Nichols as a memorial to her husband, The Rev. James L. Nichols, Class of 1925, and a former pastor of the Westminster Methodist Protestant Church. The fund has been augmented by their children to include a memorial to the sons, James H. Nichols, Class of 1927, and John Wilson Nichols, Class of 1948. The scholarship is to be used to assist a worthy student to prepare for a full-time career in Christian service. |
| R. Y. Nicholson Scholarship Fund | Established by Mrs. Altie B. Nicholson in memory of her husband, The Rev. Dr. Reuben Y. Nicholson, a trustee of the College from 1929 to 1947. |
| Nicodemus Scholarship Fund | Established in 1993 through the bequest of John V. Nicodemus, Class of 1903, in memory of his father and mother. |
| Northrop Grumman Scholarship Fund | Established in 2003 by Northrop Grumman Electronic Systems. The scholarship is intended to benefit graduate students in the Community-Based Human Services Management Program affiliated with TARGET, Inc. |
| Nancy Singer O'Malley '62 Annual Scholarship Fund | Established in 2015 by Nancy Singer O'Malley '62, the scholarship is awarded annually to a student or students with financial need with preference given to math majors. |
| Opportunity Scholarship Fund | Established in 1988 and endowed in 1995 by an anonymous donor. The scholarship is awarded to minority students with academic promise and financial need. |
| Dr. Melvin D. Palmer Endowed Scholarship Fund | Established in 2019 by Nancy B. Palmer, the scholarship is awarded annually to a student(s) majoring in English with preference given to first generation college student(s) and those who demonstrate financial need. This scholarship is renewable. |
| Richard W. and Susan Palmer Scholarship Fund | Established in 2008 through a gift from Rich and Susan Palmer, this scholarship is awarded annually to a deserving student from Baltimore City with a preference given to those students who wish to earn their teaching certification in elementary or secondary education. The selection of a recipient for this endowed fund is based on the recipient's financial need. |
| Sandra Lynne Parise Memorial Scholarship Fund | Established in 1995 in loving memory of Sandra Lynne "Sandy" Parise by her aunt, Beverley J. Hill, Class of 1960, and supported through periodic gifts. The award is given annually to a non-traditional female student to further her dream of pursuing an education while nurturing a family. Preference is for a student who has demonstrated the qualities for which Sandy is remembered: intellectual curiosity, Christian values, and an unselfish commitment to others. |
| Eloise Chipman Payne Scholarship Fund | Established in 1986 by John R. and Eloise Chipman Payne, Class of 1938. The scholarships are awarded to students for their junior and senior years. The recipients must be academically deserving students who are active in on- or off-campus College-related organizations or activities, be of high moral character, and have contributed the most to the College community. |
| Austin E. Penn Endowed Scholarship Fund | Established in 1995 by Austin E. Penn, trustee emeritus and former Chair of the Board of the Baltimore Gas and Electric Company, it is awarded annually to one or more students in their junior or senior years who are majoring in mathematics. |
| Duane L. and Clementine Lewis Peterson Memorial Scholarship Fund | Endowed in 1997 through the bequest of Clementine L. Peterson, long-time trustee of the College, it is awarded annually to a worthy student based on need. |
| Phi Alpha Mu Endowed Scholarship Fund | Established by the sisters of Phi Alpha Mu, this scholarship is awarded annually to a student or students with financial need, who maintains a 3.0 GPA with preference given to a Phi Alpha Mu sister. |
| Phyody Scholarship Fund | Established in 2015, this scholarship is awarded annually to a student or students with financial need with a preference to: students with a GPA of 3.5 or higher and who graduated from a high school located in either the 21102 or 21074 zip codes. If there is not a high school within either of these zip codes, preference will be given to students who reside in either the 21102 or 21074 zip codes and graduated from a high school in Carroll County, Maryland. |
| Michael James Pitts Scholarship Fund | Established in 2002 by James and Kay Pitts in honor of their son, Michael. The scholarship is intended to benefit graduate students in the Community-Based Human Services Management Program affiliated with TARGET, Inc. |
| Helen E. Porter Scholarship Fund | Established in 1983 by the will of Helen E. Porter, Class of 1917. It is awarded annually to students from Wicomico County. |
| Wilbur D. Preston, Jr. Scholarship Fund | Established in 2000 by Trustee Emeritus Wilbur D. "Woody" Preston, Jr. The scholarship is awarded annually to a sophomore, junior, or senior. |
| Ralph B. Price Scholarship Fund | Established in 1987 by Dr. Price's former students to honor him because they have said "his valuable contributions are intricately woven into the fabric of our lives." The recipient will be chosen based on his/her academic performance in department courses as well as overall academic achievement. The recipient must also demonstrate the characteristics for which Dr. Price is most remembered: intellectual curiosity, humane manner, love of the College community, and caring for others. |
| Queen Anne's County Scholarship Fund | Established in 1975 by Julia Thomas Burleigh for residents of Queen Anne's County, Maryland. |
| Donald R. Rabush '62 Scholarship Fund | Established in 2003 in honor of Donald R. Rabush, founder of TARGET, Inc. The scholarship is intended to benefit graduate students in the Community-Based Human Services Management Program affiliated with TARGET, Inc. |
| Lewis C. Radford Memorial Scholarship Fund | Established in memory of Dr. Lewis C. Radford, Class of 1916, by his friends, family, and classmates. |
| Martha Harrison Ramsey Scholarship Fund | Established in 1983 in memory of Martha Harrison Ramsey, Class of 1934, by her family and friends. It will be awarded to a student who plans to teach in the performing arts. Preference will go to students from Baltimore County, Md., and southwest Virginia. |
| Reichelt Memorial Scholarship | Established in 2017 in honor of Mary Anne Reichelt by Dr. Tom Zirpoli in cooperation with Target Community and Educational Services, Inc. The scholarship is intended to benefit graduate students in the Human Services Management in Special Education Program affiliated with Target Community and Educational Services, Inc. |
| William C. and Isabel D. Rein Scholarship Fund | Established in 1998 in memory of William C. Rein, Class of 1931, and in honor of the 90th birthday of Isabel D. Rein, Class of 1931. The scholarship is awarded to a junior or senior who is majoring in English with preference for a student interested in journalism. |
| Charles Reisenweber Memorial Scholarship Fund | Established in 1995 through a bequest and by gifts from family and friends, it is awarded annually to a junior or senior art major. Preference is given to student participating in athletics. |
| Jim and Chris Resau Annual Scholarship Fund | Established in 2014 by James H. Resau '68 and Christine Connelly Resau '67, the scholarship is awarded annually to a student or students with financial need with a preference to first generation college students as defined by the College. |
| Deena Reynolds '01 Annual Scholarship Fund | Established in 2011 by Deena Reynolds, Class of 2001. The scholarship is awarded annually to a deserving student who has graduated from the public school systems of Prince George's County or Washington D.C. Preference is given to a student studying German or a foreign language and who has financial need. |
| L. Kennard "Dusty" '34 and Mary Frey Rhodes, Jr. Scholarship Fund | Established in 1999 through the bequest of L. Kennard Rhodes, Class of 1934. The scholarship is awarded to a sophomore, junior, or senior majoring in education. |
| Jean and Donald Richards Scholarship Fund | Established in 2004 by Jean Andrews Richards, Class of 1945, and her husband, Donald, in honor of Jean's 60th reunion at the College. The scholarship is awarded annually to a sophomore, junior or senior who is willing to work hard to take advantage of the opportunity for a liberal arts education. It is based on demonstrated character, academic distinction and financial need. |
| Ridgaway-Knott Scholarship Fund | Established in 1978 by Ethel Grace Ridgaway for a deserving pre-ministerial student in consideration of the wishes of her nephew, Clarence Knott. |
| William C. Robinson Endowed Scholarship Fund | Annual income as determined by the College's endowment policies shall be used to provide undergraduate scholarships, awarded by the Office of Student Financial Aid to students demonstrating financial need and academic distinction, using the following preferences in descending order of importance: Military Veteran or Dependent of a Military Veteran; sophomore, junior, or senior; resident of Baltimore, MD; majoring in economics or history. |
| Jane Fraley Robinson '42 Scholarship Fund | Established in 2005 in loving memory of his wife, Jane, by Col. William C. Robinson '41. The scholarship is awarded annually to a deserving sophomore, junior, or senior who is majoring in music, history, or economics and who demonstrates academic distinction and financial need. |
| William M. and Sandra G. Rogers Endowed Scholarship Fund | Established in 2012 by Sandra Gordon Rogers, Class of 1975, and her husband William. The scholarship is awarded annually to a first-generation college student with financial need and sophomore, junior, or senior standing. The recipient must be an individual who strives for academic success while remaining a participating member of the College or local community as indicated by employment, community service, or similar activity. |
| Ruth B. Rosenberg Scholarship Fund | Established in 1992 in memory of Ruth B. Rosenberg in recognition of her long-time interest in improving the access of qualified students to higher education. |
| Lois Rowland Memorial Scholarship Fund | Established through the testamentary intent of Miss Rowland, Class of 1939. The scholarship will be awarded to students majoring in the sciences. Recipients must possess and maintain a 3.0 grade point average. |
| Jesse C. and Ruth H. Royer Scholarship Fund | Established in 1988 through the bequest of Ruth H. Royer and supported through the generosity of her daughter R. Christine Royer '48. The recipient must have and maintain at least a 3.0 GPA and be of exemplary character. |
| Isabel I. Royer Scholarship Fund | Established by the bequest of Dr. Isabel I. Royer, a professor of the highest caliber, who taught at Western Maryland College from 1942 until her retirement in 1979. This scholarship is to be awarded to any student(s) at Western Maryland College who demonstrates financial need and academic promise. The recipient(s) will be selected by the Financial Aid Office and the scholarship may be renewed. The recipient(s) is to be selected without regard to discipline. |
| Isabel Isanogle Royer Biology Scholarship Fund | Established in 1981 by Isabel and Edgar Royer to assist and recognize students demonstrating aptitude, interest, and academic achievement in biology. This scholarship may be awarded to any present or potential biology major. The scholarship recipient(s) will be selected by the Royer Scholarship Committee, which is made up of all full-time members of the Biology Department faculty. This committee will be chaired by the Chair of the Biology Department. The awards will be made in consultation with the Financial Aid Office. This coordination is to ensure that all awards are within current College and governmental scholarship policies. The final recipient(s) and amount of each scholarship will be the responsibility of the Royer Scholarship Committee based on the input of the Financial Aid Office. Awarded annually at the Spring Awards Ceremony. |
| Fred '73 and Wanda Rudman Scholarship Fund | Established in 2001 by Fred Rudman '73 in honor of his wife, Wanda. This scholarship celebrates Wanda's devotion to her family before her own education and her dedication to higher education for the non-traditional student. The scholarship is awarded to a non-traditional female student to enable her to further her education while raising a family. |
| Reverend Russell Wells Sapp Memorial Scholarship Fund | Established in 1979 by the family and friends of Russell Sapp, Class of 1923. |
| Ellen R. Sauerbrey '59 Leadership Scholarship Fund | Established in 2015 by the colleagues, friends and family of Ellen R. Sauerbrey '59 in her honor, the scholarship is awarded annually to a student or students with financial need with a preference given to a female student(s) from Maryland who has demonstrated outstanding leadership in the field of science and technology. |
| Eugene and Jeanne Savage Scholarship Fund | The Eugene and Jeanne Savage Scholarship Fund will be used for the awarding of scholarships granted to needy and worthy undergraduate students attending McDaniel College on a full-time basis. The total amount to be distributed each year to such qualified students is ten thousand ($10,000) for four years assuming the students continue to qualify for the scholarship. Students shall be re-evaluated annually for scholarship standing based on the following: Full-time student status Financial need Participation in diversified extra-curricular activities and community services Maintain a 3.0 grade point average |
| Margaret "Peggy" Whitehead Savarese Memorial Scholarship | The Margaret "Peggy" Whitehead Savarese Memorial Scholarship is established by Michael as a tribute to his beloved wife. The College Agrees to use the gifts to provide a scholarship fund for a student with financial need and academic distinction with a preference to a Maryland resident, studying to be a teacher and minoring in education. |
| Philip B. Schaeffer '48 and Martha K. Schaeffer Scholarship Fund | Established in 2009 in memory of Philip B. Schaeffer, Class of 1948, through the generosity of his wife Martha K. Schaeffer. This scholarship celebrates Philip's life and his dedication to the College. Philip received his WMC degree in 1948 in economics. He was first appointed in March, 1958, joined the administration in 1959, and was named Treasurer in November 1959. In 1973, he was promoted to Vice President for Business Affairs and Treasurer, serving in that position until he retired in 1982 and was awarded honorary emeritus status by the College's Board of Trustees. He was the son of Carl L. Schaeffer '14, who joined the faculty in physics in 1919, was Secretary of the Faculty from 1922 to 1947, became Assistant Treasurer about 1933, and then assumed the Treasurer's role in 1942. Carl continued in this role until his retirement as Treasurer Emeritus in 1959. This scholarship is awarded to an economics and business administration major and is based on academic merit and financial need. |
| Lawrence E. Schmidt '75 and Linda Loock Schmidt '75 Endowed Scholarship Fund | Established in 2017 by Lawrence E. and Linda Loock Schmidt, both Class of 1975. The scholarship is awarded annually to a deserving student with preference given to a sophomore/junior declared major in history continuing through senior year, Baltimore County Public School or public school graduate, and demonstrating financial need. This scholarship is renewable. |
| Agnes B. and Robert D. Schreck Memorial Scholarship Fund | Established by family and friends in 1969. |
| Dr. Robert T. Scott Memorial Scholarship | Established by Carolyn Seaman Scott '67, MLA '76 and family, the scholarship is awarded annually to a deserving student or students with financial need. Preference is given to a student majoring in biology who demonstrates service to others through community service and volunteer work. |
| Donna Sellman Alumni Children Grant Fund | Established in 1986 by Donna DuVall Sellman, Class of 1945, to provide grants to incoming students who are children of alumni of the College. The recipients must meet the following minimum standards to qualify: freshman - 1100 combined SAT score and 3.5 GPA in high school; sophomore transfer - 3.2 GPA in college or the freshman standards; be recognized for outstanding participation in extracurricular activities in high school and a stated intent to participate in student activities in college. |
| J. S. Reese Shanklin Scholarship Fund | Established in 1994 through the bequest of Mildred Shanklin in memory of her father, J. S. Reese Shanklin. |
| Walter and Judy Shober Family Scholarship Fund | Established in 1995, this scholarship will benefit graduate students in the Community-Based Human Services Management Program affiliated with TARGET, Inc. |
| Carolyn Sapp Shortess Scholarship Fund | Established in 2011 through a gift from the family of Carolyn Sapp Shortess, Class of 1949. The scholarship is awarded annually to a deserving junior or senior who is minoring in education and who has demonstrated financial need. Preference should be given to students who have a desire to teach mathematics. |
| John H. Simms Scholarship Fund | Established in 1986 by John H. Simms, Class of 1929, honorary trustee of the College. |
| James Herman and Marvel Jackson Simpson Scholarship Fund | Established in 1997 by Marvel Jackson Simpson, Class of 1936. |
| Emma Knox Sisco & Christine Elizabeth Hausheer Scholarship Fund | Established in 1999 in memory of their daughter, Emma, by Dennis G. Sisco, Class of 1968, and Alexine S. Lesko, and now renamed to include Alex's sister, Christine Elizabeth Hausheer, this scholarship is renewable annually and is awarded to a deserving student(s) with a preference to students who have overcome economic, social or physical challenges to achieve academic success while taking an active role in family, school or community affairs. |
| Margaret F. Smith Scholarship Fund | Established in 1999 through the bequest of Margaret F. Smith, Class of 1937. |
| Jay and Sharon Smith Scholarship | Established in 2005 through the generosity of Jay and Sharon Smith. Awarded annually to an English major, preference will be given to a resident of Maryland. It is based on academic distinction and financial need. |
| Jessie Dubel Smith '20 Scholarship Fund | Established in 2003 by John E. "Snuffy" Smith, Jr. in memory of his beloved mother, Jessie Hull Dubel Smith, Class of 1920. The scholarship is awarded annually to a sophomore, junior, or senior from Anne Arundel, Charles, Calvert or St. Mary's Counties. It is based on academic distinction and financial need. |
| James D. Smyth, Jr. Memorial Scholarship Fund | Established in 1987 by his parents, Charlotte Haile Smyth and J. Donald Smyth, Sr., both of the Class of 1948, as a living memorial to James D. Smyth, Jr., Class of 1971. This scholarship is awarded annually to a student demonstrating outstanding personal character and an above average academic record. The recipient must be a major in psychology or biology with preference to psychology. |
| Joseph Carroll '63 and Linda Mahaffey '66 Spear Scholarship Fund | Established in 2000 to honor the life of Joe Spear, whose career as a journalist exemplified a deep commitment to the principles of freedom of the press. The scholarship was established as a way of perpetuating an interest in and dedication to the protection of the First Amendment freedoms through education. It is awarded annually to a deserving sophomore, junior, or senior majoring in journalism, political science, or communication who demonstrates academic distinction and financial need. |
| Mary Anne Thomas Stazesky '49 Scholarship Fund | Established in 1999 in honor of Mary Anne's 50th Reunion. The scholarship is awarded annually to a female student based on academic distinction and financial need. |
| George L. and Sara Stern Memorial Scholarship Fund | Established in 2000 by their nephew, Norman Stern, Class of 1949. The scholarship is awarded annually to a sophomore, junior, or senior majoring in history or English and completing a minor in education. |
| Frederick J. Stoever '58 and Renate G. Stoever Scholarship Fund | Established in 2008 through a gift from Frederick J. Stoever '58 and Renate G. Stoever, this scholarship is awarded annually to a student majoring in economics. The scholarship is based on academic merit and financial need. |
| Stone Scholarship Fund | The will of Harvey A. Stone provides that the income from the property bequeathed to the College shall be applied to the education of male students at the College who may be pursuing a course preliminary to entering upon a theological course. |
| Florence E. Stoner Scholarship Fund | Awarded annually to students from Frederick County attending the College. |
| Bishop James H. Straughn Scholarship Fund | Established in memory of Bishop Straughn, an alumnus of the Class of 1899, active trustee, and president of the Board from 1929 to 1949. |
| Student Foundation Scholarship Fund | Established in 1985 by the members of the Student Foundation. The scholarships are awarded to students based on leadership and need. |
| Drs. Kerschner, Royer, and Sturdivant Endowed Scholarship Fund | Established in 1988 by the former students, friends, and colleagues of three premier professors at the College who spent their careers educating students in the finest tradition of the liberal arts. This scholarship is awarded each year to a student or students majoring in biology, who have at least a 3.0 GPA, and is a returning student. |
| Nancy Roelke Sullivan '62 Memorial Scholarship Fund | Established in 2013 by David M. Sullivan '61, this Fund celebrates and recognizes David's and Nancy's lives together and their experiences on the Hill. This scholarship will be awarded annually and is based on academic distinction and financial need. A preference will also be given to a student majoring in political science or music. |
| George M. Sullivan Scholarship Fund | Established by his wife, Elna R. Sullivan, in honor of her husband, a member of the Class of 1927. |
| Surdna Foundation Scholarship Fund | Established in 1974 to support student aid. |
| Marcia K. Swanson '69 Annual Scholarship Fund | Established in 2010 by Marcia K. Swanson, Class of 1969. The scholarship is awarded annually with preference given to a hearing-impaired student. Should there not be a candidate with a hearing impairment, this scholarship will be awarded to a student focusing on Studies in Deaf Education. |
| Ronald K. and Joan T. Tait Scholarship Fund | The Ronald K. and Joan L. Scholarship Fund: Established by testamentary intentions in 1999 by Associate Professor Emeriturs Ronald K. Tait and his wife Joan L. Tait. The Scholarship is awarded annually to a sophomore, junior or senior majoring in sociology or social work. The scholarship is based on academic distinction and financial need. |
| William and Lucretia Tanner Scholarship Fund | Established in 1996 through outright contributions and testamentary provisions of William and Lucretia Tanner, it is awarded annually to a full-time undergraduate student who demonstrates need and whose major or intended field of study is in one of the following: biology, business administration, chemistry, English, mathematics, physics or political science. Preference is given to students from southern Maryland, southern Virginia, and/or northern North Carolina and to students with an agricultural background. |
| TARGET Endowed Scholarship Fund | Target/McDaniel College Scholarship Fund |
| Eleanor Louise Schmidt Tate '35 Memorial Scholarship Fund | Established in 2012 in memory of Eleanor Louise Schmidt Tate, Class of 1935, through the Eleanor Louise Schmidt Tate Trust. This scholarship celebrates Eleanor's life, and honors her career as a nutritionist and her passion for traveling around the world. The scholarship is awarded annually to a student with financial need majoring in exercise science and physical education or a student who desires to expand their global knowledge by studying abroad. |
| Margaret Lee Tawes Scholarship Fund | Established in 1987 by Margaret Lee Nelson Tawes, Class of 1932. This scholarship is awarded annually to a student with a major or minor in music with preference to students from the Delmarva Peninsula. The recipient must maintain a B average to have the scholarship renewed. |
| E. Wallace Thomas Scholarship Fund | Established in 2005 by Barbara Thomas '70 and Thomas Gasparini, the scholarship is awarded annually to a well-rounded female student who has distinguished herself both as a student and as a member of the broader community. Specifically, the Thomas scholar will have a distinguished academic record, exhibited leadership in college activities, including athletics, and have a predisposition for making the world a more caring and ethical place through service in community-based organizations. The Thomas scholar will also have demonstrated financial need. |
| Dr. Charles Roberts Thomas Scholarship Fund | Established in 1968 by Dr. Thomas, a member of the Class of 1911. |
| G. Frank Thomas Scholarship Fund | Established in memory of Mr. Thomas who graduated from the College in 1908 and was a trustee from 1951-1965. It is awarded annually to residents of Frederick County. |
| Sarah Townsend Thompson '82 Annual Memorial Scholarship Fund | Established in 2010 by Dale Townsend, Class of 1951, and Mildred Mackubin Townsend, Class of 1958, in memory of their daughter Sarah Townsend Thompson, Class of 1982. The scholarship is awarded annually to a mathematics and/or computer science major. Preference will be given to a student with financial need participating in community outreach activities. |
| Theron Barker Thompson Memorial Scholarship Fund | Established in memory of his father by Ernest Thompson, award-winning playwright, to support scholarships for students from Carroll County pursuing studies in the field of the fine or performing arts. Dr. Thompson was a member of the faculty of the College for 13 years, 1961-1974. |
| Janice Tourre Undergraduate Scholarship Funds | Established anonymously in 2005 in recognition of the donors' commitment to advancing the field of education and in honor of the work of Janice Tourre. The scholarship is awarded annually to a deserving student with preference for someone who is completing a minor in education and who demonstrates academic distinction and financial need. |
| Janice Tourre Graduate Scholarship Fund | Established anonymously in 2005 in recognition of the donors' commitment to advancing the field of education and in honor of the work of Janice Tourre. The scholarship is awarded annually to a deserving graduate student in the counselor education program who demonstrates academic distinction and financial need. |
| Metro J. Truly, Jr. Memorial Scholarship Fund | Established in 1983 by the family and friends of Metro J. Truly, Jr., Class of 1979. |
| Henrietta Roop Twigg Memorial Scholarship Fund | Established in 1979 by Mr. and Mrs. Eugene Willis, Classes of 1934 and 1935, in memory of Henrietta Roop Twigg, Class of 1913. The scholarship is to be awarded annually to a student majoring in music. |
| William Tyeryar Scholarship Fund | Established in 1993 through the bequest of Dorothy T. Tyeryar in memory of her husband, William H. Tyeryar, Class of 1937. It is awarded to students studying the natural sciences or entomology. |
| Philip E. Uhrig M.Ed. '52 Endowed Scholarship Fund | Established in 2008 by those members of the 1949 through 1959 soccer teams coached by Phil. This fund recognizes and celebrates Phil's high standards of leadership, sportsmanship and drive, both on and off the soccer field and his love for the game of soccer. The scholarship is awarded annually to a male student with preference for an outstanding student who has a demonstrated history of participation in extracurricular activities. |
| Maurice S. H. Unger Memorial Scholarship Fund | Established by the will of Miss Eleanor DeForest Boteler of Baltimore as a tribute to a prominent Carroll Countian, Maurice S. H. Unger, who was a Carroll County educator and superintendent for 19 years. The scholarship is awarded to Carroll County residents who demonstrate a strong moral character. |
| Varga Budapest Scholarship Fund | The Varga Budapest Scholarship Fund: Established in 1995 by George Varga, Class of 1961 and trustee of the College, this scholarship is awarded to a deserving McDaniel College Budapest student. |
| Sidney H. Waghelstein '39 Memorial Scholarship Fund | Established in 1988 by the family and friends of Sidney H. Waghelstein '39 as a celebration of his life. It is to provide scholarships to students majoring in biology and entering their senior year with at least a 2.5 GPA. |
| Douglas A. Wagner Scholarship Fund | Established in 2003 by Mark and Marcia Wagner in honor of their son, Douglas. The scholarship is intended to benefit graduate students in the Community-Based Human Services Management Program affiliated with TARGET, Inc. |
| Leon and Betty Wahrhaftig Scholarship Fund | Established in 1998 in honor of Leon and Betty Wahrhaftig. This scholarship is awarded to a junior or senior majoring in sciences and interested in a career in the health field. Preference will be given to a student from suburban Maryland, the District of Columbia, or northern Virginia. |
| Margaret Wappler Memorial Scholarship for Applied Music Fund | Established by the Omicron Eta Chapter of Delta Omicron, this scholarship of $175.00 is awarded annually to an upper-class music major making a significant contribution to music on the Hill. |
| W. Edwin Warfield Memorial Scholarship Fund | Provided by the Lions Club of Silver Spring, Maryland, in memory of W. Edwin Warfield, a member of the club and an alumnus of the College who died in action during World War II. |
| Robert and Margaret Warfield Scholarship Fund | Established in 2002 by Robert E. '62 and Margaret Hoey '63 Warfield. The scholarship is awarded annually to a student majoring in English, economics, or business administration and is based on financial need. Preference will be given to students from Worcester County, Maryland. |
| William A. and Gladys B. Weech Endowed Scholarship Fund | Established in 1992 by a bequest of Gladys B. Weech, Class of 1927, to assist needy students in pursuing an education. |
| Daniel I. Welliver, M.D. '50 Scholarship Fund | Established in 2000 by members of his family, colleagues and friends, this scholarship is awarded annually to a junior or senior majoring in one of the sciences with preference for a student pursuing a career in medicine or one of the allied health fields such as nursing, physical therapy, sports medicine or athletic training. The student must maintain a 2.5 cumulative GPA and have demonstrated financial need. |
| Rachael A. Wentz '62 Annual Scholarship Fund | Established in 1988 by Rachel A. Wentz, Class of 1962. The scholarship is awarded to a student who would not be able to attend McDaniel College without scholarship support. Preference will be given to a student majoring in a foreign language and may be awarded in consecutive years if a GPA of 3.5 is maintained. |
| C. Harry Wahmann Memorial Scholarship Fund | Established in 1984 in memory of C. Harry Wahmann, devoted trustee of the College. It is awarded annually to students with superior academic credentials. |
| Eleanor Wheeler '40 and Harry L. Stalcup Scholarship Fund | Established in 2000 by Eleanor Wheeler Stalcup, the scholarship is awarded annually to a sophomore, junior, or senior majoring in mathematics or chemistry. |
| Joseph S. Whiteford Scholarship Fund | Established in memory of Joseph Whiteford, Class of 1943 |
| Dr. and Mrs. Theodore M. Whitfield Scholarship Fund | Established in 1957 and revised in 1996 by his beloved wife, Elizabeth Denny Dixon Whitfield, to honor Dr. Whitfield, professor of history emeritus and an active advocate in preserving America's heritage, and in recognition of his 60 years of service to and association with the College. It is awarded to a junior or senior history major demonstrating academic excellence and financial need. |
| Dr. Charlotte L. Wilderson Scholarship Fund in Psychology | The annual draw from this fund shall be used to support deserving junior and/or senior (preferably female) students, majoring in the field of Psychology for so long as the Board of Trustees of McDaniel College determine that a need exists. |
| Roger H. Willard Memorial Scholarship Fund | Established in 1982 by the family of Roger H. Willard, Class of 1930. The scholarship is awarded annually to a student from Frederick County. |
| 1st Lt. George W. "Geordie" Williams Memorial Scholarship Fund | Established in 1989 in memory of George W. "Geordie" Williams, Class of 1986, a dedicated Army officer, who died aboard Pan Am Flight 103 in December 1988. It is to provide a scholarship to a student or students enrolled in Advanced ROTC. It shall be required that the recipient (s) demonstrates financial need as well as be in Advanced ROTC. In the event the ROTC program were to be dissolved at the College this award may be given to a student majoring in business and economics. |
| Dr. Charles H. and Margaret V. Williams Scholarship Fund | Established in 1987 upon the 50th reunion of Dr. Williams, Class of 1937. Students granted this award might be eligible to receive the award in consecutive years, if they maintain at least a 3.0 GPA. |
| Clarence M. Willis Scholarship Fund | Established by Clarence M. Willis in 1987 in memory of Evelyn Johnson Willis; her mother, Katharine Hobbs Johnson, Class of 1910; and in tribute to his beloved wife, Pearl Dotson Willis. |
| Eugene "Stoney" Willis '34 Scholarship Fund | Established in 2007 by his wife, Jane Twigg Willis '35, his son, Eugene "Pebble" Willis, Jr. '64, his son, John T. Willis and his daughter-in-law, Professor Kathy S. Mangan. The scholarship is awarded annually to a junior or senior student who demonstrates distinction in academics, intercollegiate athletics and involvement in campus activities. The recipient will possess leadership qualities; be passionate about McDaniel College; and demonstrate financial need. |
| Eugene "Pebble" Willis, Jr., M.D. '64 and Carolyn Henson Willis '67 Endowed Scholarship Fund | Established in 2009 through the estate of Eugene Willis, Jr. This scholarship will be awarded in the best interest of McDaniel College as determined by its governing board. |
| Jane Twigg Willis '35 Memorial Scholarship Fund | Established in 2016 by John T. Willis and Kathy S. Mangan, in memory of Jane Twigg Willis '35, the scholarship is awarded annually to a female sophomore, junior, or senior undergraduate student(s) with financial need, with a preference given for student(s) who displays leadership skills, is engaged in campus activities, and has demonstrated commitment to the goals and principles of the College. |
| Beverly Morales Wilson '73, MEd '81 Memorial Scholarship | Established in 2014, the scholarship is a living tribute to Beverly, class of 1973, Master of Education, 1981, a sociology major who worked as a social worker with the Maryland Disabilities Determination Administration for more than 30 years. Beverly is remembered through this scholarship by her mother Syble, husband Danny, son Gabriel, and sister and brother-in-law Sue and Splinter Yingling. The scholarship is awarded annually to a student or students with financial need in their sophomore, junior or senior year; preference should be given to students majoring in social work. The scholarship is renewable over four years as long as the recipient(s) continue(s) to meet the scholarship criteria. |
| Anna May Gallion Wilson '31 Memorial Scholarship Fund | Established in 1991 by her husband, Frank K. Wilson, in loving memory of his wife Anna May Gallion Wilson, Class of 1931. Awarded annually to a student who demonstrates financial need. |
| Steve Robert Wilson '75 Memorial Scholarship Fund | Established in 2018 through the generosity of Douglas S. Wilson in memory of his brother, Steve Robert Wilson '75, an Economics major, All-American athlete and McDaniel Sports Hall of Fame Inductee (1997), member of Alpha Gamma Tau, and a beloved brother. The scholarship is awarded annually to a student or students with financial need with preference given to a student in good standing, as defined by the College, who attended Fort Hill High School, Steve and Doug's alma mater, and embodies the principles and spirit of being a Green Terror as witnessed by both attitude, involvement and scholastic achievement. If there are no students who meet the criteria, preference should be given to students from Cumberland or Allegany County, Maryland. This scholarship is renewable. |
| W. Wilson Wingate Memorial Scholarship Fund | Established in 1981 by his sister, Carolyn W. Todd, in honor of his self-sacrificing devotion to his family and his concern for and support of all young athletes. |
| William R. Winslow Scholarship Fund | The income from this fund provides scholarships based on financial need. |
| WMC Heritage Scholarship Fund | Established in 2008 through gifts from alumni, this scholarship is awarded annually to students who have achieved junior status and who, through their campus and community involvement, exemplify the mission of the WMC Heritage Society to honor the past and embrace the future by preserving the history and traditions of the College. The scholarship is based on academic merit and financial need. |
| Donald C. and Evelyn Ann Wooden Scholarship Fund | Established in 2010 by Milton and Mary Harris in honor of Donald C. and Evelyn Ann Wooden. The scholarship is intended to benefit graduate students in the Community-Based Human Services Management Program affiliated with Target, Inc. |
| John F., Jr. '27 and Pauline L. Wooden Scholarship Fund | Established in 2004 through a gift from John F., Jr. '27 and Pauline L. Wooden, this scholarship is awarded annually to a student who attends McDaniel College from a public school in Carroll County, Maryland. The scholarship is based on academic merit and financial need. |
| Mary Wooden Memorial Scholarship Fund | Established in 1997, this scholarship will benefit graduate students in the Community-Based Human Services Management Program affiliated with TARGET, Inc. |
| Yingling Memorial Scholarship Fund | Established in 1995 in loving memory of John Edward Yingling '24 and Ruth Benson Yingling '26 by the family of John E. Yingling, Jr., it is awarded annually to an upper-class student who intends to pursue a career in the teaching profession and is participating or scheduled to participate in a student teaching course. Preference is given to students from Howard County, Maryland. |
| B. Irene Young Pre-Medical Scholarship Fund | Established in 1983 by B. Irene Young, clerk-in-charge of the College post office for many years, for a student seeking a career as a physician. |
| Raymond L. and Jessie B. Young Scholarship Fund | Established by their daughter, B. Irene Young, for the purpose of providing financial aid to a hearing-impaired and blind student. Should there not be a candidate with this dual limitation, the aid may be awarded to a deaf or a blind student. |
| Karen Zadravec Scholarship Fund | Established in 1997, this scholarship will benefit graduate students in the Community-Based Human Services Management Program affiliated with TARGET, Inc. |
| Doris Pan Zia '42 Scholarship Fund | Established in 2005 through the bequest of Doris Pan Zia, Class of 1942. The scholarship will be awarded to a student demonstrating academic distinction, with preference given to a student of Asian descent. |
| Zirpoli Family Scholarship Fund | Established in 2007 by Thomas and Susan Zirpoli. The scholarship is intended to benefit graduate students in the Human Services Management in Special Education Program affiliated with TARGET Community and Educations Services, Inc. |