Class of 2021 celebrated during outdoor graduation at Kenneth R. Gill Stadium
Outside among family and friends, the McDaniel College Class of 2021 – 587 bachelor's and master's candidates in all – crossed the stage to receive their degrees May 22 during the college's 151st Commencement ceremony. Mary Lynn Durham '70 and Bill Roj '70, who were recognized with honorary Doctors of Laws degrees, served as the commencement speakers.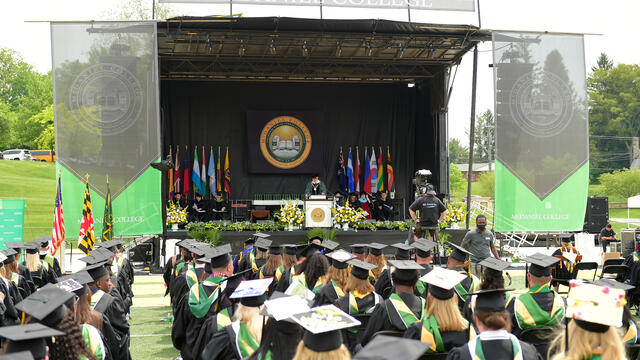 Outside among family and friends, the McDaniel College Class of 2021 – 587 bachelor's and master's candidates in all – crossed the stage to receive their degrees May 22 during the college's 151st Commencement ceremony.
Kenneth R. Gill Stadium could not have been a more fitting place for students to complete their college careers. For some, the green turf on Rembert Field represented the same field they played football, lacrosse or field hockey or practiced on. Others could reminisce walking the track with friends. Students and alumni alike also can certainly recall those spirit-filled game days at one of the best tailgating experiences in the nation.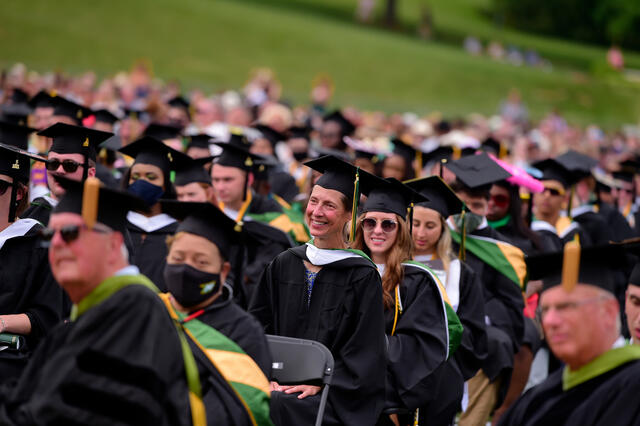 The stadium has always brought the McDaniel community together, and now it brought the Class of 2021 to its next chapter.
McDaniel College President Roger N. Casey welcomed the Class of 2021, sharing how glad he was to celebrate with them in person.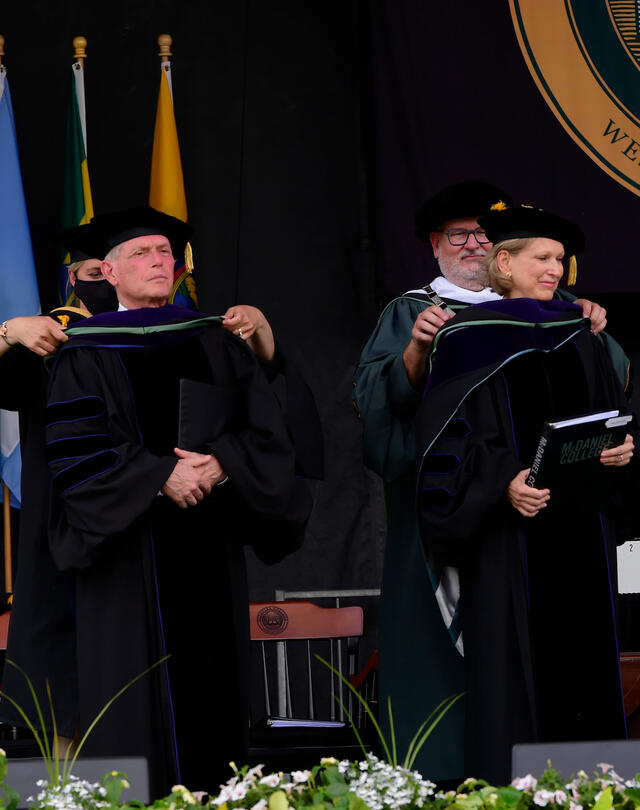 "Today, we celebrate not only your many achievements here on the Hill but also the incredible commitment and resilience that got you to this very moment," Casey said. "There's no doubt you have had an extraordinarily challenging year – one that required you to reimagine how you learn, make necessary sacrifices for the good of our community and learn to be comfortable in the uncomfortable. And yet, you pushed through. You persevered. It may not have always been easy, or pretty, but you are here and you are ready to get your degree. Class of 2021, this is your day. Welcome to your ceremony."
The college also celebrated the Class of 2020 on May 22 during the college's 150th Commencement ceremony. Casey was recognized with an honorary Doctor of Humane Letters degree at the 10 a.m. ceremony. Read more about the Class of 2020 ceremony.
The two Commencement ceremonies were the first in-person Commencement celebrations to occur at McDaniel since May 2019 and were the first to take place outdoors at the stadium.
During their 2 p.m. ceremony, graduates were celebrated by 1970 alumni and Commencement speakers Mary Lynn Durham and Bill Roj, whose recent $5 million leadership gift made the renovation of the new Roj Student Center possible. Durham and Roj were also recognized with honorary Doctors of Laws degrees at the ceremony.
Durham spoke of the power of imagination that dates back to ancient humankind.
"Here at McDaniel, imaginative learning opportunities, spanning everything from the arts and letters – to our innovation and entrepreneurship programs, have broadened and inspired you. And this year, McDaniel leadership and faculty, who brilliantly reimagined living and learning on the Hill, became their own shining example," Durham said. "Throughout your pursuits of the liberal arts and sciences, you have discovered imagination at work."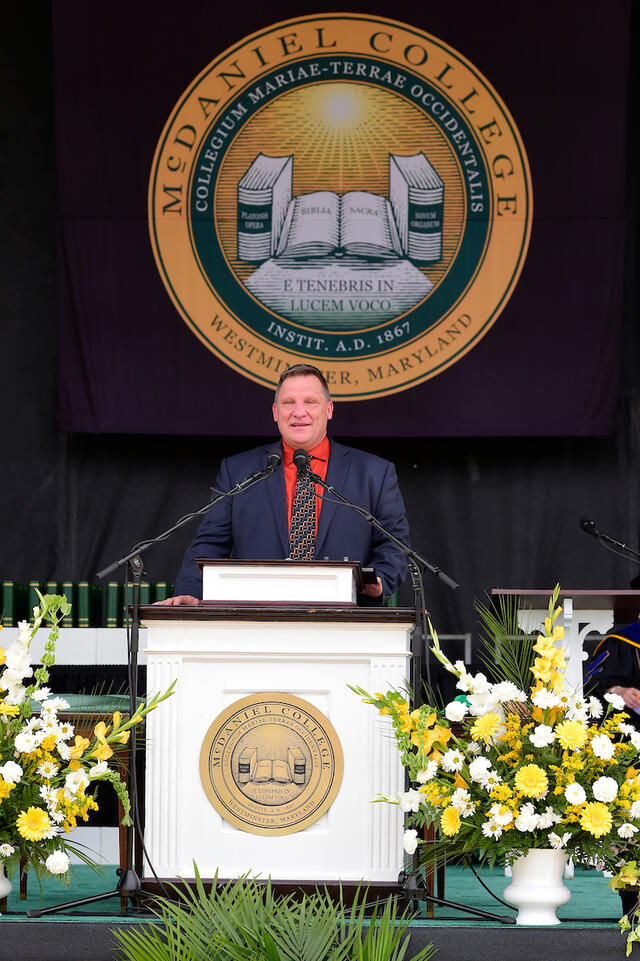 Roj shared advice with the Class of 2021 on how to make the most of their journeys through life.
"With the benefit of a lot of years of hindsight I would suggest that the most important of life's journey's questions is whom you will select to include in your personal journey," Roj said. "The enjoyment and fulfillment most people receive from their journey through life comes more from the people they select to journey with than any other factor."
Carroll County Health Officer Ed Singer '87, who also serves as incident commander for Carroll County's COVID‐19 response, was recognized with the Trustee Alumni Award, which is the highest alumni honor given at McDaniel in recognition of alumni career and service achievement. Read more about Ed Singer.
Singer said there are two things that he still carries with him from his time at the college.
"One was using the problem-solving principles that I learned as a Biology major," Singer said. "It did not matter if I was working on delivery of critical infrastructure needs when I was deployed to Afghanistan or Iraq or developing strategies to help our community get through the COVID-19 pandemic, using data and the problem-solving skills that I learned at McDaniel helped me analyze and address the core issues."
He also noted the importance of personal and professional relationships, adding that several McDaniel professors mentored and guided him through his college experience.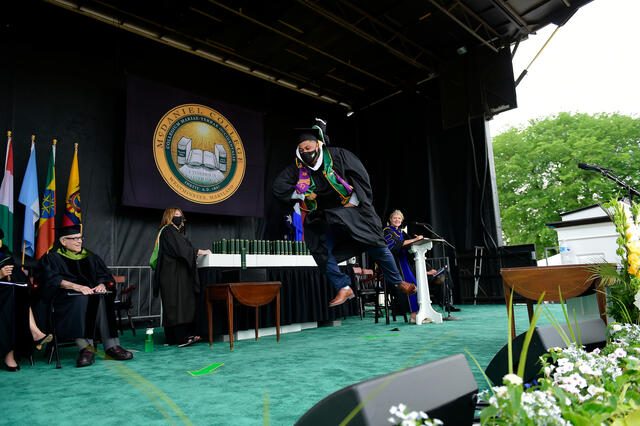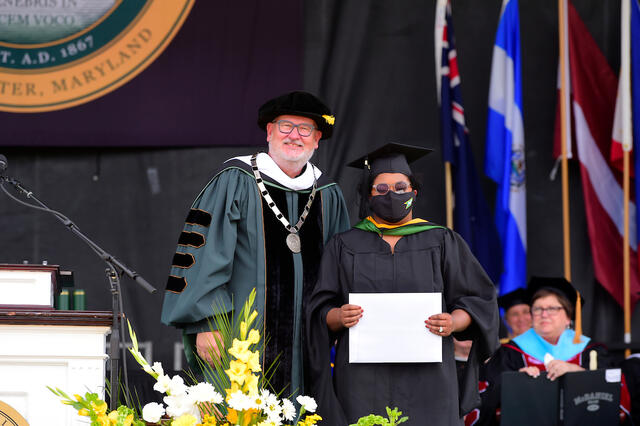 From nine countries and 25 states and the District of Columbia, the graduates completed studies in 55 undergraduate and graduate programs. They are global citizens, having studied in 19 countries, including Austria, Belgium, China, Costa Rica, Czech Republic, Dominican Republic, Ecuador, Egypt, Germany, Greece, Hungary, Ireland, Italy, Jordan, Mexico, Netherlands, Peru, Spain, and the United Kingdom. Learn more about the graduating class in "McDaniel College Class of 2021: By the Numbers."
Julia Kate Dunn, a Psychology major from Reisterstown, Md., was awarded The Argonaut Award for achieving the highest cumulative grade-point average and one of two Edith Farr Ridington Awards for best senior paper. Mikayla R. Lee, an English major with a Secondary Education minor from Columbia, Md., also received an Edith Farr Ridington Writing award for her senior paper. Pershea Renea Jefferson, originally of Virginia Beach, Va., who graduated from McDaniel with a master's degree in Deaf Education, received The B. Jill Brooks Hodge Professional Development Award, which goes to a graduate student who has demonstrated academic excellence with a strong compassion for individuals with special needs and an interest in serving the deaf or disabled. Read more about the honorees in "Top undergraduate and graduate student awards presented at 2021 Commencement."
Class of 2021 Commencement Quick Links

Honorary Degree Recipients

Class of 2021

Awards and Honors

In The News