How McDaniel expert Elly Engle teaches equity and sustainability through gardening
Elly Engle, assistant professor of Environmental Studies, was recently recognized with the Early Career Award from the Association for Environmental Studies and Sciences. Engle discussed her down-to-earth approach to hands-on learning in the campus gardens, the Agrifood Program, Food Fellows, and plans for a local seed library.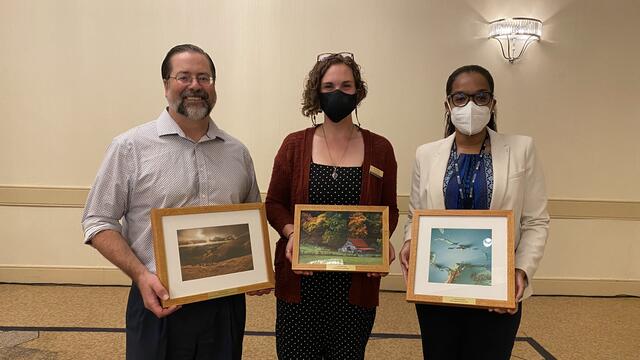 Assistant Professor of Environmental Studies Elly Engle was awarded a 2022 Early Career Award from the Association for Environmental Studies and Sciences (AESS). The award "recognizes outstanding accomplishments and promising future potential for teaching, research, policy, or activism in any field of environmental science and studies."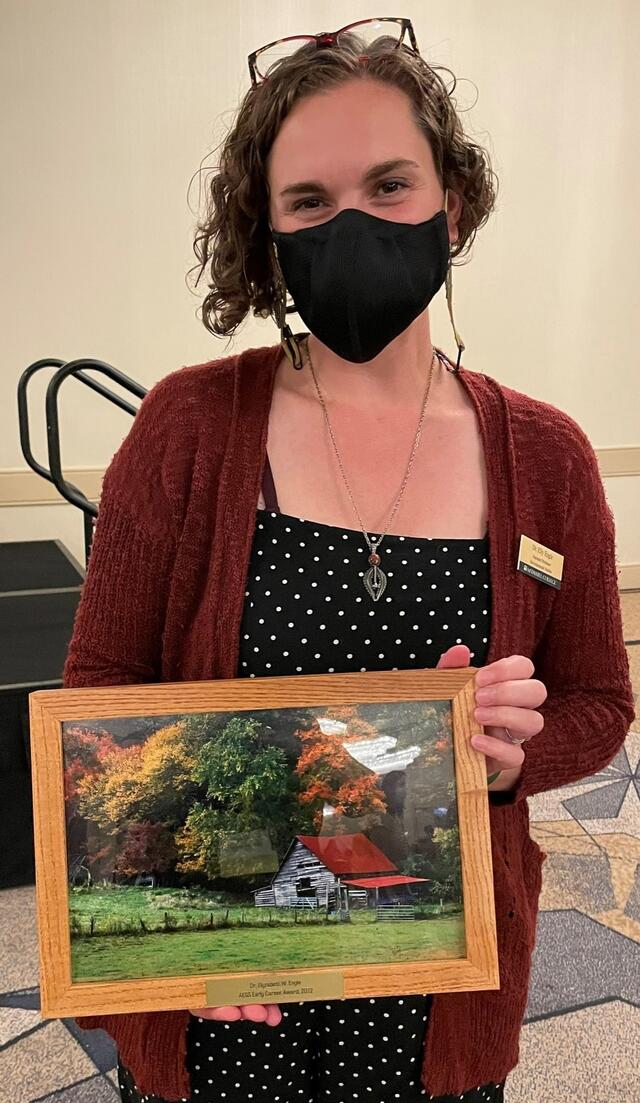 "We are excited to honor AESS member Dr. Elyzabeth 'Elly' Engle with the 2022 Early Career Award," the association said. "Elly was instrumental in forming our Diversity Committee and remains a tireless advocate for inclusivity at all levels of AESS. We look forward to continued engagement and celebration of Dr. Engle's accomplishments."
Engle holds a B.A. in Environmental Science and Politics from Juniata College, and an M.S. and Ph.D. in Rural Sociology from The Pennsylvania State University. Her Ph.D. was dual title in Human Dimensions of Natural Resources and the Environment.
Since joining McDaniel in 2018, Engle has earned a 2020 Charles A. Boehlke, Jr., Engaged Faculty Fellows Award, a 2019 Nora Roberts Foundation Faculty Award, and was named 2019 Advisor of the Year. As the faculty advisor for Green Life, Compost Club, and Sunrise McDaniel, Engle has supported the development of gardening and environmental efforts across campus. Off campus, Engle frequently partners with local organizations to provide education and service-learning opportunities for students.
We spoke with her about her career so far at McDaniel.
What brought you to McDaniel? How were your first few months?

I came straight here after graduate school in fall 2018. I actually saw the job advertised in the fall of 2017, and they were looking for someone who could teach Environmental Studies, play in gardens, and start a student farm, which is everything I had done as an undergraduate and graduate student. So, when I saw it, I was like, "That's it. That's my job." I even called my mom. Luckily, McDaniel felt the same.

I jumped in headfirst. I even met with Green Life in the summer before I technically started, because students had heard about me and were excited to get the gardens going. There was a lot of great student energy, so I hit the ground running.

What were some of your early projects?

Professor Engle (center) with 2021 Food Fellows Jessie Titus (left) and Kylie Baker (right).

Right away we kicked off the Agrifood Systems Program. We started with volunteers in the gardens, and then I hired students through the Student-Faculty Collaborative Summer Research Program. That led me to develop the Food Fellows program, which is in its second year now. I hire two students at a time who I can compensate for gardening, which is tough work. During summer 2020, I couldn't hire students, but I still ran the gardens and worked with community partners to start a program called Neighbors Nourishing Neighbors. Our goal was to have people grow excess produce in their gardens and donate it within a network of local pantries to feed anyone who was experiencing food insecurity. On my part, I grew in the campus garden and another community garden that I managed that year and donated everything to McDaniel Physical Plant and Grounds. They were great partners in helping me get the garden set up.

I also tie that programming to two of my classes. In my Sustainable Agriculture class, students learn the principles of garden design, and we have field trips and guest speakers to learn about farming and food systems in practice. My Changing Food Systems class is more of a food justice/social justice class where, just this spring, students started pollinator plants that we can give to my great partners, the Carroll County Beekeepers Association. That class is all about putting together a seed library proposal for the community, and it gave students an excuse to play with seeds and get to know more about Westminster, because you can't design a seed library for a community unless you get to know the community.
How does a seed library work? What are your goals for one in Carroll County and how are McDaniel students involved?

I was awarded the Nora Roberts Foundation Faculty Award in 2019 to conduct the seed library project. It came out of several conversations I had with community partners like the University of Maryland Extension's Carroll County Master Gardeners and a Christian faith-based congregation called the Keep & Till.

The Agrifood Systems Program has produced 1,500 lbs of produce, flowers, and herbs for McDaniel community members. Over 700 seedlings have been propagated in the campus greenhouse.

I didn't want to do a project that I thought was important; I wanted to do a project with students that the community thought was important. So, I asked our community partners what they needed, and they said seed access.

There's a tradition of agriculture and food production in Carroll County, but access to resources can be a real challenge. Gardening is not cheap, it's not free, and if people can't buy seeds or access tools, it doesn't matter how much you tell them to grow their own food if they're hungry. Our community partners visited my Changing Food Systems class in fall 2019, which is a class where I get a lot of non-majors, and they talked about the importance of seed sovereignty and owning the food system in your own hands. Students then put together proposals, but before we could put it into practice, the pandemic happened. We had to pause, even though gardening was more important than ever, and seed stocks were more depleted than ever.

This spring I plan to revitalize the project. My students recently put together six different proposals for what a seed library could look like in Carroll County, which I will send to my community partners to restart that conversation.
How do you impart large lessons like sustainability and food insecurity to students while they're doing hands-on work in gardens or learning about it in class?

My response to that is twofold. If you had to break down every one of my classes to one question or one phrase, it's always "For whom?" I feel like our sustainability and environmental movements have gotten to the point where we think we know what the sustainable solutions are for the biggest problems that we're facing as humanity, in my opinion, like climate change. But the thing is, those solutions have been designed by and for the elite. So, there are people who are left behind and, in the end, you can't solve climate change without also solving poverty. They drive each other. It's a wicked cycle.

I push my students to talk about the sustainable solutions that exist in the literature and in practice, but we always ask who has access to those solutions, who gets to participate, who doesn't, who gets to have a voice at the table when we design and evaluate those solutions. We talk about that stuff while we're putting our hands in the dirt, because it's one thing to sit through a lecture and PowerPoint slides about justice or sovereignty, but it really sends the message home when students can go out into the world and hear practitioners talk about how they think about food security. How are farmers thinking about food security when they're putting their plants in the ground?

You also build community and can set aside the awkwardness of having those conversations when you're busy putting seeds into soil or raking a garden bed. You realize you're all in this together to get the garden ready for summer planting, while also addressing really complicated things like hunger, food security, food justice, and climate change.

That's a lesson I pulled from my dissertation way back when I was working in a highly politicized environment trying to ask people about natural resources and pollution. I did a lot of my work in the Appalachian coal fields, asking people if pollution affected the ways in which they could garden. At the same time, when we were in the gardens, we could set politics aside and talk about tomato varieties instead, which just so happens to also be a fighting point in Appalachia. It's always about access for whom. But also, let's build something together, and then suddenly we'll realize that we have bridges that we wouldn't have seen otherwise.

What does it mean to be an environmental sociologist? What kinds of questions are you asking?

In my Society and Natural Resources class, we start with "Why do we even care about environmental social sciences?" Students learn biophysical sciences from my colleagues in environmental studies and other departments, but I tell them that, if you think about it, the environment and how we study it is really the biggest community of all. Everything is included in the environment. We all exist in this giant, complicated spider web. When we start to make sustainable change, it tends to have rippling ramifications to other sides of the web that we need to be aware of. Otherwise, it might not be sustainable change at all.

You helped found the Diversity Committee with AESS. What were your goals in doing so?

We talk about environmental justice a lot and how it's a movement that started at the same time as the environmental movement, but they kind of bifurcated, because the environmental movement is largely led by very loud and privileged white folks. Not that it hasn't accomplished important things, but they closed the door to people who were having very different experiences with natural resources or pollution. Again, it's those questions of "for whom" and "by whom."

Engle attended the 2022 AESS Conference with current and former students. From left to right: Trinity Meggett-Johnson '23, Tou Matthews '23, Molly Sherman '22, Danielle Wendt '22, Engle, and Kylie Baker '23.

Not everyone has access to the outdoors, or safe outdoors. There's a long history of the outdoors being a very scary and violent place for people of color and diverse gender identities. Those concerns brought a number of us in AESS together and we started the Diversity Committee.

I was co-chair from 2018-2021. A lot of our conversations were about what we mean by diversity and inclusion and why it's important in environmental professional fields. I try to create space where folks who have more diverse or marginalized identities than myself can speak for themselves. We also host conversations about how we think beyond environmental justice and environmental destruction, since there's so much more to be celebrated than just the sad, negative stuff. There's joy out there, too.

It's been really rewarding. Doing that work has had a direct impact on how I teach my classes, how I communicate with students, and how I empower students of marginalized identities, particularly in STEM or environmental fields.

Do you have any future projects that you're looking forward to?

Last spring, I helped write a grant proposal for the expansion of the 58-acre McDaniel Environmental Center (MEC) and Harvey Stone Pavilion. We earned a grant from the state through the Maryland Independent College and University Association, which will bump up outdoor learning and teaching and create a bridge between the MEC and campus. There will also be renovations to the campus greenhouse, which is a space that I do a lot of work in. The grant affects just about every space that I use for experiential learning with students, so I'm very excited for those plans. Expanded spaces and programs also means expanded access for students across campus and people across our local community. This development will be a big step in bringing us all closer together towards inclusive, sustainable change.