Immersive summer experiences are taking McDaniel students to new heights
From Wall Street to a wildlife refuge, McDaniel College students are climbing to new heights through immersive summer experiences. Students are applying what they are learning in the classroom with real-world summer internships and job experiences.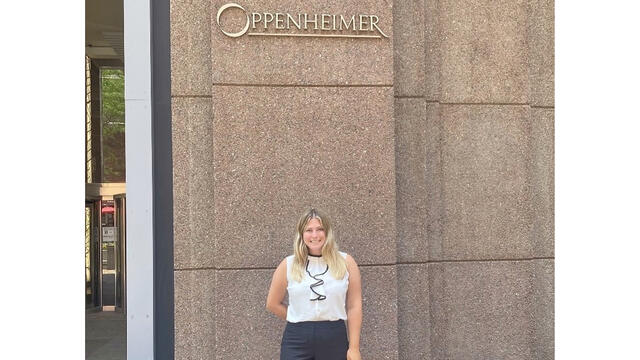 From Wall Street to a wildlife refuge, McDaniel College students are climbing to new heights through immersive summer experiences.
Students are applying what they are learning in the classroom with real-world summer internships and job experiences.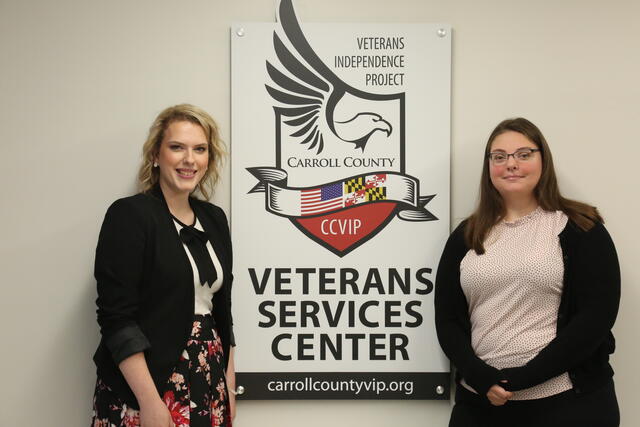 Thanks to her Business Administration courses on the Hill, rising senior Kaitlyn Poch landed an internship on Wall Street. She is interning at Oppenheimer & Co. Inc., a leading global full-service brokerage and investment bank in New York City.
"My experience at McDaniel has helped me adapt to working in the financial service industry by taking a wide variety of classes throughout my academic career here," said Poch, a Business Administration major with a Spanish minor from New Egypt, N.J. "Within the Business Administration major here at McDaniel, there were a unique spread of classes such as Accounting, Corporate Finance, Gender Roles in the Economy, Economics, and Marketing that allowed me to understand and engage in many areas of business instead of just one."
Poch has been spending the summer learning the different areas that make up the firm asset management and corporate marketing to risk management.
"I have also gotten an idea of what life is like living and commuting into New York City," Poch said. "In the future, I hope to be working somewhere in finance and hopefully continuing my career on Wall Street."
Senior Business Administration majors Michael Wallace and Perri Freeman also got hands-on experience in industries they hope to continue to do in the future.
Wallace of Wilmington, Del., has been working toward his Sports Management minor by interning at Hahn Hoops, a basketball training program founded by former Villanova University basketball star Adrianna Hahn based in Wilmington, Del.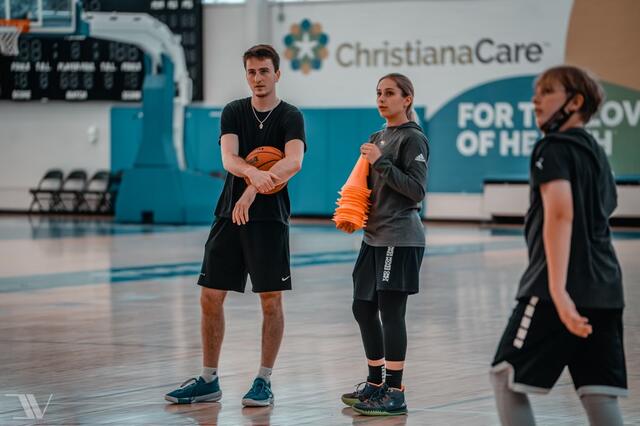 "Working with a lot of inner-city kids has been one of the reasons I love my internship because it gives myself the chance to make a positive impact on the city's youth basketball scene," Wallace said. "Our program gives kids a great facility and great environment to become better players and more importantly better kids off the court."
Since starting the internship in May, Wallace has learned the work that goes on behind the scenes. For instance, there aren't set hours or a timecard to punch in and out, which has made Wallace feel more involved in Hahn Hoops.
"My experience at McDaniel has significantly helped my role at Hahn Hoops all thanks to being a student-athlete," Wallace added. "By being a college basketball player and student, time management is critical and being able to push through long busy days comes natural at this point. Secondly, as a college basketball player teamwork is emphasized and being able to communicate with coaches and your teammates are skills that I've been able to apply to my internship."
In the future, Wallace hopes to continue working at Hahn Hoops to help expand the program even more.
Freeman of Ellicott City, Md., has been an estimating and operations intern at P. Flanigan & Sons, an area leader in heavy civil construction projects in Baltimore.
"This experience has been like no other. I have learned so many concepts and have been able to put them into practice," Freeman said. "My experience at McDaniel has given me the tools to learn quickly and apply my knowledge in a professional setting. McDaniel helped me hone in on my learning style, so I know what works best for me. I also came into the internship with enough business classes under my belt that I was able to understand a lot about the company and have meaningful conversations."
Freeman, who hopes to have a career in the construction industry, spent his first month-and-a-half in the estimating department, where he learned how to bid construction jobs ranging from asphalt paving and concrete work to site development and stormwater management, in addition to many more. After learning how to build and price a job, Freeman was shifted to the project management department, where he saw the jobs come to life from the blueprints.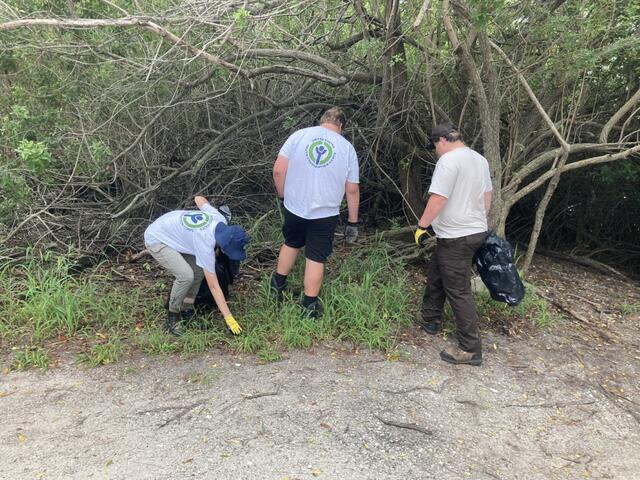 Rising sophomore Carl Feibusch is spending time out in the wild this summer.
Feibusch said his experience at McDaniel has been vital in multiple ways while working at the U.S. Fish and Wildlife Service at Merritt Island National Wildlife Refuge in Cocoa, Fla.
"Lots of information from my coursework in classes such as Environmental Policy and Sustainable Agriculture has helped me to understand the reasoning for some of the projects we have been assigned, as well as the processes that happened beforehand for them to be approved," said Carl Feibusch, an Environmental Studies major from Timonium, Md. "I've also used a lot of leadership experience from clubs and organizations to help me lead my crew in being effective and efficient."
Feibusch is leading a crew of teens from the Youth Conservation Corps in performing maintenance and light restoration projects. During his time there, Feibusch has seen all kinds of animals, but his favorites include a bobcat, a female alligator and 12 baby alligators, gopher tortoises, and small lizards.
This work has inspired what he wants to do in the future.
"I would love to be involved in environmental humanities, whether education, advocacy, nonprofit work, or any other job that is largely talking to others about the environment and problems it faces," Feibusch said.
Social Work majors are giving back to veterans and those in need this summer.
Social Work majors Sarah Rinker and Amber Walker spent the summer interning at the new Carroll County Veterans Services Center in Westminster, Md.
Rinker and Walker said they didn't realize how much of a need there was for veteran services in Carroll County.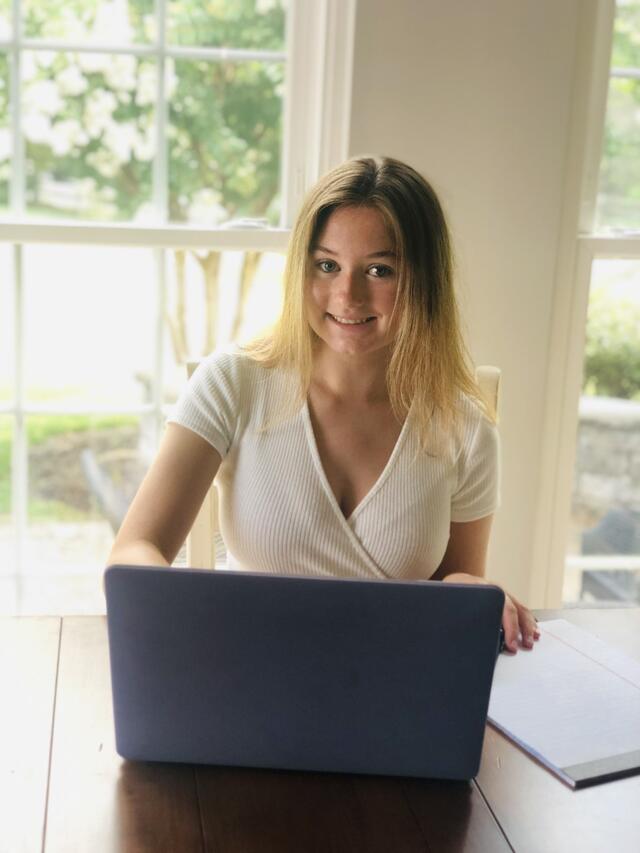 "The motto here is they helped us, so we help them," said Walker of Westminster, Md. "It's nice to give back to people who risked their lives for us."
The rising seniors assisted with the center's grand opening on June 14 as well as answering phones and helping clients.
"I have had family members who served in the military, so being able to help others who served feels good," said Rinker of Hanover, Pa.
Rising senior Social Work major Ciera Smith interned at Building Our World LLC, a nonprofit dedicated to helping the Baltimore City community. Her task was to assist in creating a prom experience for two girls, which entailed them getting custom-made dresses and planning an extravagant party similar to prom. Smith of Baltimore has been reaching out to the girls and their families as well as creating flyers and working with different businesses for the event.
"McDaniel has helped me build my confidence, adapt to different social circles, and learn multiple skills from my Social Work and Marketing classes," Smith said. "My Marketing class gave me insight on what consumers look for when advertising events. My Social Work classes helped me grow compassion for others and learn interpersonal skills."
Virtual work is still creating vital experiences for McDaniel students.
Rising juniors Megan O'Neill and Sarah Tedla and rising sophomore Javier Velasquez have been participating in virtual experiences that sets them apart.
O'Neill, a Marketing major with a minor in Entrepreneurship from Mount Airy, Md., has been interning for the Emerald Media Group, where she writes articles on a weekly basis.
"I have taken a few courses at McDaniel that have provided me with insight into how people manage their businesses," O'Neill said. "Therefore, I now have better knowledge when connecting with people who have started their own companies."
Tedla, an English major from Silver Spring, Md., is interning at BroadFutures in Washington, D.C., assisting in a research project called Beat the Odds. Tedla plans to help organize and analyze data that focuses on schools with children with disabilities outperforming in reading and writing in their states.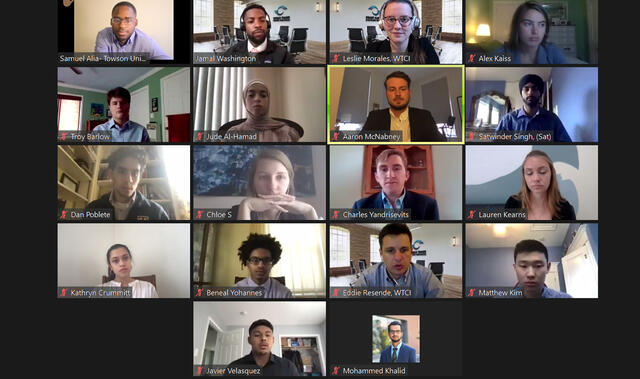 "One of my goals in this internship is to gain more professional experience communicating with others and problem-solving," Tedla said. "This virtual space, where communication is often done through emails, Microsoft Teams chats, and video calls, allows me to gain insight into working from home effectively. It will help me strengthen my writing skills and communicate with others in this setting, especially with technical issues."
Velasquez of Silver Spring, Md., was named to the World Trade Center Institute's (WTCI) 2021 Cohort of Albrecht Fellows for its Global Pathways for Students (GPS) program. The GPS program is a professional development program that helps college students become the next generation of global leaders. He participated in the 10-day fellowship, which includes a series of development workshops designed to strengthen professional skills as well as introduces students to some of Maryland's most innovative global businesses like Under Armour, T. Rowe Price, Stanley Black & Decker, and Lockheed Martin. Due to COVID-19, the GPS Program was virtual this year.
Upperclassmen also gave back to first-year students through McDaniel Local. Serving as students' first introduction to McDaniel and Westminster, Md., McDaniel Local is an overnight pre-orientation program designed to help all students get to know their new community and make connections with fellow students during the summer before they arrive on campus for their first semester.
Local leaders were Daniel Adum of Gaithersburg, Md., Kaeana Aguon of Gaithersburg, Md., Blessing Amao of Odenton, Md., Sydney Barrett of Annapolis, Md., Jack Bayne of Lutherville, Md., Evie Craig of Denmark, Maximillian Engle of Millheim, Pa., Ameira Jones of Baltimore, and Erika Lucas of Manchester, Md.
"They are the student leaders for our McDaniel Local pre-orientation program," said Erin Benevento, director of the First Year Experience at McDaniel. "They guide and support groups of around 10 students throughout the McDaniel Local experience, including leading icebreakers and community building activities and giving them an insider perspective about campus."