Students learn about sustainability at campus climate fair
Organizations from McDaniel College and the Carroll County community came together for a climate fair to share ways to learn about sustainability and environmental advocacy for Global Climate Change Week.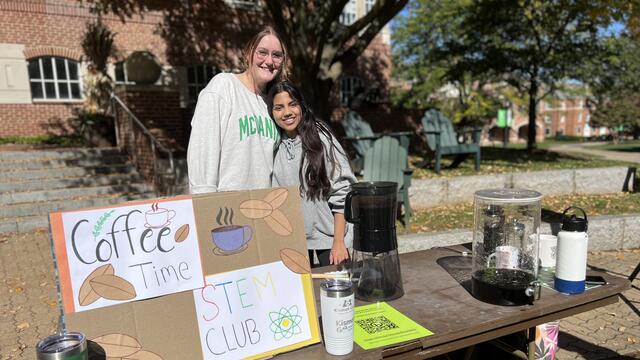 In recognition of Global Climate Change Week, more than 10 campus and community organizations came together on Oct. 14 for a climate fair to educate community members about the impacts of climate change and ways to be sustainable.
Hosted by the departments of Environmental Studies and Political Science, the event was planned by faculty and students, including professors Elly Engle, Christianna Leahy, Meg Christie, and Jason Scullion; Hoover librarian Marcey Jastrab; and student representatives Kylie Baker, Beth Aleligne, and Tou Matthews. Also present were Artist in Residence Walt Michael and musicians from Common Ground on the Hill.
Naturally for a college campus, one of the most popular stands at the event was a coffee station — where each cup was handed out with a fact. "Coffee is one of the most popular drinks in America, but there are a lot of unethical sources of it," says Hayley Willey, a Psychology major on the pre-med track.
A member of the STEM Club, Willey poured drinks along with fellow club member Quinn Hopkins, a Criminal Justice major.
"Deforestation is a big problem, but research has found that shade-grown coffee has higher yield. So, it's actually better to leave the trees," Willey says. "Learning how to drink coffee sustainably and ethically can make a difference."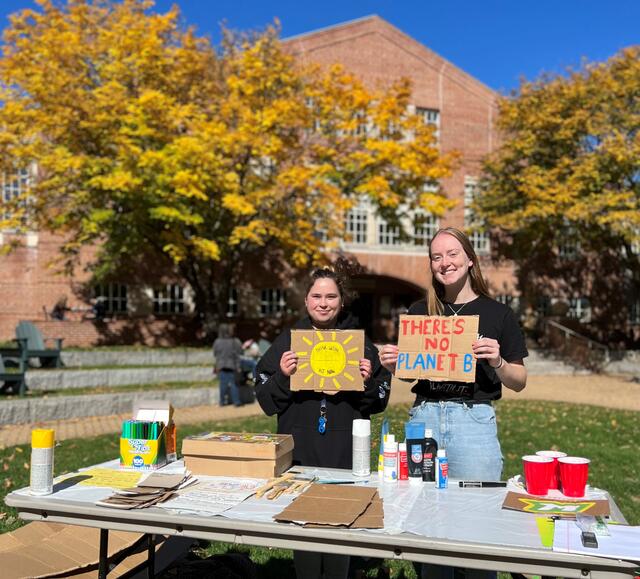 A similar sentiment was echoed by senior Kylie Baker, founder and president of Sunrise McDaniel. "We're working to make campus life even more sustainable," says Baker, who is an Environmental Studies and Political Science major.
For Nadeeah Fleming, co-president of Green Life, activism can be as simple as introducing more people to outdoor spaces. "You value what you are surrounded by," says Fleming, an Environmental Studies major with a specialization in Biology and a minor in Food Studies. "That's why things like the McDaniel Environmental Center (MEC) are so important for bringing people into nature."
During the event, Fleming helped attendees prepare wildflower seeds to plant.
Artistically inclined students painted apiary boxes, where honeybees build their hives, for the local nonprofit Mission Beelieve and the Carroll County Beekeepers Association.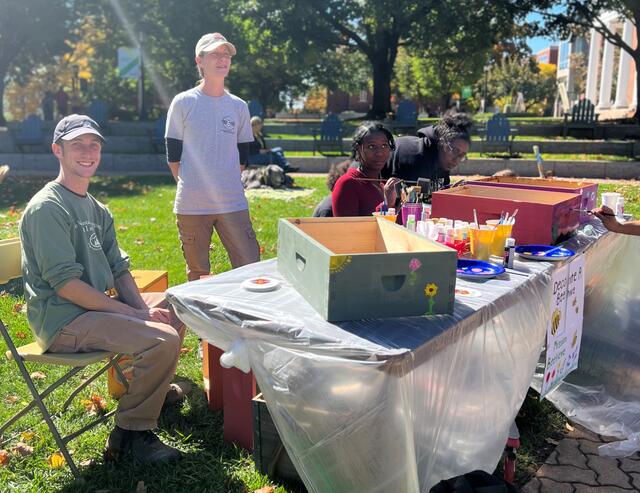 "Most people don't know that one in three bites of food are grown with the help of pollinators," says Monica Schmitt, director of Mission Beelieve. "Not everybody can be a beekeeper, but everybody can do their part to save the pollinators."
Schmitt does both. She founded Mission Beelieve to teach beekeeping to veterans and first responders as a form of therapy and is the president of the Carroll County Beekeepers Association. In recent years, Schmitt assisted McDaniel in establishing an apiary at the MEC. She was joined on campus by Tristan Bannon, co-director of Mission Beelieve.
The Progressive Student Union (PSU) hosted a table for voter registration at the Fair. "PSU is a great community of people who truly care about the environment. We want to improve things for everyone," says junior Destiny Houston, an Arabic and Middle Eastern Studies major from Baltimore. She was joined by fellow PSU member Jalen McNeil, a Criminal Justice major from Baltimore.
Students with questions about their gardening woes walked away from the event with expert advice from Kevin Conrad, horticulturalist at the U.S. National Arboretum, and plant specialist Jim Dronenburg of Four Seasons Garden Club.
Global Climate Change Week was rounded out by a panel of experts who shared their expertise on environmental science and climate policy.
"There is nothing more powerful than student voices to legislature," says Kristen Harbeson, political director for the Maryland League of Conservation Voters. "Students are the least likely group to show up in numbers to upcoming elections. Stay passionate, because we need you."
Lesley Jantarasami, managing director of energy and climate at the Bipartisan Policy Center, encouraged students to make the environment a part of everyday conversation. "That keeps it from feeling overwhelming, and you can talk about solutions. How can we enable everyday people to make decisions to live more sustainably?" says Jantarasami.
The third panelist, Jennifer Walker, a postdoctoral researcher at Rutgers University, paired similar advice with her research on sea-level change: "When you learn something new about climate or climate policy, tell someone else about it."
Outside of their courses and student organizations, students can learn more through campus opportunities like the Agrifood Program. Many in the campus community immediately recognize the program's colorful market stand, where they can get free flowers and produce in the summer and fall.
Acadia Noll, a Food Fellow, grew produce on campus this summer and staffed the market stand in Memorial Plaza. "People were so curious about the kinds of fresh produce we're able to grow. They would come back and tell me about the dishes they made from it, which was amazing," she says.
Noll, a senior Environmental Studies major specializing in Environmental Policy and Management, added, "Gardening was more work than I expected. Some days I didn't want to get up and do it, but once I was there, I felt a lot of peace in the green space. It added a lot to my life."