Two faculty members earn the Nora Roberts Faculty Service Award and the Distinguished Scholars Award
Vanessa Flora-Nakoski and Diane Williams have earned awards from the college — the 2022 Nora Roberts Faculty Service Award and the Distinguished Scholars Award, respectively — that will support their planned initiatives in research scholarship and student enrichment.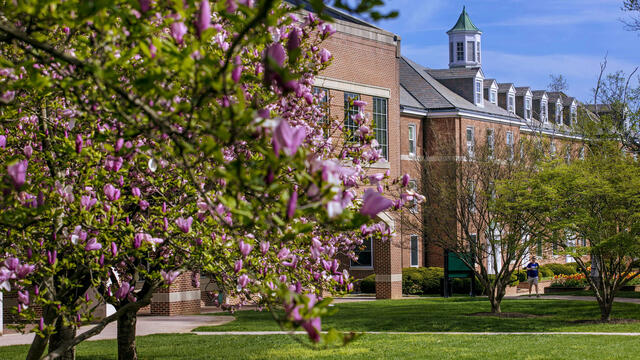 McDaniel College recognized two faculty members this spring with awards that support their initiatives in student enrichment and academic scholarship.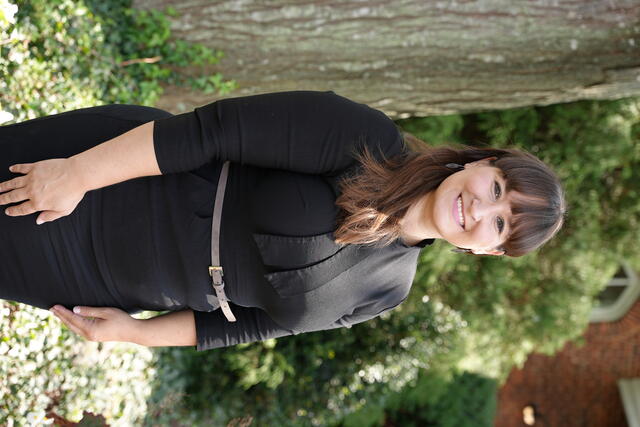 The 2022 Nora Roberts Faculty Service awardee is Vanessa Flora-Nakoski, lecturer in English and director of the on-campus Writing Center. As McDaniel College's foremost service grant for faculty, the Nora Roberts Faculty Service Award is inspired by acclaimed author and friend of the college Nora Roberts, and the Nora Roberts Foundation, which works to promote literacy and humanitarian efforts. A $1,000 award is given to a faculty member who has established social justice, service learning, or community engagement projects they want to expand on, or who has future plans to build these projects inside or outside of the classroom. The project should bridge the academy to the local, regional, national, or global community
Flora-Nakoski will use the award to formulate community engagement events focused on linguistic justice, an important branch of racial and social justice. Student tutors from the Writing Center will be trained to design workshops and panels that are to be hosted by invested community partners, culminating in a public on-campus guest lecture on the importance of linguistic diversity and its place within a vibrant and just community.
Flora-Nakoski — who holds a B.A. from UMBC and an M.A. from University of Iowa, both in American Studies — has previously led trainings for Writing Center tutors on the topics of linguistic and racial justice. These trainings incorporated restorative practices and readings from the anthology "Writing Centers and the New Racism." Her proposed project builds on this previous work and aims to strengthen relationships with the Westminster and Carroll County communities while addressing issues of linguistic and racial justice in terms of our attitudes toward "proper" English. Students will be supported in using their every linguistic tool and asset when engaging with the local community and to encourage members of our local community to embrace their own linguistic diversity.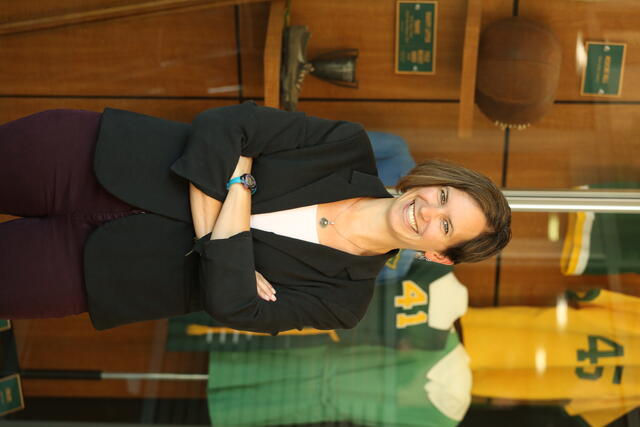 Diane Williams, assistant professor of Kinesiology, is the 2022 Distinguished Scholar. The Distinguished Scholars Award provides additional time, through a semester-long course release, for faculty members to pursue projects that are exceptional in nature. These projects must not only exceed the expectations of normal scholarship but also represent a unique window of opportunity for the applicant. Projects may focus on research, instruction, service, or creative work for major metropolitan, national, or international venues.
With the support of this award, Williams will dedicate her time to completing a book about the Association for Intercollegiate Athletics for Women (AIAW), the organization that created and facilitated women's intercollegiate athletics from 1972-1982.
An expert on gender issues and intercollegiate athletics, Williams has researched the promise of the AIAW and the pervasive gender inequality present in athletics. In addition to her Ph.D. in American and Sports Studies from the University of Iowa, Williams earned her B.A. from Williams College, M.Ed. from University of Massachusetts, and M.S. from Smith College.
At McDaniel, she has taught such courses as Women in Sport, Sport Coaching and Management, and Sport in American Society.
"With the help of the Distinguished Scholars Award, I will contribute to increasing the awareness and understanding of women's intercollegiate sport history, and its significance for sport history, more broadly," Williams says.
Williams' previous work on the AIAW has captured the attention of many, as did her recent article, "The formula for gender equality in sports." It was in the top 10% of the over 570 pieces published in 2021 on the Washington Post's Made by History blog, and it contextualized the NCAA treatment of women's basketball with the little-known history of the AIAW. Her article is now assigned across the country in women's sport history, coaching, and management classes, including at Smith College, Pennsylvania State University, University of Lynchburg, University of Minnesota, Mankato, and California State University-East Bay, in addition to her own courses.