Master's students earn degrees at 153rd Commencement
At McDaniel's 2023 Graduate Commencement Ceremony, 281 students celebrated the achievement of earning their master's degrees, conferred from 19 programs. Keynote speaker Sharon Love M.S. '76, founder of the One Love Foundation, shared the value of recognizing inner resiliency.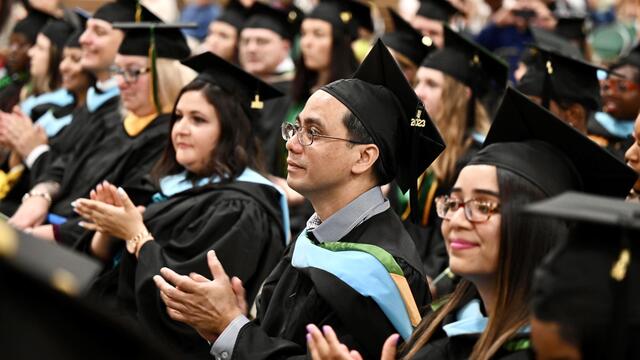 At McDaniel's 2023 Graduate Commencement Ceremony, 281 students celebrated the achievement of earning their master's degrees, conferred from 19 programs.
The graduating students hail from 19 states and 8 countries, including Brazil, India, and the U.S. A multigenerational class that ranges in age from 22 to 60 years old, most of the graduates earned their degrees in Innovations in Teaching and Learning, Counseling, Data Analytics, Elementary Education, and Teachers of English to Speakers of Other Languages (TESOL). Of the graduating class, 28 hold bachelor's degrees from McDaniel.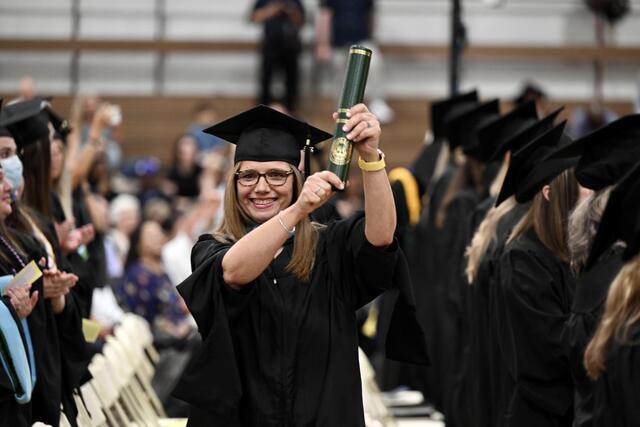 President Julia Jasken congratulated the graduates on all they had accomplished and encouraged their future endeavors.
"You are now masters of your professional disciplines, charged with working collaboratively to confront the world's problems and create solutions that make it better," Jasken said. "I am confident that your McDaniel education has prepared you well for whatever comes next on your professional journey."
President Jasken then welcomed the 2023 Graduate Commencement speaker, Sharon Love M.S. '76, to the podium.
Love graduated with a master's degree in Deaf Education from McDaniel (formerly Western Maryland) College. She co-founded the One Love Foundation, together with her daughter Lexie, to honor her daughter Yeardley, a college lacrosse player who was murdered by her ex-boyfriend just weeks before her graduation. She has been the main driver behind One Love, steering it toward prevention strategies after learning more about the issue of domestic violence in the wake of Yeardley's tragic death. She previously had a 25-year career in the Baltimore City Public Schools teaching hearing-impaired students before retiring in 2013 to work on One Love full time.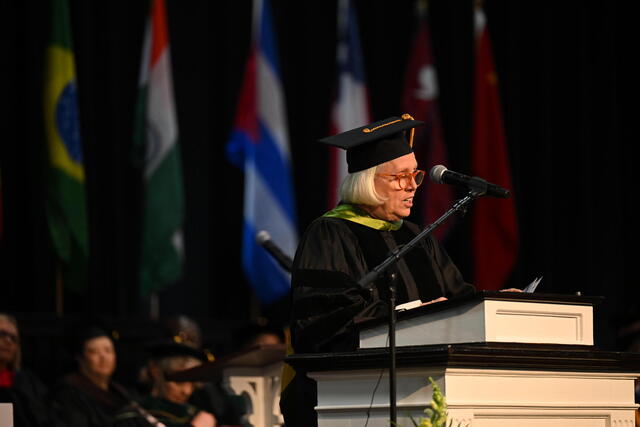 Love opened her remarks to the graduates by saying, "Years ago, too many to count, I sat where you sit today as a graduate myself. I was anxious to move on yet reluctant to leave." She described the idyllic life she had after earning her master's degree and establishing a family with her husband and two daughters, Lexie and Yeardley. Even during her husband's battle with cancer and eventual passing, her family stayed strong.
She shared how that changed on May 3, 2010, when she learned that Yeardley had been murdered. "It was impossible to comprehend and truthfully, to this day, it still is. Life, as my daughter Lexie and I knew it, was over. A part of us died with Yeardley and we had to reinvent our lives."
In the fallout, Love and Lexie established the One Love Foundation in honor of Yeardley. Love described how over time, she learned more about domestic violence and what she could do to create awareness and "prevent other families from experiencing the same tragedy," she said.
"McDaniel College was one of the first schools to share our program with their students. McDaniel's willingness to take a chance with us in our foundation's infancy gave One Love credibility and empowered us with other universities," she said. To date, over two million people have been involved in One Love workshops on domestic violence.
"McDaniel prepared me to successfully teach deaf children, but what I didn't realize at the time was that McDaniel was also preparing me for something much bigger: to teach everyone to listen, to learn from the signs, and to make the world a better place by honoring our loved ones," Love said.
She concluded by saying that, like her, the graduates in the room will always carry both sides of the coin through life: a positive side to help them endure the negative.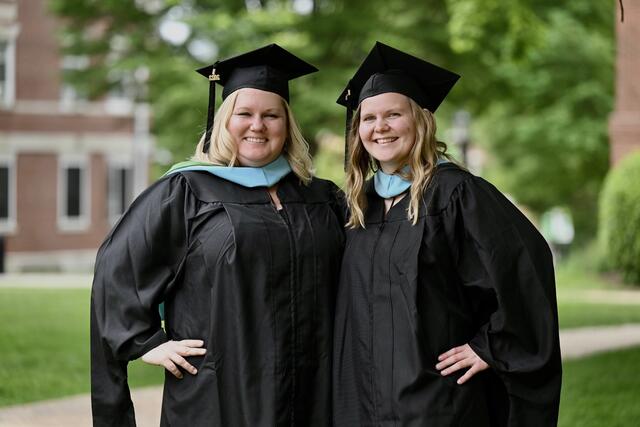 During the ceremony, two graduates and one faculty member received awards.
The 2023 recipient of the Joan Develin Coley Award for Excellence in Education was Tyson Emily Kania-Lloyd, who received a Reading Specialist: Literacy Leadership master's degree. Katelyn M. Miller, who earned a master's degree in Deaf Education, is the 2023 recipient of The B. Jill Brooks Hodge Professional Development Award. The recipient of the 2023 Shelton Adjunct Faculty Award for Teaching Excellence is Senior Adjunct Instructor Jan Nies M.S. '94, who has taught in the School Librarianship master's program since 2012. Read more about the recipients.
2023 Graduate Commencement Ceremony
Take a look at the 153rd Master's Commencement:
Graduate Commencement Speaker
Graduate Awards
Class of 2023
Undergraduate Commencement Ceremony
Photos and Video
In the News