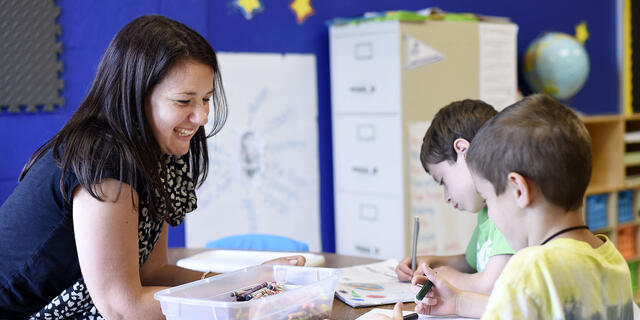 Education Department
McDaniel produces the best teachers in Maryland. (That's what an English teacher could call hyperbole… except  we have the data to back it up.) What's the secret to our success? Well, it starts with you. Your passion. Your empathy. Your desire to help others learn and grow.
McDaniel has provided programs for teacher preparation and certification for over 110 years. The College offers a major in Elementary Education as well as minors in Secondary and PreK–12 Education. Programs in the McDaniel College Education department were reviewed and accredited by the NCATE (National Council for Accreditation of Teachers) in 2017. McDaniel College will be reviewed by the Council for the Accreditation of Educator Preparation (CAEP) in the next cycle of accreditation in 2024.
McDaniel's program is approved by the Maryland State Department of Education and leads to certification in Maryland and the more than 45 states involved in the Interstate Reciprocity Agreement (PDF).
Majors, Minors & Specializations

A program of study uniquely designed to help elementary education candidates achieve certification and find teaching positions post-graduation.

Created to provide secondary education candidates with a strong, creative teaching skill set as they major in their desired area of academic focus.
Data & Accreditation
The Educator Preparation Program (EPP) at McDaniel College is data-driven in its continuous improvement efforts. Multiple measures are used to document candidate performance in courses and their accompanying practicum experiences in Professional Development Schools. The EPP Assessment System includes data collected at four transition points:
Transition Point 1: Admission to the Program
Transition Point 2: Admission to the Final Professional Semester (Student Teaching)
Transition Point 3: Completion of the Final Professional Semester (Student Teaching)
Transition Point 4: College to Career
Faculty and key stakeholders annually review data from the assessment system to guide program and course improvements.
The following data sets provide information to McDaniel College's various stakeholders and is used as part of the CAEP accreditation process:
CAEP Accountability Measures
Completer Impact and Effectiveness

Satisfaction of Employers and Stakeholder Involvement

Candidate Competency and Completion

Ability of Completers to Be Hired in Education Positions

NCATE/CAEP Programs
An education professional focused on children's literacy and using children's literature as a teaching model.
Tell us a little about yourself and we'll share updates & information. (We'll also make sure you don't miss any important deadlines.)
Request More Info
Tell us a little about yourself and we'll share updates & information. (We'll also make sure you don't miss any important deadlines.)
Request More Info