Class of 2023 seniors honored with academic, activity, and leadership awards
On the eve of their graduation, McDaniel College seniors in the Class of 2023 were honored with academic, activity, and leadership awards. Prior to the event, the graduating seniors took part in the Arch Processional led by McDaniel President Julia Jasken.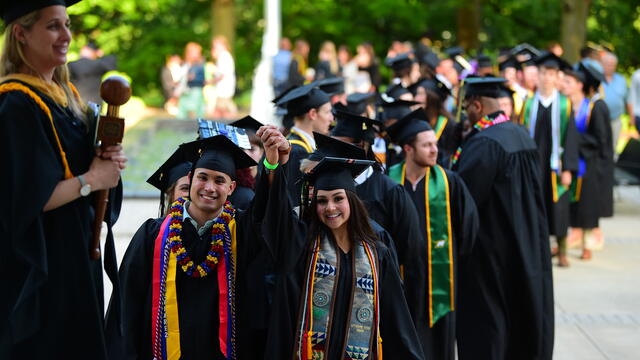 Members of McDaniel's graduating Class of 2023 were honored May 19 on the eve of their graduation from the college with academic, activity, and leadership awards at the Senior Investiture and Honors Convocation.
The evening's celebration began with McDaniel President Julia Jasken leading the students through Ward Memorial Arch during the Arch Processional.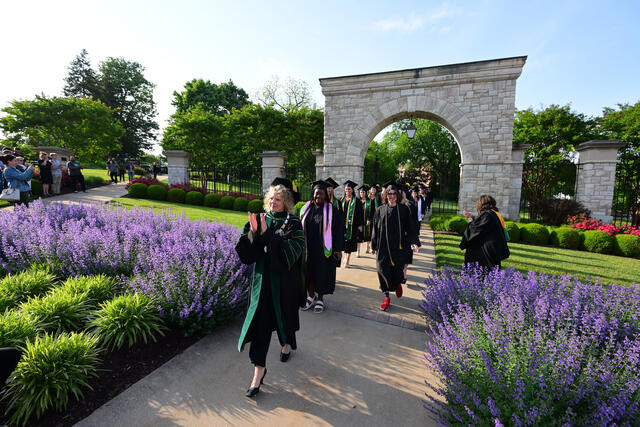 During the event, Acting Provost & Dean of the Faculty Wendy Morris presented the academic awards and Dean of Students Liz Towle presented the activity and leadership awards. See full list below.
Stephani Xiomara Portillo Ordoñez, a Political Science and Student-Designed French Studies major, received The Mary Ward Lewis Prize, while Dylan Elroy Hughes, a Psychology major, was awarded The Bates Prize. Both awards are presented to the graduating class members who have made the best records during their undergraduate course.
Read more about The Bates Prize and The Mary Ward Lewis Prize winners.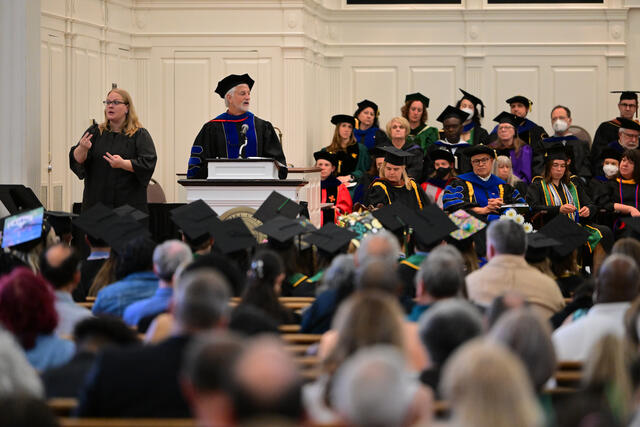 Students involved in academic and leadership organizations were also recognized. These groups included Phi Beta Kappa, Dorsey Scholars, College Scholars, Global Fellows, National Security Fellows, Omicron Delta Kappa, Trumpeters, and The Edge Experience Program.
English Professor Robert Kachur was announced as the surprise faculty speaker, a tradition that dates back to the Senior Investiture ceremony in 1895.
Kachur, who joined the faculty in 1998, is known "not just as a teacher of the subject, but a teacher of life." With his patented dark humor and as a self-proclaimed "nostalgic fool," he had one more life lesson to impart on the Class of 2023.
"You will leave McDaniel tomorrow with good memories, for sure, but you will no doubt leave with some hard memories, too," Kachur said. "I encourage you to pay attention to all the memories that come visit you, because you alone can decide the role they will play in the story of your life that you are about to write."
Student Academic Award Recipients Included:
The Alton Dennis Law Award for Excellence in Economics  
Brianna L. Guarnieri, Economics and Political Science major from Dillsburg, Pennsylvania 
The Dr. Mary Ellen Elwell '50 Distinguished Social Work Award  
Mia D. Fisher, Social Work major from Salisbury, Maryland 
The Vox Magna Clara (A Strong Clear Voice) Award  
Alexis L. Dudley, Sociology major from Dameron, Maryland 
The Maria Leonard Senior Book Award given by Alpha Lambda Delta to the graduating senior(s) with the highest GPA 
Kate Rebecca Cramer, Art major from Glen Rock, Pennsylvania 

Grace Elizabeth Maglietta, Writing & Publishing major from Finksburg, Maryland  
The McLuhan Award for Excellence in Communication 
Brandon Joseph Harris, Communication major from Reisterstown, Maryland 
The Richard A. Clower Award for Excellence in Kinesiology  
Kyle Joseph Kunzer, Kinesiology major from Manassas, Virginia 

Taylor Morgan Lindsay, Kinesiology major from Kennett Square, Pennsylvania  
The Richard H. Smith, Jr. Award for Excellence in Chemistry or Biochemistry  
Alessandra Mandala Kol, Chemistry major from Herndon, Virginia 
The Robert Joseph Weber Award for Excellence in Political Science and International Studies  
Alexandra E. Scharnberger, Political Science major from Kensington, Maryland 
The Class of 1938 Award for Excellence in Music  
Bryant P. Gutknecht, Theatre Arts major from Manchester, Maryland 
The Dr. Reuben Holthaus Award in Philosophy   
Reuben S. Hubbard, Philosophy major from Bigfork, Montana 
The Frank and Margaret Malone Award for Excellence in a Foreign Language  
Isabela Barbara Hernández Quintana, Political Science and Student-Designed French Studies major from Rockville, Maryland 

Stephani Xiomara Portillo Ordoñez, Political Science and Student-Designed French Studies major from Silver Spring, Maryland 
The Malcolm L. Meltzer Psychology Award 
Emily C. Sheppard, Psychology major from Queenstown, Maryland  
The Michael and Polly Beaver Award for Excellence in Education 
Kate Rebecca Cramer, Art major from Glen Rock, Pennsylvania 

Carly A. Ludwig, Elementary Education major from Ephrata, Pennsylvania 
The David Brian Cross Memorial Award for Achievement in Mathematics 
Pauline C. Tillotson, Computer Science major from Herndon, Virginia 
The Makosky Award for Excellence in English  
Bailey Theresa Mullen, English and Theatre Arts major from Baltimore  
The Philip and Azalea Myers Award for Creativity in English 
Grace Elizabeth Maglietta, Writing & Publishing major from Finksburg, Maryland 
The Eloise B. and Lowell S. Ensor Award for Graduate or Professional Study  
Lyla Rose Martin, Social Work major from Phoenix, Maryland 
The Phi Delta Gamma Award 
Juliet C. Bier, Biology major from Salisbury, Maryland  
The M. Louise Shipley Art Award of Excellence  
Skylar L. Blackbull, Art major from Crownpoint, New Mexico 

Kate Rebecca Cramer, Art major from Glen Rock, Pennsylvania 
The H.P. Sturdivant Biology Award 
Sophia Ruth Gilbart, Biology major from Taneytown, Maryland  
The Esther Smith Award (creativity in the arts – drama, music or art) 
Shakara A. Sapp, Theatre Arts major from Upper Marlboro, Maryland 
The Dr. Clyde A. Spicer Award (outstanding graduating senior in mathematics) 
Matthew S. O'Neill, Mathematics major from Port Deposit, Maryland  
The Hugh Barnette Speir, Jr. Prize (student showing the greatest excellence in European history) 
David Mark Bradley, History major from Union Bridge, Maryland 
The H. Peyton Gorsuch History Award 
Kyra M. Greenfield, History major from Beltsville, Maryland 
Student Activity and Leadership Awards
The Michael J. Marks '13 Memorial Award (two graduating seniors who have been members of the women's and men's lacrosse teams for at least two years and have exhibited academic excellence, leadership, competitive spirit, volunteerism, and a strong work ethic) 
Acadia Patrice Ledbetter Noll, Environmental Studies major from Ellicott City, Maryland 

James E. Schmidt, Accounting Economics and Business Administration major from Hauppauge, New York  
The Elizabeth Lintz Burkhardt Memorial Service Award (senior who has demonstrated exceptional and persistent giving of time and service to others within the college and the  community at large) 
Kylie Amber Baker, Environmental Studies and Political Science major from Frederick, Maryland 
The Steve Robert Wilson Memorial Award (two senior members of the men's and women's track and field program with the most outstanding records) 
Nicholas Lee Razze, Kinesiology major from Pitman, New Jersey  

Bailey Theresa Mullen, English and Theatre Arts major from Baltimore  
The Charles W. Havens Award (graduating senior who has participated in intercollegiate athletics and has shown the attributes of charity, altruism, benevolence, and a humane and compassionate concern for others)  
Anthony Joseph Razze, Business Administration and Accounting Economics major from Pitman, New Jersey 
The John D. Nawrocki Memorial Award (senior who has participated in men's soccer and men's lacrosse and emulates leadership through example, concern for teammates and friends, and gives fully to benefit others) 
Dylan Vitale, Environmental Studies major from Forked River, New Jersey 
The Michael L. Waghelstein Memorial Award (student who has demonstrated military proficiency and leadership potential, athletic ability, sincerity, zest for living, and loyalty to country, college and friends) 
Jack N. Conjelko, Health Sciences major from Odenton, Maryland 
The Alumni Citizenship Award (two seniors who have displayed a steadying loyalty to classmates and the college through active participation in campus life and contributions to the betterment of the college) 
Isabela Barbara Hernández Quintana, Political Science and Student-Designed French Studies major from Rockville, Maryland 

Keishan D. Dempsey, Psychology major from Towson, Maryland 
The Lynn F. Gruber Medal (proficiency in extracurricular activities) 
Carly A. Ludwig, Elementary Education major from Ephrata, Pennsylvania  
The Dr. H. Samuel Case '63 Senior Scholar Athlete Award (two seniors with the most outstanding academic records and who have been significant members of the Green Terror athletics program) 
Eleanor Vivienne Tomkins, Psychology and Sociology major from Central Hawke's Bay, New Zealand 

Alexander LaVeck, Biomedical Science major from Reisterstown, Maryland 
The Faith Millard/Dr. Carol Fritz Medal (senior member of a women's sports team with the best record in athletics) 
Bailey Theresa Mullen, English and Theatre Arts major from Baltimore 
The John A. Alexander Medal (senior member of a men's sports team with the best record in athletics) 
Ryan C. McGarry, Psychology major from North Easton, Massachusetts 
The Mary Ward Lewis Prize (graduating class member who has made the best record during their undergraduate course) 
Stephani Xiomara Portillo Ordoñez, Political Science and Student-Designed French Studies major from Silver Spring, Maryland 
The Bates Prize (graduating class member who has made the best record during their undergraduate course) 
Dylan Elroy Hughes, Psychology major from Bowie, Maryland