McDaniel College graduates the Class of 2022
Among family and friends, 297 bachelor's candidates crossed the stage to receive their degrees on May 21 during McDaniel College's 152nd Commencement ceremony. Author and social entrepreneur Michelle Poler addressed the graduating class, encouraging them to face their fears and move toward happiness rather than comfort, and an Honorary Doctor of Humane Letters was conferred on Jeff Rosenberg, former director of NPR Worldwide.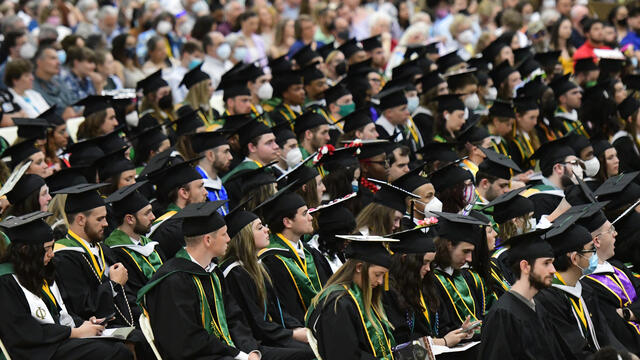 Cheered on by family and friends, 297 bachelor's candidates crossed the stage in the Robert Joshua Gill Center to receive their degrees on May 21. President Julia Jasken, presiding over her first Commencement Ceremony as the tenth president of McDaniel College, welcomed the Class of 2022 and their guests.
"You are McDaniel's Class of 2022, and you are ready to change the world. I am confident of this because you have already overcome unforeseen obstacles during the past few years, just as people are often called to do when they live a life of meaning and purpose. And when you do face those future hurdles, I encourage you to remember the words of Nelson Mandela, who said, 'May your choices reflect your hopes, not your fears.'" -President Julia Jasken
From eight countries and 20 states and the District of Columbia, the graduates completed studies in 44 programs, the most popular of which were Business Administration, Kinesiology, Psychology, Sociology, Social Work, and Political Science. Nineteen members of the Class of 2022 are legacy graduates, meaning that a parent or a grandparent also graduated from the Hill, and graduates ranged in age from 20 years old to 33 years old.
This class is full of global citizens, with 89 students having studied in 18 countries; four of those students studied abroad multiple times. Nine students also received the designation of Global Fellows on their diplomas, indicating their completion of the program designed to enhance students' understanding of global issues, develop heightened intercultural competency, and cultivate the skills and attitudes important to leading successful lives in a global context. Additionally, the Class of 2022 brought the first six graduates of the National Security Fellows program, which provides students with robust knowledge, skills, and experience in national security.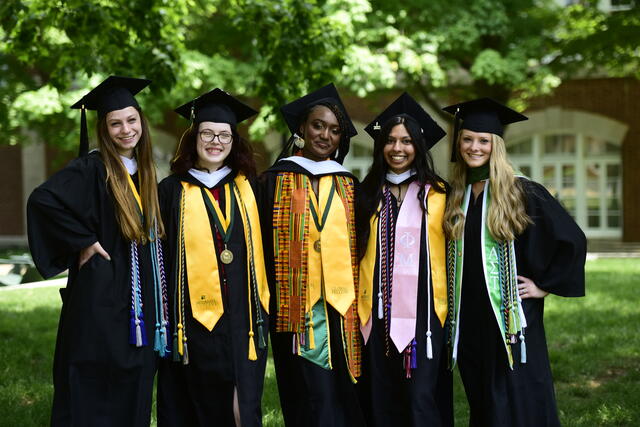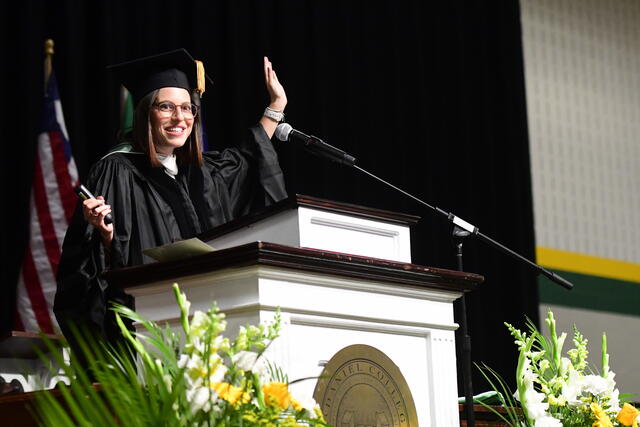 Conquering fears was the theme of the day. Author and social entrepreneur Michelle Poler addressed the Class of 2022 and shared her story of facing fears and finding happiness. She is the founder of Hello Fears, a social movement empowering millions to step outside of their comfort zone and tap into their full potential, and the author of "Hello, Fears: Crush Your Comfort Zone and Become Who You're Meant to Be," an honest, empowering guide to living alongside what scares you.
Poler asked the audience to think about their earliest fears and about how they have remained in or challenged their comfort zones throughout their lives.
"Have you ever been in between two choices, and the one you want the most is the scariest one?" Poler asked. "I bet that's how you are feeling today. You have so many choices; some will bring you closer to comfort, some will bring you closer to happiness, to growth."
Giving the Class of 2022 one last assignment to complete, Poler asked graduates to think about one box they'd like to check in the upcoming years.
"Now, I want you to ask yourself this question: If you achieve that one thing, but you can't tell anyone, would it still make you happy?" Poler said. "If the answer is no, then that item shouldn't even be on your list."
While she believes checking "society's boxes" is not inherently wrong, she wants McDaniel's graduates to do that in their own time, under their own terms, in a way that feels authentic to them.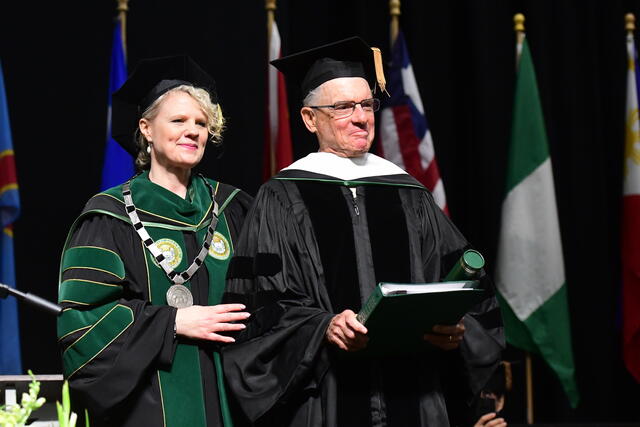 "So many times, we end up adding things to our list because we want to impress others, please others, or belong. Checking those items will bring you closer to comfort, but further and further away from happiness," Poler said. "I want you to add to your list only the things that can bring you happiness! Even if no one knows that you've accomplished those things."
Poler completed her speech by asking everyone to face a common fear together: dancing like no one is watching.
Following Poler's address to the graduates, Jeff Rosenberg, former director of NPR Worldwide and father of 2012 McDaniel graduate Robert Rosenberg, was awarded an honorary Doctor of Humane Letters. Rosenberg has been a passionate advocate for and supporter of McDaniel's Student Accessibility and Support Services (SASS) and the Department of Political Science and International Studies over most of the last decade, particularly in the planning of Jan Term trips abroad.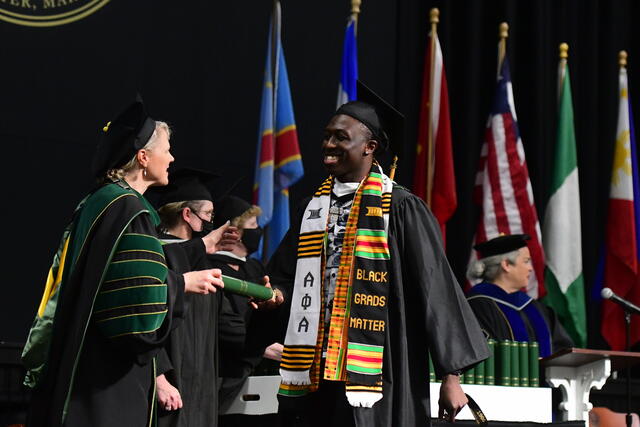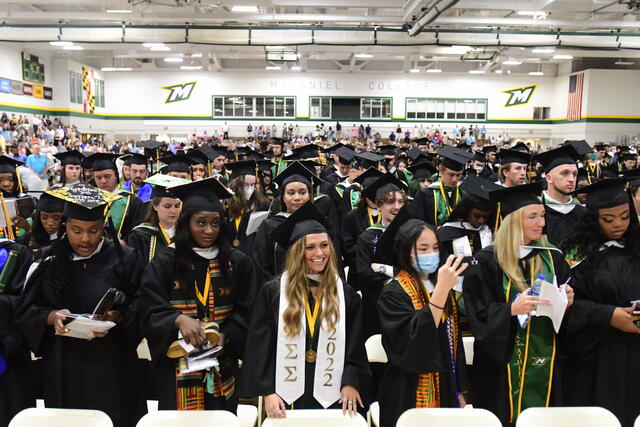 During the ceremony, the Edith Farr Ridington Writing Award was presented to English major Rebecca H Halaney and Physics major Kaitlyn Marie Bowser. The Argonaut Award for the highest cumulative grade point average in the class was given to five graduates: Jessia Marie Avila, Kaitlyn Marie Bowser, Kaitlyn Nicole Holstein, Jonah Warman Ruskin, and Cara E Woolston.
On the evening prior to commencement, the Bates Prize and the Mary Ward Lewis Prize were announced at the Senior Investiture and Honors Convocation. Jessia Marie Avila, a Political Science and Marketing major, received The Mary Ward Lewis Prize as the outstanding female member of the graduating class, while Andrew Gabriel Witten, Business Administration major, was awarded The Bates Prize for the outstanding male graduating senior.
In addition to celebrating the Class of 2022, 10 faculty members were recognized for their election to emeritus status for a combined total of 284 years of service to the college. They included Thomas Falkner, Paul Miller, Suzanne Nida, Julia Orza, David Petrie, Pamela Regis, Mark Rust, Ethan Seidel, William Spence, and Tom Zirpoli.
Several faculty awards were also presented at the ceremony. Brenda Conley, senior adjunct lecturer of Education, was announced as the recipient of the 2022 Shelton Adjunct Faculty Award for Teaching Excellence. Professor of Art History Gretchen McKay was awarded the 2022 Ira G. Zepp Teaching Enhancement Grant. Professor of Sociology Linda Semu received the 2022 Ira G. Zepp Distinguished Teaching Award.
Class of 2022 Commencement Quick Links
Commencement Speaker

Class of 2022

Awards and Honors

Graduate Commencement Ceremony

Photos and Videos

In the News