Students gain hands-on experience thanks to McDaniel's Summer Intern Fellowships
Ten McDaniel students were awarded Summer Intern Fellowships from McDaniel's Center for Experience and Opportunity (CEO) to support summer internship experiences. The program is supported, in part, by generous gifts from The Rupe-Stuart Internship Award, courtesy of McDaniel College Board of Trustee member Mark Stuart M.S. '94 and Timothy Rupe, and The Nora Roberts Foundation.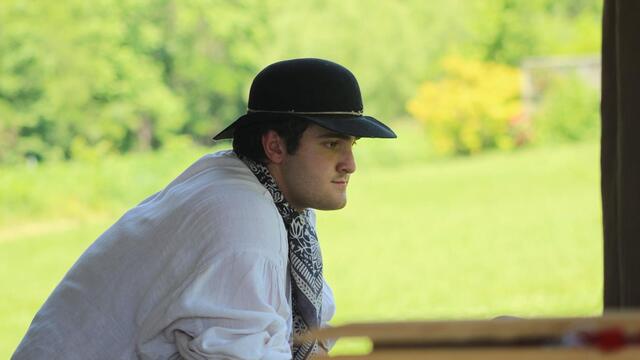 The Center for Experience and Opportunity (CEO) gave 10 McDaniel College students the opportunity to gain hands-on experience by offsetting the cost of participating in summer internships.
A limited number of need-based competitive Summer Intern Fellowships are available each year to current McDaniel students through the CEO.
The program is supported, in part, by generous gifts from The Rupe-Stuart Internship Award, courtesy of McDaniel College Board of Trustee member Mark Stuart M.S. '94 and Timothy Rupe, and The Nora Roberts Foundation.
Learn more about the 2021 Summer Intern Fellowship experiences: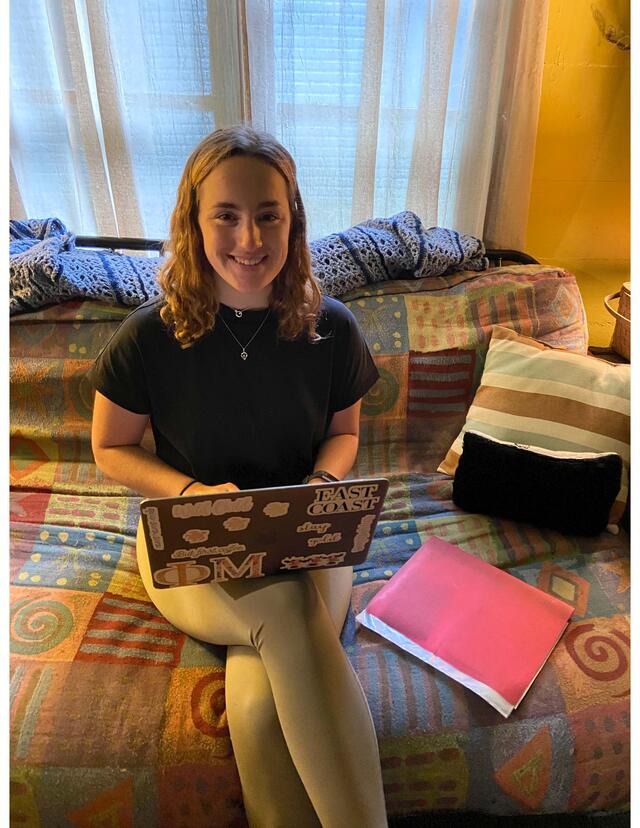 Emily Camizzi, a senior from Tenafly, N.J., pursuing a Social Work major with minors in Psychology and Sociology, accepted a virtual internship with the American Red Cross of Central Maryland and the Central Maryland Disaster Action Team.
At McDaniel, Camizzi is a member of the Phi Mu women's fraternity and has served as a mentor at the Boys and Girls Club of Westminster. She is also a member of the Alpha Lambda Delta, Phi Alpha, Pi Gamma Mu, and Alpha Kappa Delta honor societies.
Wilson Clayton, a senior Psychology major from Mount Airy, Md., spent his summer as a research assistant at the University of Kentucky, where he was involved in both comparative cognition research and was able to produce academic publications. This was a continuation of the Summer Intern Fellowship research experience that Clayton completed during the summer of 2020.
Clayton, who plans to pursue a Ph.D. program in comparative cognition upon graduation from McDaniel, said, "The experience that I've gained over these past two summers has not only made my graduate school applications competitive but has further strengthened my passion for experimental psychology. I offer a sincere thank you to Mark Stuart M.S. '94 and Timothy Rupe, and The Nora Roberts Foundation."
Dalanda Diallo of Montgomery Village, Md., is a senior with both a Political Science major with a specialization in International Studies and a student-designed major in French Studies.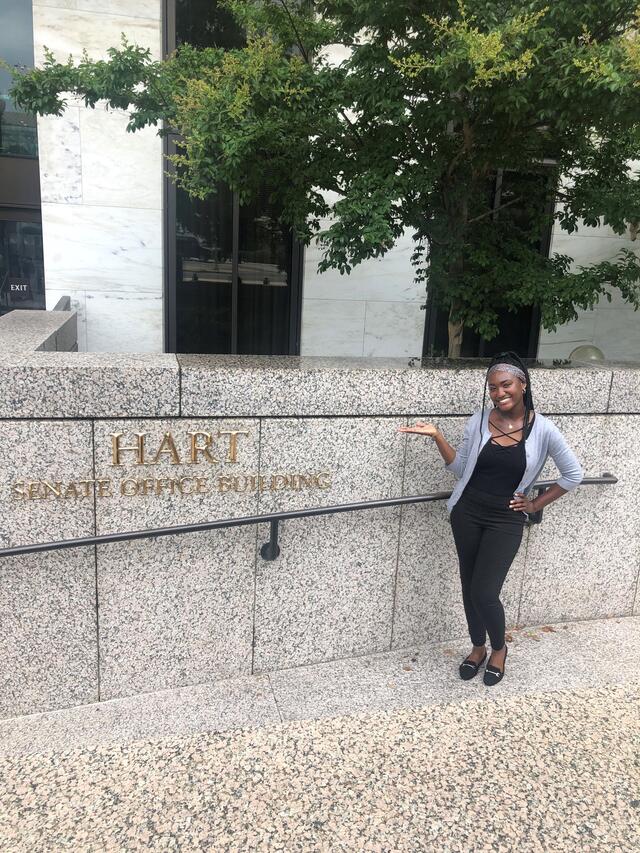 Diallo worked as a congressional intern for U.S. Senator Chris Van Hollen. Her internship allowed her to gain experience in writing to governmental organizations and agencies while advocating for and representing constituents in Maryland.
"I am very grateful to have received the opportunity to intern for Senator Van Hollen," said Diallo. "I met amazing people who have given me advice that will always remain useful in my journey to becoming a Foreign Service officer."
Julia Fato, a senior Criminal Justice major from Jessup, Md., spent her summer working for the Maryland Public Defender's Office, where she gained hands-on experience in a legal setting and observed what it is like to work as a Public Defender. During her internship, she reviewed police reports and warrants, sat in on court hearings, shadowed attorneys, and interacted with judges at the courthouse.
"It was an honor to represent McDaniel College and the Center for Experience and Opportunity during my summer internship at the Howard County Office of the Public Defender," said Fato. "Observing skilled and dedicated public defenders gave me a glimpse into the day-to-day life of a public defender and their incredibly challenging and valuable work. Having the opportunity to be in the courtroom and witness the criminal justice system firsthand, was an enriching experience. This internship enabled me to take my classroom-acquired knowledge and apply it to real work experience."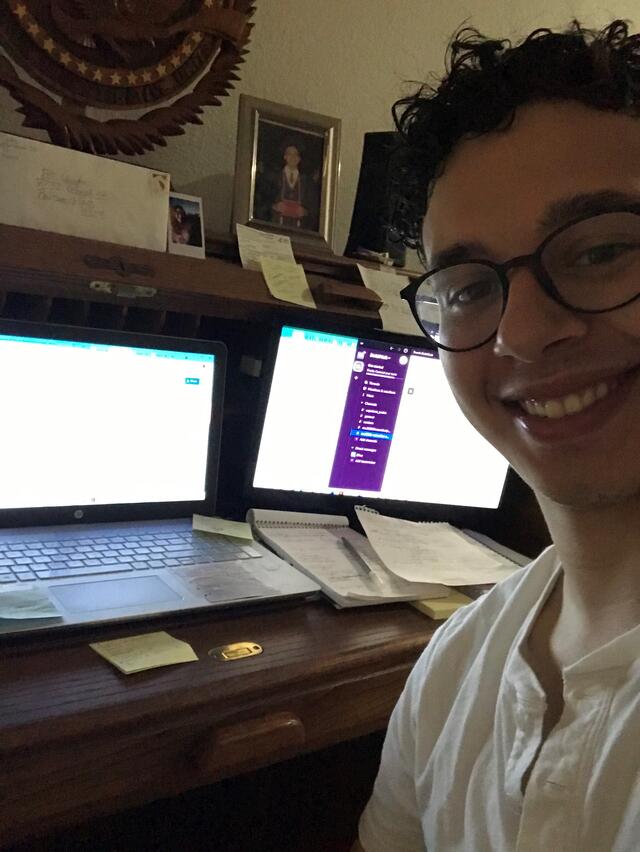 Mark Flores, a senior from Rockland, Maine, with a dual major in Kinesiology-Chemistry, spent his summer as a virtual research assistant with the Science and Mathematics Educational Research Collaborative at Rochester Institute of Technology (RIT), where he was involved in constructing and conducting focus groups, as well as developing assessment tools to measure student retention.
Flores, who plans to attend graduate school upon graduation from McDaniel, said, "My project has been incredibly important. I have been involved in investigating factors contributing to student retention and satisfaction among STEM undergraduate majors which forced me to reflect on my own experience and consider many of the decisions that have kept me in my STEM major. This work has been incredibly rewarding knowing it may impact other students like me."
Ada E. Mejía Chevéz, a senior from Silver Spring, Md., is a double major in Political Science with a specialization in American Politics and Law and Sociology with a specialization in Criminal Justice. She interned virtually with the Special Victims Unit in Montgomery County. At McDaniel, Mejía Chevéz is involved with the Alpha Phi Omega (APO) national service fraternity, Hispano-Latinx Alliance, and Palabras to Words, which tutors Spanish-speaking adults in English. She is also a Global Fellow in addition to serving as a resident assistant and a peer mentor.
Mejía Chevéz said, "Serving as the Victim and Witness Coordinator was a gratifying experience! This internship challenged me like no other and I am grateful for having the opportunity to help my community the way I did. I can truly say I have a better understanding of the career path I would like to follow."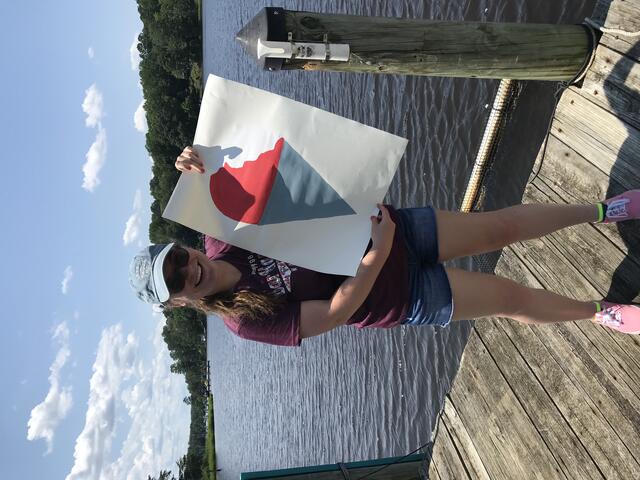 Liz Mince, a senior from Street, Md., majoring in Art with a specialization in Graphic Design, spent her summer working with Chloe Irla '07, assistant professor of Art at McDaniel, on branding, design, and social media for Snowballtimore, which aims to document and preserve Baltimore's snowball tradition.
"My internship experience exceeded my expectations," said Mince. "This project has significantly enhanced my digital media skills and has given me the opportunity to work with a professional client, who has a strong social media presence for her brand and artwork."
Mariama Mohammed, a junior Computer Science major from Woodbridge, Va., spent her summer interning with the United States Patent and Trademark Office, where she was involved in coding and learned how to read patents.
At McDaniel, Mohammed is involved as a student ambassador and with McDaniel's Africa's Legacy student organization. She is also president of the SOCA club and has volunteered with the Boys and Girls Club of Westminster. Additionally, Mohammed competed in McDaniel's Entrepreneurship Competition in April 2021, winning second place for her business concept, Crowned Beauty.
Scott Seburn, a junior from Greencastle, Pa., double majoring in Philosophy and History, worked over the summer as the seasonal living history and historic gardener intern at the Conococheague Institute in Mercersburg, Pennsylvania. This hands-on regional learning center is located within a 30-acre site that is listed on the National Register of Historic Places. Seburn is passionate about historic preservation and his internship allowed him to serve as a living history representative and educate visitors about daily life in the 18th century.
At McDaniel, Seburn is involved with Phi Sigma Tau Honors Society and is a tutor for the college's Student Accessibility & Support Services(SASS).
Molly Sherman, a senior from Dickerson, Md., is a double major in Economics and Environmental Studies with a specialization in Biology. She proposed an internship with MAGIC (Mid-Atlantic Gigabit Innovation Collaboratory), where she had the opportunity to lead and conduct research to examine transportation access, as well as assist with writing and photography. Sherman was inspired to work with MAGIC after an assignment for a course at McDaniel led her to do policy analysis of current legislation in the Maryland State Legislative session.
Sherman, who is continuing her research with MAGIC this fall, is co-editor-in-chief of the McDaniel Free Press student newspaper and co-president of McDaniel's Green Life environmental student organization as well as an organizer for the Sunrise Movement, an organization that advocates for political action on climate change, and founding member of Sunrise McDaniel.
"I see transportation as the nexus of economic, social, and environmental issues. This opportunity has allowed me to explore this issue in the community around me, apply the research, data analysis, and project management skills I have learned in my McDaniel classes, and connect my work to the Westminster community."